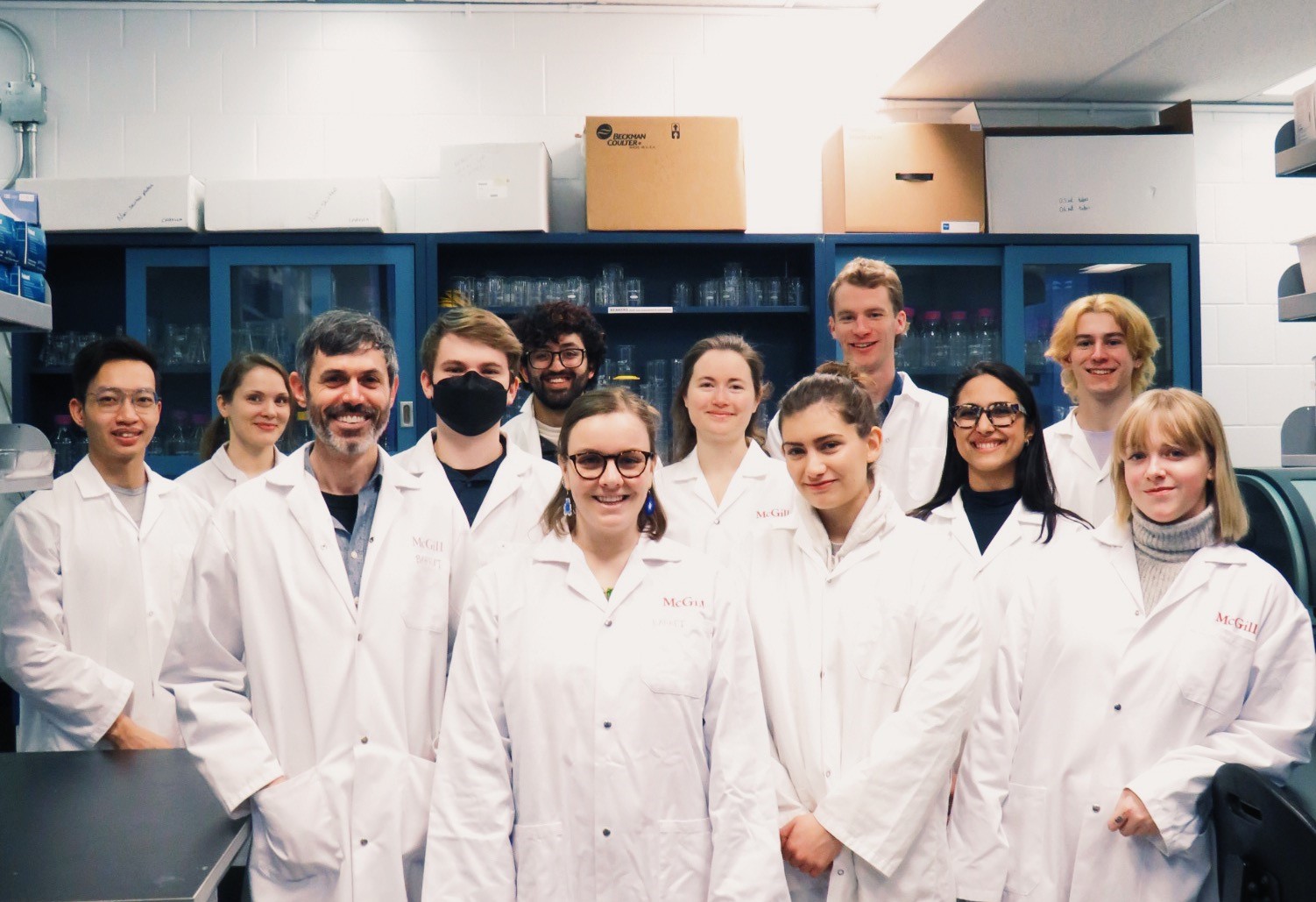 Six laboratory teams at McGill recently completed a year-long endeavor to get certified with My Green Lab, an internationally recognized online program the provides lab users with actionable ways to implement meaningful change. From waste reduction to fieldwork, this certification system gives researchers clear ways to assess their current lab practices and make improvements.
"We were looking for guidance," said Melissa Valente-Paterno, the coordinator for the Bui Lab. "The baseline assessment from [My Green Lab] provided us with that level of guidance by evaluating our current standing, while prompting us to think about lab sustainability at a 'next level'."
In addition to the Bui Lab, which received Green, the highest certification level, the other teams that participated in the program were the Abouheif Lab (Silver), the Barrett Lab (Platinum), the Cerruti Lab (Platinum), the Duggavathi Lab (Platinum), and the Weber Lab (Silver). Working in disciplines ranging from life sciences to engineering, each of the teams faced unique challenges when it came to changing their habits and systems.
The Duggavathi Lab, for example, overhauled many of its daily practices, including cleaning their freezer, installing fume hood signage, and more. For other labs, the hurdles were more subtle, but just as necessary to tackle. "One thing I struggled with was how to raise people's awareness of sustainability within the lab," reflected PhD student Peng A from the Weber Lab. "People have become so used to 'convenience' by using disposable products and leaving equipment on."
For many of the participants, this process was just what they needed to take a step back and reflect on how they do things. "It is important for us as researchers to learn new things, instead of just doing things as a habit," said Dr. Khanh Huy Bui, lead researcher in the Bui Lab. "Reducing the carbon footprint of a lab is important for lab sustainability, but also for us, personally. While the process takes long, it gives us a defined feeling that we are on the right track."
To ensure that other labs at McGill have the resources and support they need to benefit from a shift toward more sustainable operations, the University has developed its own in-house sustainable lab certification program. While it draws on lessons learned from the six labs that went through the My Green Lab certification process, this new program was tailor-made for the McGill context and is freely available to all McGill labs.
"We wanted to focus on aspects of lab operations that lab users can feasibly control and that reflect the unique conditions at McGill, while also advancing the University's sustainability goals," commented Kimberly John, a Sustainability Officer leading the lab certification program at McGill. "That's why building our own certification and incorporating feedback from lab users was so important."
Based on advice and resources available in the McGill Sustainable Labs Guide, this new program is the third sustainable certification available at the University, alongside its Sustainable Events and Sustainable Workplace certifications. Labs can receive Bronze, Silver, Gold, or Platinum level certification based on the number of sustainable lab practices they have implemented. Participants can also use the certification assessment as a baseline to help identify where improvements are needed and track their progress over time.
"It's clear this is something that students and early-career researchers particularly care about," reflected Claire Ramsay, a PhD student who led the certification process in the Abouheif Lab.
"I see a future where environmentally friendly practices are given priority in labs," added Neeraj Neeraj, a PhD student in the Duggavathi Lab who headed their certification efforts. "But this will be possible only if we work together to create a more sustainable environment for laboratory research by exchanging best practices, innovations, and research results."
The Sustainable Lab Certification program is now available for testing, in preparation for its official launch in Fall 2023. Participation and feedback from all McGill labs are welcome. To complete the Sustainable Lab Certification, visit the Office of Sustainability website.