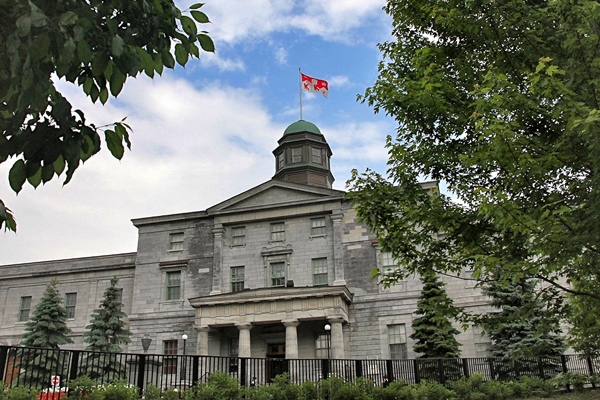 Winners named for Principal's Awards for Administrative and Support Staff
By McGill Reporter Staff
As members of one of the world's top universities, McGill students, teachers and researchers are celebrated regularly for their excellence in the classroom, in the lab and within the academic community. But none of this success – as a University or as individuals – would be possible if not for the dedication and professionalism of a small army of support staff working tirelessly behind the scenes.
Each year as part of Fall Convocation, the Principal pays tribute the exceptional efforts of McGill employees with the Principal's Awards for Administrative and Support Staff. This year, four individuals and one team have been named winners of the Award in their respective categories.
M & Excluded category
Winner: Laurie Devine, Social Media Manager, Media Relations Office
Most members of the extensive McGill community have never met Laurie Devine, but almost all have either come across, or benefitted from, her work. As the person who handles the bulk of the University's social media – be it on Twitter, Facebook or Instagram – Devine might be McGill's most "plugged in" employee.
"Handling social media for a major, world-class University is a challenge: Twitter, Facebook, lnstagram are fast, dynamic tools and Universities don't often move at the same pace," writes her nominator. "Despite this, Ms. Devine captures the full suite of activities happening at McGill in a timely and efficient manner, whether it's the latest research findings from the Neuro, or a student-led snowball fight in winter."
Because the social media world is constantly evolving, so too must Devine, who regularly attends workshops to receive additional training on the latest tools and approaches to using social media in higher education. "She clearly values the 'learning' part of her job and is someone who will never be satisfied with status quo," writes her nominator. "Social media tools are ever-changing, and I see that McGill is always present as new tools are unveiled. And McGill's presence is done in a mature, professional yet friendly manner – the exact ingredients for high-quality social networking.
"Ms. Devine handles the portfolio with grace and talent, and McGill's place on the world stage is bigger and better because of her."
Clerical category
Winner: Giuseppa "Josee" Di Sano, Administrative Coordinator, Office of Religious and Spiritual Life
Saying Josee Di Sano provides solid customer service is like saying 100-metre sprint world-record holder Usain Bolt is pretty quick. "She truly cares about every student and never refers them elsewhere without following through to ensure they are cared for," her nominator writes. "She goes so far beyond what is required of her that countless alumni still refer to her as 'mom.'
Di Sano is nothing, if not innovative. She was one of the principal architects of both the Student Parent Network and the Winter Coat Project for International Students. Over the years, both these initiatives have supported thousands of McGill students who are parents, and have provided free coats, boots, and hats to thousands of international students experiencing their very first winter.
Working in one of the smallest units of Student Services, Di Sano has mastered the art of doing a lot with a little. In particular, she has been praised for excelling at "attracting, training, inspiring and maintaining thousands of students and community volunteers, so that a little unit can go a remarkably long way, at no cost to McGill."
Despite her devotion to the Office of Religious and Spiritual Life, Di Sano spends much of her spare time helping the McGill community and beyond on evenings and weekends – be it getting involved in SEDE's Community Engagement Day or the annual Pow Wow, or volunteering as a buddy for mentally challenged individuals. "If there is a problem or a need, Josee will happily do her best to lend a hand," said her nominator.
Trades & Services category
Winner: Nello Marussi, University Services, Building Operations
Nello Marussi is a builder. Specifically, he is a cabinetmaker who has been plying his trade at McGill for 24 years. Marussi's work can be seen all around campus, from the base that holds McGill's ceremonial mace, to the restored moldings and ogees of the Faculty Club. Marussi's nominator writes that the workstation Marussi made for professor Henry Mintzberg is "a real feat of cabinet making and an example of cabinet making closer to art than skilled labour."
On top of his impeccable work, Marussi is known for his good humor and quick smile, and his willingness to help people quickly and efficiently. He schedules his work so that no one is forgotten, and special requests from students and faculty are prioritized. "Customers are thrilled to have him at their service," says Marussi's nominator. "Everything Nello makes is to be permanent and repaired to its original state… We are proud to have him at our side every day."
Technical & Libraries category
Winner: Jennifer Wallace, Laboratory Technician, Dept. of Integrated Studies in Education
Jennifer Wallace has an eye for detail. A Laboratory Technician in the Department of Integrated Studies in Education, Wallace provides support to two full-time faculty members as well as numerous course instructors – often taking care of items that instructors themselves forget.
Her skill and enthusiasm for preparing laboratory materials for hundreds of students – as well as her ability to trouble-shoot with instructors to optimize students' lab experiences – is so renowned that she is often mentioned in course evaluation documents even though her name is not listed on the form. In the nomination form, Wallace is described as "extremely organized and diligent" and someone who is "never late with a promised deliverable."
While the core of Wallace's duties as a lab/course technician are to prepare activities for students, she will often work with instructors to design activities, and will take on the task of testing, trouble shooting and optimizing them herself. This often means long hours alone in the lab ensuring that activities will work effectively, and will often advise instructors on alternative products and methods to ensure cost effectiveness and efficiency.
But her job has evolved greatly over the past decade, with Wallace taking an increasingly active role in the science education team. She is a core member of the administrative staff in the department and often organizes staff events, even hosting retreats for staff at her home. She attends meetings regularly and works to harmonize efforts towards building a coherent program for students that ensures consistent pedagogical approaches across course offerings. "She understands clearly the instructional efforts of our science education team and applies these understandings to her work in ways that make her indispensable to the team," says her nominator. "She is the thread that binds all of the courses in our program together."
Team Projects category
Winner: Interlibrary Loan and Document Delivery Services
The primary function of the Library's Central Interlibrary Loan and Document Delivery (ILL/DO) Services is to support the teaching, learning, research and work of all McGill students, faculty and staff by:
obtaining requested documents that are not owned at McGill from external institutions in Quebec, Canada, the 
USA and around the world
offering a new service inaugurated in May 2014, the scanning and sending via email of journal articles and book 
chapters from the McGill Library's print collections.
The team (comprised of Barbara Boronell, Maria de Souza, Elizabeth Dunkley, Cheryl Smeall, Francisco Uribe, Patricia Nellissen) also reciprocates, shares collections and supports research at other institutions in Quebec, Canada, and internationally by
 lending, scanning and digitizing materials from McGill's collections.
Overall, more than 35,000 requests for documents were handled by the team in 2014-2015 – an all-time record, says the team's nominator. These requests covered every discipline, format, language, from every era, often quite esoteric and specialized. "The team is dogged and persistent in chasing down all options," writes the ILL/DO nominator. "Speed, accuracy, efficiency and a knowledge of multiple information systems and tools, as well as the patience and courtesy required for a large amount of customer contact including public relations, particularly within Quebec, are exemplified by all members of the team."
Like all good teams, the ILL/DO is a mix of younger members and veterans who have worked together for periods ranging from four months to 39 years The key to the team's success is an "extraordinary esprit de corps."
"A high demand and the imperative for speed creates stress," says the nominator. "They deal with it professionally, leveraging their complementary strengths to organize and divide the workload. They are flexible, share their knowledge and help one another resolve problems. Despite working under duress they have created an empathetic, healthy, harmonious and supportive work environment."
The following is a list of everyone who was nominated:
M & Excluded

Name
Position
Faculty/Department/Unit
Tasha Ayinde
Associate Director Administration
Faculty of Medicine
Dominique Besso
Student Affairs Officer
Department of Medicine
Louise Blondeau
Managing Director Advancement Services
University Advancement
Michael Canavan
Administrative Officer
Education
Vittoria Catania
Student Affairs Officer
Department of Anatomy and Cell Biology
Karen Cavanagh
Administrative Assistant
School of Communication Sciences and Disorders
Linda Chernabrow
Manager
McGill Institute for Aerospace Engineering
Tammy Lynda Cree
Program Administrator
Desautels Faculty of Management
Laurie Devine
Information Officer
Media Relations Office
Andrea Massimo Di Stefano
Editor
Enrolment Services
Helene Duplessis
Human Resources Administrator
Faculty of Medicine
Vanessa Fabris
Degree Evaluation Officer
Enrolment Services
Thi Kim Chi Huynh
IT Frontline Services Manager
IT Customer Services
Dean Jolly
Systems Development Manager
Brain Imaging Centre
George Lazaris
Manager Building Services
Building Services
Francesca Maniaci
Assistant to the Dean
Faculty of Religious Studies
Nancy Nelson
Program Advisor
Department of Biology
Silvana Pellecchia
Manager Student Affairs
Registrar's Office Macdonald Campus
Melanie Pepin
Financial Officer
Faculty of Medicine
Dawne Ramsahoye
Program Manager
Career and Professional Development
Sharron Smith
Benefits Advisor
Human Resources
Clara Spadafora
Student Records Manager
Enrolment Services
Andrew Staples
Administrative Officer
Institute of Islamic Studies
Katayoun Zendehbad
Associate Director Procurement
Procurement Services

Clerical

Name
Position
Faculty/Department/Unit
Giuseppina Corsentino
Accounts Administrator
Office of the Associate Provost (FARA)
Giuseppa Di Sano
Administrative Coordiantor
Office of Religious and Spiritual Life
Susanne Gomes
Senior Administrative and Student Affairs Coordinator
Department of Family Medicine
Chantal Grignon
Student Affairs Coordinator
Department of Pharmacology and Therapeutics
Jackie Krebs
Senior Accounts Administrator
Faculty of Medicine
Elisa Monaco
Administrative and Student Affairs Coordinator
Department of Medicine
Marianne Provost
Senior Administrative Coordinator
Department of Biochemistry
Amber Saunders
Student Affairs Coordinator
Faculty of Engineering
Sharon Webb
Conference and Event Coordinator
Faculty of Law

Technical and Libraries

Name
Position
Faculty/Department/Unit
Stewart McCombie
Chief Audio-Visual, Design and Photo Technician
Multimedia Services
Stephen Nuara
Chief Animal Health Technician
Animal Resources Centre
Keith Roche
Assistant Stage Manager
Department of English
Richard Rossi
Chief Electronics Technician
Chemistry
Patricia Smith
Research Technician
Department of Obstretics and Gynaecology
Jennifer Wallace
Course Technician
Faculty of Education

Trades and Services

Name
Position
Faculty/Department/Unit
Ida De Melo
Building Serviceperson C
Building Services
Norman Lefebvre
Groundsman
Building Services
Leonardo Leone
Building Serviceperson A
Building Services
Nello Marussi
Cabinet Maker
Building Operations
Jose Efrain Rivera Pineda
Building Serviceperson C
Building Services

Team Projects

Name
Academic Affairs (Dentistry)
Admissions, Equity and Diversity Office (Medicine)
Interlibrary Loan and Document Delivery Service
MMP Supplies Manager at Dentistry
Student Affairs Collective
Student Affairs Office (Law)
University Advancement