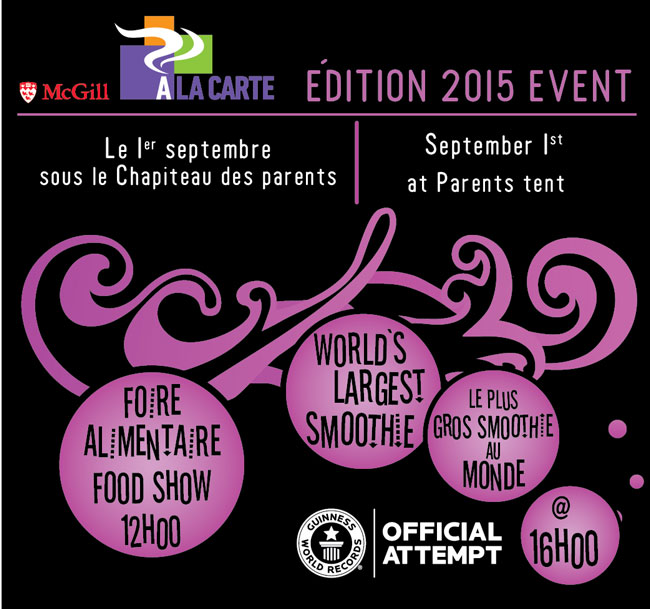 3,800-litre smoothie will put McGill in Guinness Book of World Records… again
By Neale McDevitt
As McGill's Executive Chef and the person responsible for feeding the huge McGill community year round, Oliver de Volpi thinks big. But this time he may have outdone himself.
On Tuesday, Sept. 1, de Volpi and more than 100 volunteers will be knee deep in watermelon rinds and banana peels on Lower Campus as they try to break the Guinness World Record for the world's largest smoothie. The current record stands at a whopping 2,300 litres set in Australia last summer.
Typical of the man who helped mastermind the world's biggest fruit salad in 2012, and last year's 4,000+ pound brownie, de Volpi doesn't just want to break the record he wants to, well, liquefy it.
"We're aiming for 3,800 litres," he says. "We want to make it very challenging for anyone else who wants to try this."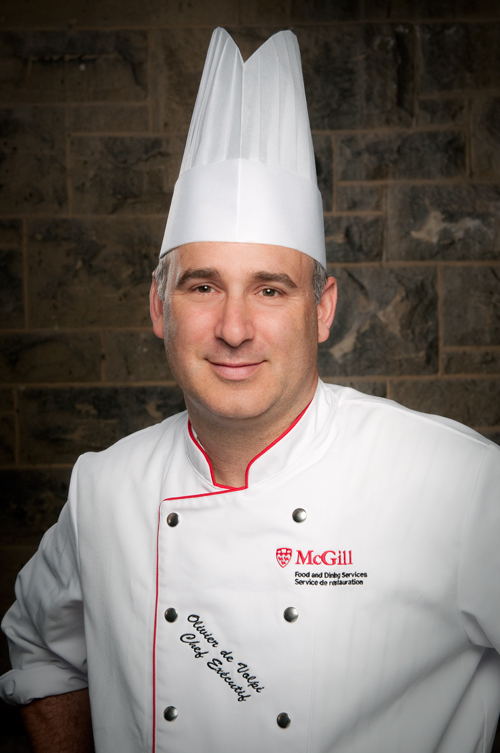 Unlike the aforementioned behemoth brownie, which was great on the sweet tooth but, at almost eight million calories, not so great for the waistline, the super smoothie will be both tasty and healthy.
Ingredients will include thousands of kilograms of cantaloupes and watermelon (both grown at the Mac Farm), Quebec-produced strawberries and blueberries, Fair Trade bananas and juice and yogurt donated by McGill suppliers. "This year, we really want to promote healthy eating on campus," says de Volpi. "What better way to kick it off than with a giant smoothie made primarily of fresh, locally grown fruit?"
In typical fashion, the event will be a pan-McGill one, with teams of 40+ volunteers (students, staff and faculty) working hour-long shifts washing and cutting fruit, working the 20 industrial blenders and blending the mix into the 10-foot-tall water tower that will be installed on lower campus. There will even be a bike hooked up to a mixer so people can use pedal power to help blend the record-breaking smoothie.
The scrubbing, chopping and blending will begin at noon and end at 4 o'clock when it is hoped that the Guinness official will give the thumbs up for a new world record.
That's when the fun begins and de Volpi and his team will start handing out free smoothies (in compostable cups, no less) to everyone. Yes, everyone. "We figure will be serving between 5,000 – 6,000 smoothies on campus, and then there will probably be between 3,000 and 4,000 servings left," says de Volpi. "Will be donating that to the Old Brewery Mission, which is great because it will give them enough very healthy smoothies for a few days."
But, like all good chefs, de Volpi doesn't rely on a single course. Expanding on last year's format, this McGill à la carte event, will also feature a food fair showcasing the (free) wares of 34 of McGill's food vendors and suppliers.
Visitors to the tent on lower campus will be able to sample everything from sushi, canapés and bagels and cream cheese to pizza, Vietnamese sandwiches and baked goods. "It will give people a taste of the food being served at McGill," says de Volpi, "and I think everybody will be impressed."
Tuesday, Sept. 1; lower campus. People can sample food at the food fair beginning at noon. The smoothie will be served after 4 o'clock. Get more details.