McGill International Experience Awards transforms students' academic experience
Established in 2013, by a generous commitment from McGill alumni Joseph Schull and Anna Yang, the McGill International Experience Awards (MIEA) is an ambitious initiative that provides students with the unique opportunity to study abroad. Students are able to participate in academic activities that can range in length from one semester to a full academic year, including internships and field research trips, and courses abroad.
McGill doctoral student Courtney Krolikoski recently hunkered down in Italy to conduct research for her PhD in history and classical studies.
Krolikoski pored over archival material for her research on leprosy in Bologna during the Middle Ages.
"I basically just spent a lot of time culling through all of the documents that I could get my hands on," says Krolikoski, a New Hampshire native.
Being handed a box of documents from the 12th century was one of the memorable moments from her trip. "To see all these names and signatures of people that existed 800-plus years ago was pretty phenomenal," she says.
Krolikoski benefitted from a Schull Yang International Experience Award for her research abroad, part of the McGill International Experience Awards (MIEA).
"I think these trips are really important for a lot of fields to be able to carry out meaningful research," says Krolikoski who spent four and a half months in Bologna spread out over two trips.
"If you're able to afford being there for a longer period of time you can actually do more meaningful and serious research in a way that you can't necessarily get done if you're forced to go on short research trips."
Giving back
Created through the generosity of alumni Joseph Schull and Anna Yang, the MIEA program provides students with the chance to study abroad. The academic opportunities include internships, courses abroad, field research trips and more.
As McGill students, Schull, BA'82, MA'85, and Yang, BCL'88, LLB'88, received financial awards to study abroad. Through the MIEA, they're passing on the wonderful opportunity for an international study experience to many other McGill students.
The awards benefit students in the Arts and Law faculties, as well as all other faculties through the Office of Student Life and Learning. In addition to the Schull Yang International Experience Awards, supported by Schull and Yang, the MIEA include awards backed by endowed funds received from other donors and matched by the couple.
Guillaume Charpenel, BEng'06, MBA'17, received the Robert Dorrance and Gail Drummond International Exchange Award for an academic exchange in the Netherlands in the 2017 winter semester.
Charpenel says he wanted to get out of what he calls the "North American echo chamber in business" and its limitations, to see how Europeans do business.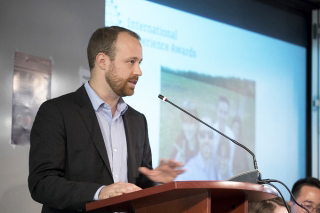 At the Rotterdam School of Management, Charpenel worked on a consultancy project with a team of students from other countries and met with executives from different industries.
He saw how they conduct business, and also had the chance to see how the society works – "how they're able to find solutions to problems they have, and how they're very proactive in finding solutions."
The award gave him the confidence not to be too worried about money while he was there and to "really enjoy myself and keep my eyes and heart open to whatever life was throwing at me.
"It really enabled me to have this primary mission, which is learning."
New countries, new skills acquired
In his role as Associate Provost (International) at McGill, one of Philip Oxhorn's mandates is to encourage students to study abroad.
We're increasingly learning that people's future career paths look much different compared to the past, with more international exposure and people more likely to change careers several times in their lifetime, notes Oxhorn, a professor of political science.
International internships and study abroad experiences help students acquire the practical skills that that kind of flexibility requires, he adds.
"It just prepares them better for the job market of the 21st century," Oxhorn says.
Andrew Rintoul, a second-year McGill law student, received a Schull Yang International Experience Award for a 12-week internship in 2017 with a human rights organization in Cambodia.
Based in the capital Phnom Penh, Rintoul monitored high profile trials of activists and political prisoners during his internship with the Cambodian League for the Promotion and Defense of Human Rights. He also took part in election monitoring.
"The people that I met really are what I'll take with me. The resilience and the courage of a lot of people in the country was really inspiring," Rintoul says.
"Overall it was extremely inspiring, engaging. I would call it transformative in the sense that I now have an experience that is completely removed from what I would have experienced had I stayed home. It was a wonderful opportunity for me."
Find out more about the McGill International Experience Awards.