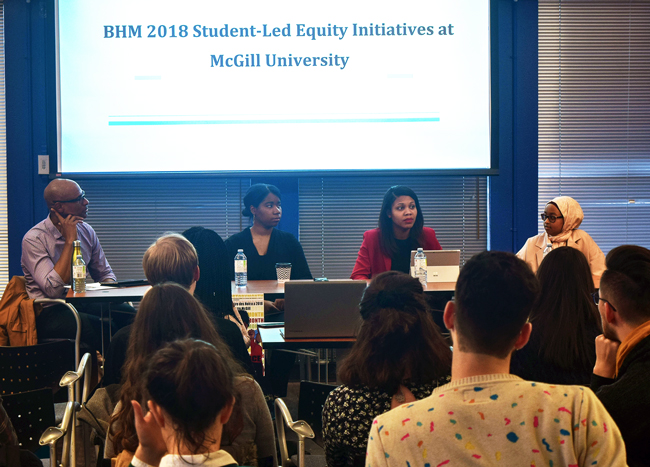 Recently, the Joint Senate Board Committee on Equity, in partnership with Black History Month (BHM) organizers, hosted a Student Panel and Interactive Exhibit highlighting a number of student-led equity initiatives at McGill. The Exhibit featured a range of student initiatives and the Panel focused on the contributions of Black students.
According to moderator Dr. Philip Howard, Assistant Professor in Integrated Education, this event was an opportunity to learn about such student initiatives as well as give space to ask questions about challenges and rewards of their work. Associate Provost of Equity & Academic Policies, Angela Campbell, added that the event is part of a greater effort to make links between groups across McGill who are centering equity in their work, in the hopes of building strong partnerships.
The panel included Christelle Tessono, VP Political of the Black Students' Network, which is a co-host of this year's Black History Month (the second-ever to occur at the institutional level at McGill); Chantelle Dallas, a BHM organizer and member of the Black Law Students' Association; and Rawda Baharun, a Peer Mental Health Educator for Healthy McGill.
These student panelists spoke candidly about the many benefits they had gained through their equity work, most notably in finding a community to which they felt they belonged, and in turn learning about themselves. Baharun said that it has been rewarding to learn about equity in an institutional context, and advised others "if there is no seat at the table you should make your own."
However, the varied contributions these Black students have made to their communities within the McGill context do not come without challenges. One thing they all shared was the desire to be more actively consulted when it comes to the needs of Black students at McGill.
Dallas, bringing up a comment she had received about this year's Black History Month poster, diplomatically took the opportunity to remind participants that while initiatives like BHM are part of a larger conversation that everyone contributes to, they are first and foremost a response to the needs of Black people in the McGill community.
Tessono pointed out that while BSN has been around since 1970, it is still difficult to make connections across a large, decentralized university like McGill. Tessono further stressed the importance of liaising and sharing resources to advance equity overall. Baharun used her personal experience to address what she saw as a gap in the way Healthy McGill initiatives were targeting students, recognizing that the unique experiences and habits of racialized students are not always considered during campaigns that address mental health at the university.
Taking place during Black History Month, the panel was a reminder that not only is it acceptable to emphasize Black wellbeing and excellence within campus-wide dialogues at McGill, but it is also necessary in order to support inclusion in all areas of campus life, and the contributions of students must be recognized as vital to this movement.
The importance of efforts to take up space on McGill campuses was reflected in all student work present at the interactive exhibit, from Women in Physics, to the SSMU Babysitting Club, to Broad Science, to name a few.
Arisha Kahn and Isabella Oke are two students who have been working on funding opportunities for former youth in care to attend university, and recently succeeded in creating a scholarship fund in collaboration with the Scholarships and Student Aid Office. According to Kahn, "It is so important for student groups, who are typically low on resources, to support each other and know that each other is out there. Without Café Collab, this [our work] wouldn't have happened…that's why SEDE [the Social Equity and Diversity Education Office] is important for students who don't necessarily have the support they need."
Kahn was referring to the SEDE program, Café Collab. This initiative is in its second year, dedicated to "creating alternative spaces for McGill community members to connect, discuss experiences, and share ideas on how to foster a campus environment that is supportive of the diverse and particular needs of the McGill community" (SEDE website).
Julian Gittelman, a member of the Medical Students' Equity Committee (MSEC), echoed the importance of equity-centred spaces to facilitate connections amongst students. He was present in order to talk about the MSEC's efforts to create a complaints policy for equity matters in the Medical Students' Society. "It gives me energy to be a part of this tonight, to meet other students who are doing similar work…it's inspiring: getting feedback, hearing their ideas," Gittelman told the audience.
Along with fostering such connections, first-year student Tayah explained that her involvement in the Sampling Youth Development (SYD) project helped her adjust into her new life as a McGill student. "SYD was my entry point when I came here [to McGill]," she said. "I wanted to mix social equity and science, as a Psych student. I think it's amazing to have events like this for first year students to get involved and see what's out there, to find people with similar interests."
The Student Equity Panel and Interactive Exhibit is just one event in a growing infrastructure of support for students involved in equity work at McGill. The University's commitment to equitable initiatives is evident at all levels of McGill, but such a high turnover in the student population can mean that all of the valuable work students are doing is sometimes underrepresented when it comes to recognizing who is taking steps to make more inclusive campuses. This event provided an important opportunity to devote space to sharing perspectives on how all of us at McGill can move forward in making respect, diversity, and inclusion central to our commitments to each other.
If you know a staff member, student, or faculty member (or any team therein) who has shown exceptional leadership, initiative and commitment to equity, diversity and community building at McGill, you can nominate them for the Award for Equity and Community Building. You can read more, and nominate them online.
Groups that participated in the event include:
Diversity @ STEMM Exhibit (Charles Xu and Jessica Ford)
Medical Students Society (Julian Gittelman)
Women in Physics (Erika Janitz, Paula Boubel and Hannah Wakeling)
Broad Science (Rackeb Tesfaye)
SSMU Babysitting Club (Olivia Kurajian)
Sampling Youth Development (Tayah Morris-Gabriel)
Fostering Post-Secondary Success: Support Programming for Students from Foster Care (Arisha Khan and Isabelle Oke)