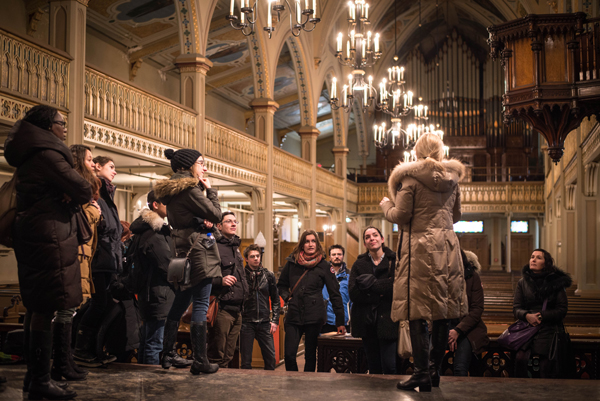 Group helps provide a platform to discuss and enrich the notion of innovation within the community.
By Chloé Vadot
Created in February 2013, the McGill QI Student Working Group, currently composed of 15 students, was started to support McGill's participation in the Quartier de l'innovation, by providing a platform for the larger McGill student body to discuss and work on concrete initiatives of innovation. The group meets every month to discuss the evolution of the project and address opportunities for funding, participation in QI projects and creative ways to involve students interested in entrepreneurship and innovation in Montreal. "We want to raise awareness about QI but also enhance its capabilities and capacity," says Zoey Tung, a U3 student who has been with the working group from the beginning "The goal is that in the near future, it will be a living lab that supports and motivates innovation."
On Feb. 7, the student working group had the chance to tour the Quartier de l'innovation and visit some of the projects and partners within the neighbourhood. The QI, which is located in the South West of Montreal, searches to enrich the experiences of the students by increasing collaborations and partnerships with local actors. "QI acts as a nexus which closes the distance between all essential elements of innovation: students, founders, advisors, partners, resources," says Oliver Zhang, another member of the working group
Some projects focus on the redevelopment of buildings and public spaces, others on creative and innovative initiatives, like a FabLab or a future Laboratory of Urban Culture in a Little Burgundy church. The QI is a nest for incubators, such as the CEIM incubator dedicated to providing spaces for entrepreneurs in the new media industry, IT and green technologies, and life sciences; or the CENTECH incubator, focusing on startup technology. These spaces provide young companies with inexpensive space to develop their project and network with similar-minded entrepreneurs. Creative initiatives also include projects like the Darling Foundry, a space for exhibitions of contemporary art and artist residencies, situated in an old foundry near Montreal's Cité du Multimedia.
McGill's counterpart in the project is l'École de technologie supéieure's DécliQ, a similar working group, that works to organize events and creative activities to discuss innovation and urban evolution in the neighbourhood and community.
Students and teaching institutions in Montreal play a central role in the creation of interurban social relations, and being involved in projects like the QI, allows us not only to become more familiar with the nature of the city, but to experience the transformation of what it means to be an active and original center for culture, social interaction, and innovation in the urban fabric of the globalizing planet.
If you wish to join the student working group or you are looking for more information, go here.