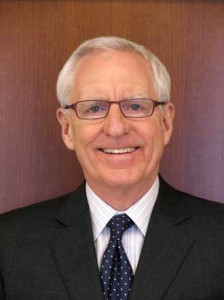 Law graduate has served University in many capacities over the years
By McGill Reporter staff
One of Montreal's leading lawyers and a longtime supporter of McGill University, Stuart H. (Kip) Cobbett has been appointed to a five-year term as Chair of the University's Board of Governors, effective Jan. 1, 2010.
Mr. Cobbett succeeds outgoing Chair Robert Rabinovitch. A former managing partner and chief operating officer with the Canadian law firm Stikeman Elliott LLP, Mr. Cobbett is a McGill graduate (BA 1969, BCL 1972) and has a long-standing relationship with the University. He has been an active member of the McGill Alumni Association for many years, and served as its president in 2002-2003. Mr. Cobbett's diverse and dynamic contributions to the University include: Chair of the Advisory Board of the McGill News (1992-95); Chair of the Board of Visitors, Faculty of Arts (1994-96); member, Audit Committee of the Board of Governors, and lecturer in the Faculty of Law (1976-1985). He is a governor of the Quebec Bar Foundation and serves on several boards of directors.
Mr. Cobbett will serve on a number of Board committees, including its Executive Committee, Human Resources Committee, Building and Property Committee and Nominating and Governance Committee.
"We are absolutely delighted that an individual of Mr. Cobbett's stature is prepared to make this significant commitment to McGill," Principal and Vice-Chancellor Heather Munroe-Blum said. "Kip's long history of service to McGill has provided him with a deep understanding of the University community and makes him an ideal choice to lead the Board. He has already made outstanding contributions to our University in many areas and I look forward to continuing to work with him in maintaining McGill's stature as one of the world's leading universities."
"It gives me great pleasure to accept this appointment," Mr. Cobbett said. "McGill has played a large role in my life and is an extremely important institution – for Montreal, for Quebec and for Canada. Like all great universities, it is a dynamic, multi-faceted organization and I look forward to taking on this new role with energy and enthusiasm. I would also like to thank my predecessor, Robert Rabinovitch, for setting the bar so high. Robert was an excellent Board Chair and his contributions to McGill have been immense."
The Board of Governors is the University's highest governing body. It is composed of 25 voting members, including members at large, student and faculty representatives and two observers. It generally meets six times per year.