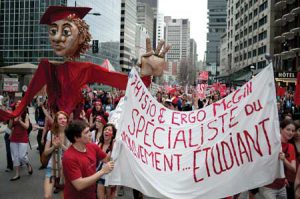 Several hundred McGill students join massive march; disruptions follow
By McGill Reporter Staff
In a dramatic show of strength, thousands upon thousands of university and CEGEP students filled downtown streets last Thursday in the largest demonstration yet against the provincial government's plan to raise tuition fees beginning this fall.
As protesters poured out of Place du Canada onto Peel St. and then headed east along Sherbrooke in front of McGill, major arteries became rivers of red.
Were there 100,000 protesters? 200,000? Estimates varied wildly.
Several hundred McGill students joined the march, leaving through the Roddick Gates as a group.
There were no incidents as the march snaked around the downtown core and headed to its Old Montreal destination where the event wrapped up with speeches exhorting the crowd to carry on their fight against the tuition hikes in the days and weeks to come.
Quebec announced in last year's budget that it would increase tuition fees by $325 per year over five years (a total of $1,625), which will bring average undergraduate tuition closer to the Canadian average at the time of the budget. In addition, the government promised to direct 35 per cent of those revenues to student aid and to gradually increase funding to universities by $850 million.
The massive march was one of a number of tactics deployed by various student groups in recent days and not all have ended so peacefully. Attempts to block access to the SAQ headquarters on de Lorimier St. Tuesday morning ended with police using chemical irritants to disperse the crowd, while another group clashed with police in the Jarry metro station on Monday.
The CLASSE umbrella group, which has organized most of the protests, has vowed to take its fight against the tuition hikes into the next provincial election and promises to send waves of students into ridings where the governing Liberals won by small margins.
Another large protest is planned for downtown Montreal today, beginning at Phillips Square. Unlike the Fédération Étudiante Universitaire du Québec, which organized last Thursday's demonstration, CLASSE does not generally inform the public or the police of the route its protests will take.
On campus, Monday, some students and professors found themselves prevented from attending a handful of classes by students attempting to enforce a strike, which has been supported by students from such departments as Sociology, Music, Geography, Philosophy and (for a time) English, as well as the Post Graduate Student Society.
This prompted a message from Associate Vice-Principal (University Services) Jim Nicell, which reiterated the University's duty to keep classes open.
"Everyone in our community has the right to express peacefully their views about issues," Nicell wrote. "However, our students and staff also have the right to carry out their normal day-to-day activities without disruption. Most important, we owe it to our students to allow them to continue their studies unimpeded and to protect their semester."
More information on demonstrations at McGill can be found at http://blogs.mcgill.ca/demos/