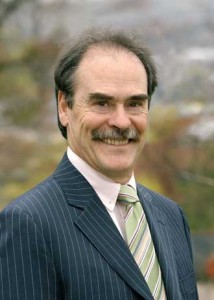 By Neale McDevitt
When Stephen Strople takes over his new position as McGill's Secretary-General he may have to overhaul his wardrobe slightly. Strople, who has worked at University of New Brunswick since 1991, will have to trade in all his sweatshirts sporting the UNB red – Pantone 185 – for McGill merchandise resplendent in Pantone 485.
As announced to the McGill community by Principal Heather Munroe-Blum on Sept. 10, Strople will take office on Nov. 1, taking over from Interim Secretary-General Line Thibault. For her part, Thibault will continue in her role as General Counsel of the University.
Contacted by phone the day of the announcement, Strople sounded like he couldn't wait for Nov. 1 to arrive. "I really am delighted to have such a spectacular opportunity," he said. "I'm just thrilled to be coming to McGill."
And he'll be coming to McGill with a wealth of experience in university administration and upper leadership – although, in his own words, he initially "kind of stumbled" into his career.
In the late-1980s, while at York University pursuing his doctoral studies in Social and Political Thought Strople's one goal was to teach. But his career path changed course when he took a job at York as academic staff-relations officer. After five years at York, Strople went to the University of New Brunswick in 1991 and, one year later, he was appointed University Secretary – a job he has held ever since.
At UNB, Strople played a pivotal role in all aspects of governance and senior-level decision-making including developing and interpreting university policy, regulations and procedure; instructing legal counsel on behalf of the university; overseeing the records management program; organizing and supporting executive-level searches; and the administration of student discipline.
This experience will serve him well as Secretary-General of McGill, where he will be responsible for co-ordinating and facilitating the effective operations of University governance, including both Senate and the Board of Governors, and their committees and for providing advice, guidance and support on all University activities which are conducted by both governing bodies.
Asked what it is about governance that he finds so appealing, Strople pauses for a moment. "What attracts me to governance is what attracts me to universities," he finally said. "Universities are a crucial part of western civilization and I feel very privileged to be able to serve in any capacity."
Over the years, I have developed a deep appreciation for the special culture of universities and the way in which decisions are made. It really is a unique model based on collegiality and collaboration – those are principles that I subscribe to quite deeply."