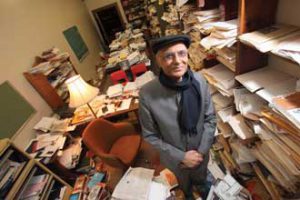 By Neale McDevitt
For many people, workspace is merely that – the area in which they perform their daily tasks. While many employees personalize their office with family pictures, children's artwork, a plant or the logo of a favorite sports team, the vast majority of work areas are fairly generic. Desks, chairs, shelves, computers.
But with some 5,800 full-time employees and 228 buildings encompassing approximately 780,000 square metres, McGill probably has a more diverse selection of offices and workspaces than most employers. From the traditional cubical farms to stately wood-paneled offices in historic digs to the cutting-edge labs of the Life Science Complex that seamlessly marry form and function, the University knows a thing or two about work areas.
These two pages highlight some of the University's most unique spaces – be it the paper-cluttered professor's office, the subterranean costume-making shop or the continent's biggest arboretum – and the equally unique people who work there.
Name: Arvind Sharma (see photo above)
Position: Birks Professor of Comparative Religion
Workspace: Office in the Birks Building.
Workspace story: "I'm becoming famous for the wrong reasons," said Sharma of his amazing collection of tens of thousands of documents and books that was featured in a 1989 documentary called My Messy Life.
"I look upon my office as the kitchen, not the dining room," he said with a laugh. "Apart from the chef, anyone who comes in just sees confusion."
And there is method to the messiness. Each pile represents one of Sharma's many projects, be they a book he's writing (he's written more than 80), a paper or a conference. The last time Sharma moved offices, however, he jokingly told a colleague that the "time and energy it took to move cost me another book."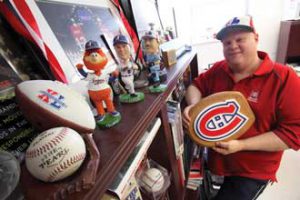 Name: Earl "The Pearl" Zukerman
Position: Communications Officer for McGill Athletics and Recreation.
Workspace: A showcase for sports memorabilia that doubles as Zuckerman's office.
Workspace story: A lifelong collector ("I still have all my original baseball and hockey cards"), Zukerman has personalized his Currie Gymnasium office with dozens of sports-related items, including an original Expos ball cap; a replica of the square puck used by the 1877 McGill hockey team; and a photo from Chicago's famed Wrigley Field with "Thanks Earl The Pearl" on the electronic message board. Zuckerman's desk is organized chaos. "I divide it up by sports so the left side might be football and the right side might be basketball," said Zuckerman. "But if someone moves something I'm totally lost." Not all ends happily, however. Just days after putting his complete collection of Expos bobblehead dolls on display, a slammed door sent a picture crashing down onto the shelf destroying all but three figurines.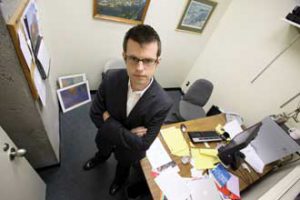 Name: William Raillant-Clark
Position: Communications Officer, Media Relations Office
Workspace: A small, windowless office in Burnside Hall referred to as "the broom closet" by Raillant-Clark's colleagues.
Workspace story: In just his fourth month at McGill, Raillant-Clark is paying his dues in "the new guy office." Luckily, the New Zealand native has managed to keep his sense of humour about his cramped digs, noting that the best thing about his office is that "it really encourages me to go out and connect with my colleagues elsewhere on campus. I grew up on the coast of the South Pacific Ocean, and architecture there is very much oriented towards the exterior," he continued. "Canadians prefer cozy spaces, but the lack of natural light in my office is a major challenge for me."
Name: Catherine Bradley
Position: Head of Wardrobe and Resident Costume Designer
Workspace: Located in the basement annex of the Arts Building.
Workspace story: Bradley, who has worked for in the costume shops of many major Canadian theatres, had her current workspace designed to her specifications by McGill architect Radu Juster. Instead of impediments, Bradley saw the large concrete columns as valuable work centres, adding mirrors, shelving space and the necessary wiring for an industrial iron, or sewing machine. "What I like best is that it doesn't feel like a basement," said Bradley. "The quality of the light is good, with color correct fluorescent lighting to augment the natural light that comes in through the high windows along one wall. It's an easy place for people to feel welcome and work creatively."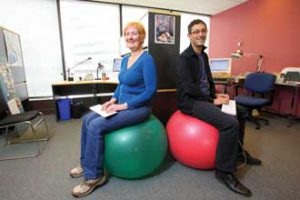 Name: Jane Jackel
Position: Web Editor
Workspace: Office in 688 Sherbrooke.
Workspace story: The 29-year McGill veteran has been sitting on a Swiss ball at work for the past eight years, side-by-side with colleague Anthony Seaberg (also pictured) himself a part-time Swiss ball enthusiast. Jackel originally bought the ball to exercise with at home but her over-zealous cats made that impossible. Instead, she brought it to work to replace her regular chair and was an instant convert. "I know some people who try it and go back to chairs, but not me," she said. "Research will say I'm wrong, but I believe it has improved my balance dramatically and my posture. It is a passive form of exercise but you are constantly using your core muscles to maintain your balance."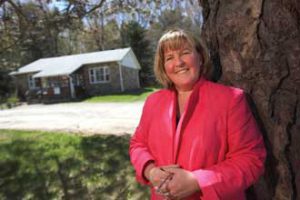 Name: Mary Ann Pavlik
Position: Financial administrator of the Morgan Arboretum
Workspace: A three-bedroom cottage nestled in the Arboretum's bucolic forest a mile off the main road.
Workspace story: Two years ago, Pavlik was working on Peel Street in downtown Montreal "fighting the traffic and the concrete heat."
Today, all she battles are the occasional mosquito on her daily lunchtime walk along a nature trail and bold squirrels looking for a handout when she eats her lunch outside. "Doing finances in an environment like this is really a special twist on the traditional office setting," said Pavlik. "It's a real pleasure to come to work every day."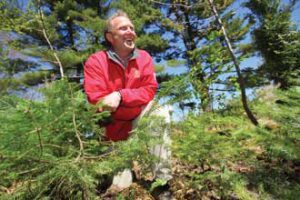 Name: John Watson
Position: Forest Operations Manager, Morgan Arboretum
Workspace: The Morgan Arboretum, a 245-hectare forested reserve – North America's largest arboretum.
Workspace story: It's one thing to work in familiar surroundings, it's another to be John Watson. Watson, who took over from his father Bob as forest manager 33 years ago, was born in the small house at the Arboretum's entrance. Aside from three years in Guelph ("just to throw people off"), Watson has never strayed far from Ste-Anne-de-Bellevue and the Arboretum. "We're the only arboretum in North America that combines collection, plantation, production and recreation. We offer a complete picture," he said.