By Alex Munro, Technology Transfer Manager, Office of Innovation & Partnerships
"Unlike all the other festivals, Startupfest begins when it's over."
Those words kicked off the sixth edition of Montreal's annual one-of-a-kind exhibition for entrepreneurs, and it succinctly described the attitude that surged and flowed throughout the course of the four-day long event: Entrepreneurship isn't a goal, it's a journey.
The 2016 Startupfest was held on the esplanade in front of the Montreal Science Centre from July 13-16. The event provided visibility, opportunity, and education to the Montreal entrepreneurship community, and attracted a vibrant mixture of startups, investors, founders and mentors.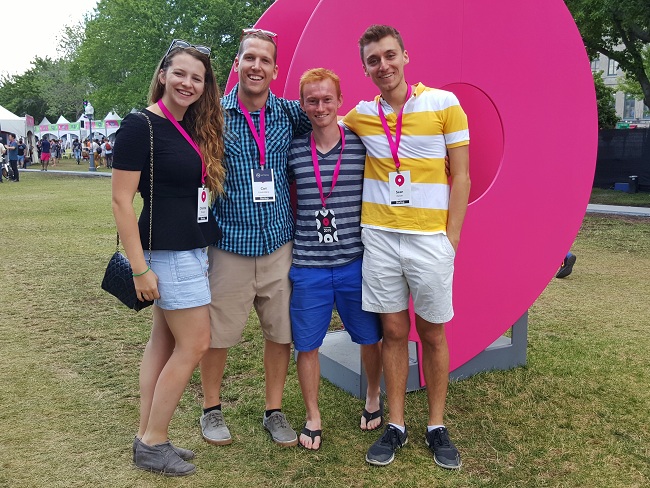 This year, hundreds of eager entrepreneurs competed to win $200,000 in funding, and for the opportunity to pitch their ideas to experienced investors and mentors. The participants also met legendary and inspirational startup celebrities from companies such as Reddit, Shopify and Oculus. The record-breaking temperatures didn't stop dozens of McGill startups from making the short trek to the waterside venue in the Old Port, including this year's cohort from the Dobson Centre for Entrepreneurship's X-1 Accelerator program, an intensive 10-week summer program designed to get McGill startups ready to launch. All had the chance to step into a community of creative minds and unbridled enthusiasm, the perfect environment to catalyze the next step in their young company's evolution.
Asked to give some advice to faculty or students wondering whether to embark on a new venture, McGill student Sean Kaiser, founder of the startup Appetite, was clear: "I would say just do it.  At this point, there is nothing to lose but so much to gain.  Even if your startup fails, you have the opportunity to have hands-on experience in a wide range of fields.  I am studying mechanical engineering at McGill, but most of my experience at Appetite has been in finance, accounting, software, marketing, graphic design, and public speaking, to name a few."
As much as Startup provides business and networking opportunities, Kaiser and the other McGill students agreed that the culture, atmosphere, and broad vision were also huge draws. "Often I feel like it is easy to be intimidated by big companies with a lot of funding in San Francisco or Boston," said Sean, "but I think that Startupfest showed that great companies are starting here as well."
Guest speaker Sean Silcoff, a Globe and Mail columnist, referenced his long experience as a tech journalist when he noted the rapid and marked transformation of the entrepreneurial climate in the country: "Canada is truly gaining a reputation as a tech hub." In this burgeoning sector, Startupfest is a key link, merging ideas with inventors and facilitating a thriving network for homegrown innovation. Startupfest has become so popular over the past six years that this year's installment added five "Premium Fests" that reach out to, among others, angel investors, accelerator managers, and small businesses looking at expansion.
Not sure if the startup path is for you? Charlotte Savage-Pollock, a Concordia student participating in the X-1 Accelerator and a product developer with McGill medical diagnostic microtechnology startup NXTSENS, has some advice: "Get out there and talk to people, never be shy, and always speak your mind. Entrepreneurship can be taught."