By McGill Reporter Staff
McGill will confer honorary degrees upon 12 exceptional individuals during this year's Spring Convocation ceremonies. The recipients – including a world-renowned singer and humanitarian, a Nobel Prize-winning AIDS researcher, a best-selling essayist, a leading philosopher, and business innovators and leaders – will join over 7,300 graduating students taking the stage during Convocation ceremonies from May 27 to June 3.
Convocation ceremonies will be held on McGill's lower campus, with the exception of the Faculty of Agricultural and Environmental Sciences ceremony (June 3), which will be held at the Macdonald Campus in Sainte-Anne-de-Bellevue.
McGill University honorary degree recipients, spring 2013 (in order of presentation):
Matthew S. Meselson, Doctor of Science, honoris causa
Faculty of Science, Monday, May 27, 10 a.m.
Throughout his career, Matthew S. Meselson has been involved in studying the fundamental principles of genetics and molecular biology, principles that have been crucial to the development of 20th century biology. The Meselson-Stahl experiment established that in DNA replication each of the two strands of the double helix acts as a template on which a complementary strand is synthesized. His current research is aimed at understanding the evolutionary role of sexual reproduction and learning what drives the aging process in animals. In his role as an advisor to the U.S. government, Meselson has played an important role in achieving the treaties now in force that prohibit the development, production and use of biological and chemical weapons of war.
Robert Deluce, Doctor of Science, honoris causa
Faculty of Science, Monday, May 27, 2 p.m.
Growing up in White River, Ont., Robert Deluce was destined for great heights from the start. His father, a pilot in the Royal Canadian Air Force during the Second World War, formed White River Air Service and as a youth, Robert was one of its pilots. With his father and siblings, he then played a critical role in the creation of NorOntair and Air Creebec. The founder of Porter Airlines, Deluce is clearly the personification of that most crucial trait for success: determination. In 2006, Porter Airlines almost did not get off the ground. Facing almost insurmountable obstacles, Deluce never wavered, and today what started as a small regional service has become the third-largest scheduled airline in Canada, serving 19 markets in Canada and the United States
Sally Katharine Drury McDougall, Doctor of Letters, honoris causa
School of Continuing Studies, Monday, May 27, 6 p.m.
Alumna Sally McDougall has made remarkable contributions to community-building within the Montreal area and especially within the University itself. McDougall's community involvements include working as a volunteer instructor and assistant ski school director with Adaptive Sports, an organization that improves the quality of life for people with disabilities. However, it is McDougall's commitment to her alma mater that is a hallmark of giving back. She has served the Alumni Association for many years, both as its president from 2000 to 2002, and in a variety of other positions including treasurer and vice-president of its board of directors. McDougall has always acted as a consistent and staunch advocate for students in her role representing the Alumni Association on many McGill committees. In 1997, the Alumni Association conferred on McDougall its Distinguished Service Award and then in 2007, its highest honour, the Award of Merit. Her wise counsel, tireless advocacy and grounded approaches have truly made a significant difference to our people, especially to our students.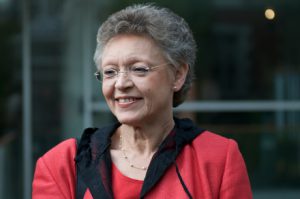 Françoise Barré-Sinoussi, Doctor of Science, honoris causa
Health Sciences Convocation, Tuesday, May 28, 2 p.m.
Françoise Barré-Sinoussi is one of the world's foremost virologists and activists in the field of HIV/AIDS. In a seminal publication in Science in 1983, Barré-Sinoussi and her colleagues isolated a new human retrovirus from a patient at risk of developing AIDS, which they named HIV (human immunodeficiency virus). In 2008 she shared the Nobel Prize in Medicine for her role in identifying HIV as the cause of AIDS. Continuing research into the prevention of HIV infection and efforts around the world to develop an HIV vaccine, are based on her original discovery. In addition to her outstanding scientific contributions, Barré-Sinoussi is also a strong advocate for universal access to HIV diagnosis, treatment and care, seeing it as a human rights and social justice issue. Françoise Barré-Sinoussi is the president of the International AIDS Society, as well as being a professor and director of the Unit of Regulation of Retroviral Infections at the Institut Pasteur and research director at INSERM (France).
Adam Gopnik, Doctor of Letters, honoris causa
Faculty of Education, Wednesday, May 29, 10 a.m.
A 21st century renaissance man with deep roots in Montreal and at McGill, Adam Gopnik has been a prolific staff writer at The New Yorker magazine since 1987, both as its art critic and, for five years, as its Paris correspondent. He has written hundreds of essays for the magazine on subjects as diverse as the evolution of the five blade razor, the meaning of dogs in human lives, and the crisis of incarceration in America. Gopnik has won a host of prizes including the National Magazine Award (three times), the George Polk Award for magazine reporting, and the Canadian National Magazine Award Gold Medal for "The Mindful Museum" published in The Walrus. Gopnik is the author of seven books including the best-selling Paris to the Moon and The Table Comes First, which have been translated into French, Italian, Hebrew and Korean. Notwithstanding the international acclaim he has garnered, he confesses it is his adventure stories for children (The King in the Window and The Steps Across the Water which is set in Paris and New York) that are his proudest achievement.
Darren Entwistle, Doctor of Laws, honoris causa
Desautels Faculty of Management, Wednesday, May 29, 2 p.m.
President and chief executive officer of TELUS since 2000, Darren Entwistle is the longest-serving CEO amongst global telecommunications companies. Under his leadership, TELUS developed a successful long-term growth strategy that transformed the company from being a regional telephone provider into becoming a leader in national and global telecommunications. TELUS, its team members and retirees believe passionately in the company's deeply rooted philosophy – We give where we live, and together have contributed $300 million and volunteered more than 4.8 million hours in local communities across Canada since 2000. As a result, they were named the top philanthropic corporation of 2010 by the U.S. based Association of Fundraising Professionals, the first Canadian company to win this award.
Judith Butler, Doctor of Letters, honoris causa
Faculty of Arts, Thursday, May 30, 10 a.m.
Judith Butler is one of the leading philosophers, theorists of gender and sexuality, and public intellectuals of our time. Butler has made major contributions to the fields of feminism, queer theory, political philosophy, and ethics and has frequently influenced debates about free speech and the role of religion in the public sphere. Her 1990 book, Gender Trouble: Feminism and the Subversion of Identity is regularly assigned in university courses and acknowledged as a groundbreaking study that facilitated a paradigm shift in the understanding of gender. Her more recent publications include: Antigone's Claim: Kinship between Life and Death and Frames of War: When Is Life Grievable? In 2011, she contributed to The Power of Religion in the Public Sphere. Butler is also active in gender and sexual politics and human rights, anti-war politics, and Jewish Voice for Peace. Currently the Maxine Elliot Professor in the Department of Rhetoric and Comparative Literature at the University of California, Berkeley, she also holds the Hannah Arendt Chair in Philosophy at the European Graduate School in Sass-Fee, Switzerland.
Nana Mouskouri, Doctor of Letters, honoris causa
Faculty of Arts, Thursday, May 30, 10 a.m.
Nana Mouskouri is one of the best-selling female recording artists of all time. In her international career, which spans more than 50 years, she has achieved phenomenal success worldwide. She has recorded more than 1,500 songs in eight languages (she speaks fluent English, French, German, Greek, Italian, and Spanish), and has sold more than 300 million records/disks. Introduced to North America in 1964 by Harry Belafonte, she has frequently performed in major cities as well as travelling to many remote areas of Canada. She acknowledges that many Canadian composers and artists have had an important influence on her music. A humanitarian and a fervent child rights activist, she has been a UNICEF Goodwill Ambassador since 1993, and served as a member of the European Parliament for Greece from 1993 to 1999. Mouskouri has received numerous awards from around the world that speak to her commitment to better the world through her both her art and her actions.
Claude Montmarquette, Doctor of Laws, honoris causa
Faculty of Arts, Thursday, May 30, 2 p.m.
Claude Montmarquette is president, CEO, and vice-president of Public Policy at the Centre interuniversitaire de recherché en analyse des organisations (CIRANO). A global leader and innovator in the fields of experimental economics and applied econometrics, Professor Montmarquette's research focus is the application of experimental economics to questions of economic policy as it relates to education and health. The author or editor of eight books and over 70 scientific articles, the results of his work have had significant impact on the development of public policy both at home and abroad. He is an elected fellow of the Royal Society of Canada and professor emeritus of Economics and holder of the Bell-Caisse de dépôt et placement du Québec chair in Experimental Economics at the Université de Montréal. He was named a member of the Order of Canada in 2012 and voted a Great Montrealer in 2010.
Sally Engle Merry, Doctor of Laws, honoris causa
Faculty of Law, Friday, May 31, 10 a.m.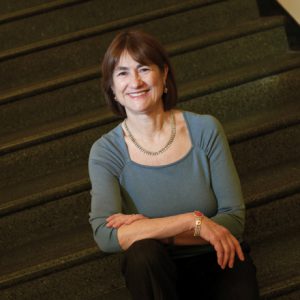 Sally Engle Merry is among the most distinguished scholars of law and society in the world today, and the leading legal anthropologist in the United States. With outstanding scholarship on human rights, colonialism, gender, race and class, local and popular justice, conflict resolution, and violence against women, Merry has established herself as a towering figure in the Law and Society movement. A prolific writer, she is the author of eight monographs and close to 150 scholarly articles. Merry's most recent work Human Rights Monitoring and the Question of Indicators, on the use of indicators in global governance, addresses some of the most complex contemporary issues in the implementation of international human-rights norms. Merry is currently a professor in the Department of Anthropology and the Institute for Law and Society of New York University.
Calestous Juma, Doctor of Science, honoris causa
Faculty of Agricultural and Environmental Sciences, Monday, June 3, 10:30 a.m. 
Calestous Juma is an internationally recognized authority in the application of biotechnology to advance agricultural development in Africa. His research is highly regarded by government leaders and international agencies, and he was the founding director of the African Centre for Technology Studies in Nairobi, Africa's first independent policy-research institution designed to advance research on technology in development. A former executive secretary of the United Nations Convention on Biological Diversity, headquartered in Montreal, Juma is currently the director of the Belfer Center's Science, Technology, and Globalization Project at Harvard University and also directs the Agricultural Innovation in Africa Project funded by the Bill and Melinda Gates Foundation and serves as faculty chair of Innovation for Economic Development at Harvard.