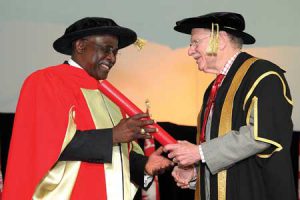 By Jim Hynes
The only outdoor McGill Spring Convocation ceremony of 2012 took place on the Macdonald Campus last Friday as more than 350 students from the Faculty of Agricultural and Environmental Sciences received their degrees and diplomas.
The first of McGill's Spring Convocation ceremonies once again, this year's Mac ceremony returned to a tent on McEwen Field thanks to favourable weather conditions. Last year, wet spring weather moved the event indoors to the Centennial Centre Ballroom.
Professor Elena Bennett from the Department of Natural Resource Sciences and the McGill School of Environment was presented with the Macdonald Campus Award for Teaching Excellence.
Honorary Doctorate recipient (Doctor of Science, honoris causa) Dr. Kanayo F. Nwanze, the President of the International Fund for Agricultural Development, delivered the Convocation Address.
"You have much to be proud of," Nwanze told his fellow graduates, "you have all earned a degree from a fine university, one of the of the best in the world.
"The world you are about to enter is very different from the one I stepped into many years ago. The headlines speak of financial crisis, alarming unemployment and political instability. But you have two key attributes that will help you thrive in this world: you have fine minds and a fine education. Use your knowledge, apply it and share it. And not only will you do good for yourselves, you will contribute to making the world a better place."
Wildlife Biology student Matthew von Bornhoft delivered the Valediction.
You can view the Macdonald Campus Convocation ceremony in its entirety at: http://bcooltv.mcgill.ca/Viewer1/?RecordingID=96044