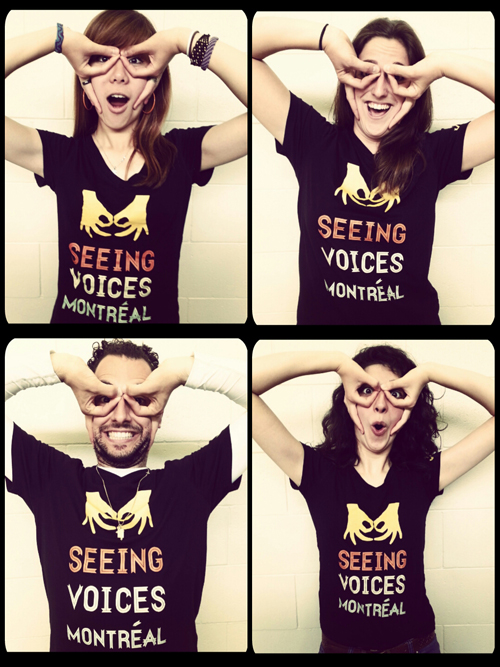 By Neale McDevitt
Aside from singers, auctioneers and ventriloquists, few people rely as heavily on their voices as actors. The best thespians use their voices as instruments to convey every feeling ranging from angry to Zen.
But what about Deaf actors who, because of their use of a visual language, have less access to performance art than their hearing counterparts? Some people might suggest that they are lesser actors because their powers of expression are diminished.
Those people have never been to a Seeing Voices Montreal (SVM) rehearsal in which Deaf actors performing side by side with hearing colleagues, bring words to life using their hands, bodies and facial expressions.
"American Sign Language is incredibly visual and expressive, so it is a natural fit with theatre," says Aselin Weng, a McGill Physical Therapy student who, along with Josie Torossian, a Linguistics student at Concordia, founded SVM as an SSMU club in 2012. SVM is the only Deaf theatre company in the country.
But SVM doesn't just put on standard theatrical productions that include an interpreter signing on the side. This is a fully integrated operation in which Deaf and hearing actors share the stage, playing off each other to tell a story.
When hearing actors recite their lines, Deaf actors on stage playing various "props" (such as a portrait) come to life and sign along. In return, voice actors sitting in the audience will speak the lines as they are signed. "People don't realize that Deaf actors have to follow the script differently than hearing actors," says Weng, noting they use a variety of cues, including body language and lip reading to keep track of the action.
But SVM isn't content with putting on productions adapted for the Deaf. "We take well-known stories and rewrite them with Deaf culture as the theme," says Weng.
In the upcoming production of Deaf Snow White (which runs from March 13 – 15), Snow White and the Prince are both Deaf characters played by Deaf actors while the Seven Dwarves are all hearing. The play's central conflict revolves around the hearing Queen who despises Snow White for her beauty and her deafness.
"Another big focus is the encounter between the Seven Dwarves and Snow White as it aims to replicate common first encounters between Deaf and hearing individuals in modern society," says Weng. She notes that the production's message is for people "to embrace diversity and be open-minded to the differences that exist among people."
The play's theme – of forging stronger bonds between Deaf and hearing people – is central to the SVM's mission. "Perhaps there isn't blatant discrimination [toward the Deaf], but many people just don't know about deafness," says Weng. "We want to raise Deaf awareness in the community and introduce audiences to Deaf culture."
Weng herself was first exposed to these issues when she took an American Sign Language Course at the MAB-Mackay Centre in N.D.G. The course's teacher, Jack Volpe, himself deaf, now serves as SVM's Director. Volpe also wrote Deaf Snow White.
When Deaf Snow White finishes its Montreal run, the troupe will bring the show on the road after being invited to perform at Carleton University. It is a prospect that clearly excites Weng. "Our goal is to perform in schools all around Montreal and, hopefully, around the country," she says. "We want to deliver our message to as many people as possible."
It is a tall order – especially for a non-profit organization funded entirely by donations and corporate sponsorship. Money is not easy to come by.
But that could change in the coming weeks, as Josie Torossian, representing SVM, is one of five finalists in the Start Something With Alesse nationwide contest. The contest gives young Canadians a chance to showcase their business and not-for-profit project ideas, for a chance to win $5,000 and mentorship to get their ideas off the ground. But in order to win the $5,000 first prize, SVM needs your vote. To help them out, click here. "It doesn't sound like a lot of money for some organizations, but it would be huge for us," says Weng. "It would allow us buy equipment and costumes and help us go on tour."
Deaf Snow White; March 13 – 15; Players' Theatre (3480 McTavish), 3rd Floor. Box office opens at 7 p.m.; show starts at 8 p.m. Admission: $6 for students; $8 non-students.
For more information about SVM, go to the website or the Facebook page.