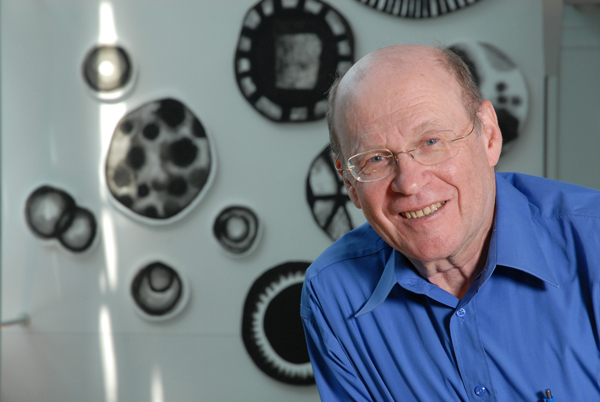 By Neale McDevitt
Nahum Sonenberg, a James McGill Professor in the Department of Biochemistry and the Rosalind and Morris Goodman Cancer Research Centre, is one of eight winners of the prestigious Wolf Prize as announced in Tel Aviv on Thursday.
Sonenberg was named co-winner in the medicine category for his discovery of the mechanism of protein synthesis and its control in infectious diseases, cancer and neurological disorders.
He will share the $100,000 prize with Victor Ambros of the Harvard Medical School and Gary Ruvkun of the University of Massachusetts Medical School.
Established in 1978, the Wolf Prize is given out regularly in five categories: agriculture, chemistry, mathematics, medicine and the arts.  The Foundation's mandate is to recognize outstanding scientists and artists for achievements in the "interest of mankind and friendly relations among peoples" and to award scholarships and grants to students and scientists engaged in research at Israeli higher education institutions. One-third of all Wolf Prize recipients have gone on to with a Nobel in their respective fields. "When I found out a few days ago, I was thrilled, honoured and humbled," Sonenberg told The Reporter.
Laureates will receive their prize in May at a state ceremony in the Knesset in the presence of Israeli President Shimon Peres.
In its citation, the Wolf Foundation called Sonenberg "a pioneer and a prominent leader in the field of protein translation" who has been responsible for some of the "key discoveries" in biochemistry – a view echoed by Principal Suzanne Fortier.
"On behalf of the McGill community, I want to express my sincere congratulations to Prof. Sonenberg on this remarkable achievement and thank the Wolf Foundation for this prestigious distinction," said Fortier. "The contributions of Canadian researchers such as Prof. Sonenberg in the advancement of knowledge are immense. Along with his other significant awards, such as the Gairdner award in 2008 and last year's Royal Society of Canada's McLaughlin Medal, Dr. Sonenberg continues to be recognized at the highest levels around the world for his pioneering research on the control of protein synthesis in such diverse areas as cancer, autism, learning and memory and microRNA function. Bravo!"
Dr. David Eidelman, Dean of the Faculty of Medicine, praised Sonenberg for both the breadth of his research and it's far-reaching impact. "I am extremely pleased to see even more recognition for Nahum's outstanding work and thank the members of the McGill community who put forward and supported his nomination," Eidelman said. "Nahum's wide-ranging research has transformed our understanding of the way proteins are synthesized in cells, with implications for diseases that range from diabetes to hepatitis C; poliovirus to cancer. His research has revolutionized understanding of processes that include the response to insulin, cellular development, and immunology, as well as learning and memory. The Faculty of Medicine and the Rosalind and Morris Goodman Cancer Research Centre are very proud to count him as an important member of our team."
Sonenberg says even as a young student he has always been attracted to solving the mysteries of the human body. "Intellectually it's very satisfying because you are faced with an unknown and it is your job to try and understand," he said. "It is fascinating but also frustrating because even in this day and age we still don't know how all these components of the human body work. It's like having a car but not knowing exactly how it works.
"Of course I want my research to lead to cures for autism and cancer and all these other diseases," continued Sonenberg. "But to do that we have to understand exactly what is the source of these diseases. The more we know, the better chance we will have in finding answers."
Sonenberg maintains that major breakthroughs are on the horizon, so long as there is a financial commitment to support research. "Because our technologies are so powerful, we are now in the position to cure cancer. We can cure Alzheimer's. We can cure Parkinson's. We can cure all these diseases – except for one thing. There is not enough money to do this kind of research and every basic scientist doing this kind of research will tell you that."
Over the years, Sonenberg has collected a number of prestigious prizes including the Robert L. Noble Prize from the National Cancer Institute of Canada (2002), the Isaak-Walton-Killam Award for Health Sciences (2005) and the Gairdner Foundation International Award (2008); the Lewis S. Rosenstiel Award (2011); and the Royal Society of Canada's McLaughlin Medal (2013).
Sonenberg was elected a Fellow of the Royal Society in 2006, and was appointed an Officer of the Order of Canada in 2010. In 2012, he was named a Fellow of the American Association for the Advancement of Science.
The McGill News alumni magazine published a profile of Sonenberg in 2007.