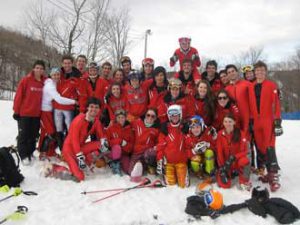 By Neale McDevitt
This past weekend at the Stoneham resort, the McGill ski team broke a 19-year-drought by winning its first overall Quebec University Alpine Ski Championship since 1991. Led by a record-breaking performance from Sophie Splawinski, the ski team edged out perennial powerhouse Université Laval au Québec for the title combining men's and women's results.
Splawinski, a freshman in Atmospheric Sciences, capped off her historic season by winning a silver medal in the slalom event. It marked the 10th consecutive time the Montreal native climbed atop the podium this season – a feat never before accomplished on the circuit. Over the course of the season, Splawinski swept the giant slalom event, winning all five events. In five slalom races, she took three silver and two bronze.
Despite her individual success, the former member of the Canadian national ski team was more thrilled about the team coming back to McGill with the championship banner.
"Winning the individual title was a goal that I wanted to accomplish but it got completely overshadowed by winning the banner," Splawinski said. "Winning the banner is something we share as a team, something that we have been dreaming about and training for all season. Right from the start, we knew we had a chance to win it all and we took every race as another step toward that goal. To end up achieving it was really wonderful."
As with any championship, this one didn't come without the requisite hard work, with the team beginning its dryland training in late September. During the season, the team skied twice a week at Mont St-Sauveur and competed on weekends – a schedule made doubly difficult when combined with academic demands. "When we go train, we always have a study group at the hotel afterward," said Splawinski, who also has a two-year-old son. "We balance each other out. But it means a lot of coffee and late nights."
Splawinski is quick to point out that, because of its status as a club and not a varsity sport, the team is mostly self-funded, with many expenses coming directly out of the pockets of the skiers themselves. "A little support would make a huge difference," she said.
Life as a student-athlete is a new role for Splawinski, who first made the Canadian ski team at the tender age of 17. Forgoing school, she began competing on the World Cup circuit even though "in retrospect it wasn't a good choice to be at that level," she said. "I had a lot of growing up to do and a lot of lessons to learn."
One of those lessons came the hard way, as Splawinski blew out her knee in preparation for the 2006 Winter Olympics in Turin, Italy. "I had to make the decision to keep going and prepare for the Vancouver Games or go back to school," she said. "A lot of racers I knew at that level didn't have a plan for when their skiing days were over. I knew it was time to move on."
Following the completion of her CEGEP studies, Splawinski came to McGill in 2009 and immediately signed on with the ski team. She soon found that this was a team unlike any other she had been on.
"One of the biggest differences I saw was the whole sense of team," she said. "This is an individual sport and I grew up surrounded with that mentality where it's every skier for themselves – even ones on the same team.
But it is so different on this team. Sure, we all want to win – when you're in the start gate, everyone wants to win. But once you get down to the bottom, it was all about the team. It was really special to be part of something that is bigger than any one person."