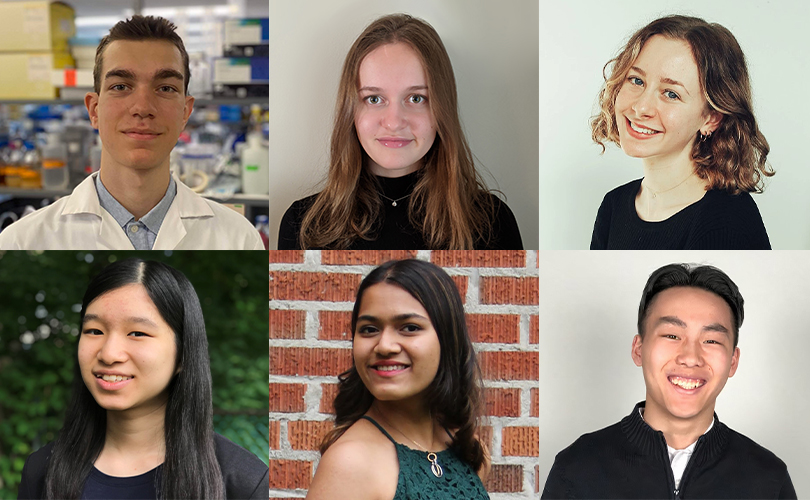 Six students from across Canada have been named recipients of the country's largest undergraduate scholarship program, Schulich Leader Scholarships, and will begin their studies this September, in McGill's bicentennial year.
Out of a pool of 350,000 potential candidates across Canada, 1,400 students were nominated. Given the unprecedented circumstances associated with the pandemic, for the second consecutive year, the Schulich Foundation awarded an additional 50 scholarships for a total of 100 in recognition of the challenges facing students and their families.
McGill's cohort of 2021 scholarship recipients includes three Faculty of Engineering students: Riana Dutta, Jessie Kurtz and Gabrielle Lavoie. Each will receive a $100,000 scholarship. McGill's bicentennial contingent also includes three Faculty of Science students: Ivy Guo, Stephen Lu and Albert Nitu. Each will receive an $80,000 scholarship.
Dutta is a graduate of Western Canada High School in Calgary, AB. In addition to her outstanding academic record, Dutta co-founded The Career Effect, a youth-led organization that hosts events for students about postsecondary education and career paths. Over the past year alone, the group created online platforms that received more than 2,500 visitors.
Kurtz is a graduate of Champlain College Saint-Lambert in Saint-Lambert, QC. In addition to her academic success, Kurtz (in her role as Student Association president) negotiated a partnership with her CEGEP for the construction of a $750,000 fitness centre for students, coordinating efforts to bring to fruition the large-scale infrastructure project.
Lavoie is a graduate of École secondaire publique De La Salle in Ottawa, ON. In addition to her stellar academic record, Lavoie is developing a new mobile application for Technovation Girls, a global, non-profit organization that empowers young women (ages 10-18) to become tech entrepreneurs and leaders.
Guo is a graduate of Sir John A. Macdonald Collegiate Institute in Toronto, ON. In addition to her academic accomplishments, she completed engineering internships at Martinrea International Inc., an auto parts manufacturer, where she worked with a student team to spearhead the company's COVID-19 efforts, resulting in donations of more than 50,000 medical masks to community organizations.
Lu is a graduate of Marianopolis College in Montreal, QC. An exemplary student, he is also the co-founder of Hero AI, a Canadian startup optimizing in-patient care through digital health and AI automation. After a successful pilot at the Hospital for Sick Children (SickKids) in Toronto, his company has now secured a commercial contract to fully deploy Hero AI's virtual medicine platform.
Nitu is a graduate of Lisgar Collegiate Institute in Ottawa, ON. In addition to his excellent academic record, Nitu founded Students in Engineering and Technology (SET), dedicated to empowering the next generation of STEM innovators. In 2019, SET was incorporated as a federally registered, non-profit organization and has directly reached more than 1,000 high school students across Canada.
The selection of this year's six recipients brings to 30 the number of Schulich Leader Scholarships awarded to incoming McGill students since the program's first scholarship winners were selected a decade ago.
"We are proud to celebrate 10 years of Schulich Leader Scholarships, the premiere STEM scholarship program in Canada and the world. This group of 100 outstanding students will represent the best and brightest Canada has to offer and will make great contributions to society, both on a national and global scale. With their university expenses covered, they can focus their time on their studies, research projects, extracurriculars, and entrepreneurial ventures. They are the next generation of entrepreneurial-minded, technology innovators," says program founder and McGill graduate Seymour Schulich.