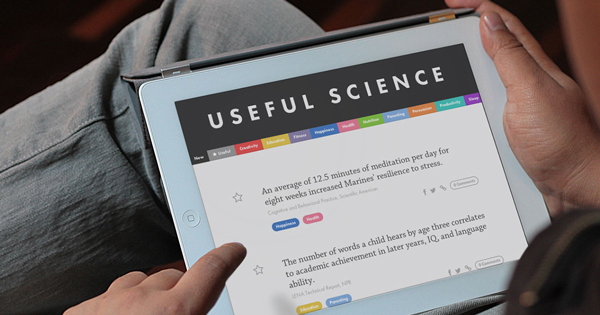 Recent McGill grad launches usefulscience.org
By Jessica Mineau
If you've ever had to read a dense scientific journal, or summarize a highly technical peer-reviewed research article, you understand how inaccessible important science is to the general public. Enter usefulscience.org, a not-for-profit initiative founded by recent McGill Math and Physics graduate Jaan Altosaar, currently a PhD Physics student at Princeton University.
Usefulscience.org is a newsfeed of digestible, one-sentence summaries of articles from peer-reviewed scientific publications and journals, curated by 24 volunteer contributors, 20 of which are current or past McGill students.
"A big reason the usefulscience web site was possible is the people in Douglas Hall. Those are the first people I reached out to when I needed contributors for the usefulscience site," says 21-year-old Altosaar, who graduated from McGill in May 2013. "I pitched it to a few of my friends over dinner last summer and they were excited. I started thinking about domain names."
When Altosaar found a domain name he liked, it was already taken. As serendipity would have it, its owner was a freelance web developer in the tech hub of San Francisco. Intrigued by the project, the developer decided to work pro bono to bring usefulscience.org from idea to reality.
Browsing the minimalist, colourful site is easy because it is simply organized along research categories, such as Education, Productivity and Happiness. Each one-sentence summary leads to the entire journal article, citations and all. Comments and links to Twitter and Facebook make the information social, with over 2,000 subscribers through social media and RSS feed.
The site launched on January 15 and has already received over 37,500 visits, which is a good start to fulfilling their mission. "Journal articles are often inaccessible and written in scientific language," Altosaar says. Usefulscience.org hopes to make important research more accessible to a larger audience.
For example, did you know that "High frequency cell phone users tend to have lower GPA, higher anxiety, and lower satisfaction with life relative to their peers who used cell phones less often"? Or that "Students who multitasked on a laptop during a lecture scored lower on a test compared to those who did not multitask, and students who were in direct view of a multitasking peer scored lower on a test compared to those who were not"? It's all useful science.
Shrinking detailed science research into one-sentence summaries has its pros and cons, admits Altosaar. "We are being conscious of the present-day addiction to things that are short and sweet, like snapchat and Twitter. It has to be really short and concise. There's no room for journalistic fluff. The casualty is that it's hard to condense a whole study into one sentence."
The site has picked up media attention on sites such as BetaKit, boingboing, lifehacker and IT World after Altosaar personally sent 120 emails to science editors and journalists around the world.
So far the site has been running on volunteer time and cash from Altosaar's pocket. "Everyone is on board that it's non-profit," he says. Any funding they get will go to improving the site, including an app. "That seems to be missing from the apps market – open-source, non-profit and peer reviewed."
Altosaar is thrilled with the feedback he has received from users. On Twitter, users say that this is their "new favourite web site", calling it "addictive" and "a great idea." The young founder is especially proud of an anonymous email he received, reinforcing that his idea is resonating with users. "This is the best website I have come across so far the [sic] year. Ever since leaving academia, I have longed for a site that shared scientifically-backed information without the journalistic fluff and sensationalist spin that seems to be everywhere," wrote the happy user.
To see for yourself, visit usefulscience.org.