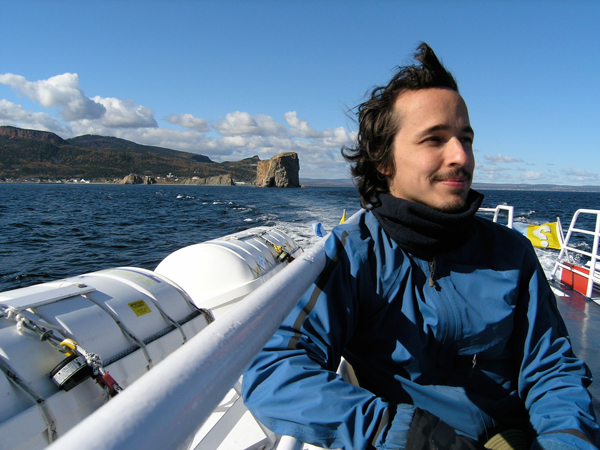 By Meaghan Thurston
Simon Gravel, an Associate Professor in the Department of Human Genetics, was awarded a Sloan Research Fellowship on Feb. 18, in recognition of his potential to make substantial contributions to the field of human genetics. Gravel is breaking the research mold, and refining our understanding of modern human origins by learning from history, biology, and technology.
Using mathematical, computational, and statistical models to push forward understanding of diverse types of genomic data, Gravel is tackling biological questions otherwise unanswerable using conventional cell-biology methods.
"The complexity of human populations is a huge challenge for both evolutionary and medical genetics, and is particularly acute for minority and admixed populations," Gravel wrote in his statement to the Fellowship committee. "I intend to keep pushing for better representation of minority populations in medical studies, both through the development of appropriate mathematical methods and the modeling of complex cohorts."
Using these tools, he has provided the research community with the most precise estimates of the human mutation rate to date – among other successes.
The Alfred P. Sloan Foundation established the fellowship program in 1955, for early-career researchers in three categories: physics, chemistry, and mathematics. Additional research-areas were added in subsequent years, to include neuroscience, economics, computer science, computational and evolutionary molecular biology, and ocean sciences. Candidates must be nominated by their fellow scientists, and winning fellows are selected by an independent panel of senior scholars. The Foundation currently awards 126 Sloan Research Fellowships each year, and Fellows receive $50,000 to further their research. The Foundation awards $5.9 million annually.
"I am thrilled that the Alfred P. Sloan Foundation is recognizing the contributions Gravel is making to the advancement of knowledge in human genomics" said Rose Goldstein, VP research and International Relations. "McGill is proud to be able to support Gravel's work at this important stage in his research career."
Gravel is actively involved in large-scale genomic research efforts including the 1000 Genomes Project and the NHGRI GO Exome Sequencing Project.
"What's great about the Sloan fellowship is that it is open" Gravel told the Reporter. "This fellowship will give me the time to approach the mathematics of what I do, which is particularly acute and complex for minority and admixed populations."
The Foundation website states that "Sloan Research Fellows, once chosen, are free to pursue whatever lines of inquiry are of the most compelling interest to them. Their Sloan funds can be applied to a wide variety of uses for which other, more restricted funds such as research project grants cannot usually be employed. Former Fellows report that this flexibility often gives the Fellowships a value well beyond their dollar amounts."
Forty two former Sloan Fellows were later named Nobel Laureates, 16 have received the Fields medal in mathematics, 13 have won the John Bates medal in economics, and 63 have received the National Medal of Science.
Here is the complete list of winners.