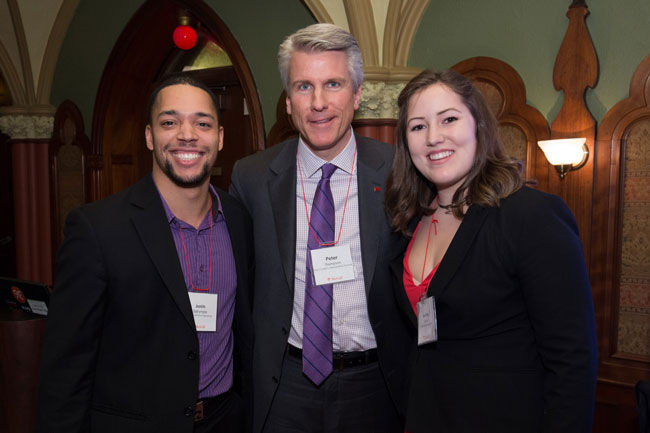 By Junji Nishihata
An app designed to help students source short-term accommodations scooped up first prize at the John D. Thompson Entrepreneurial Development Seminar last month. Shohm, the brainchild of Andrea Cabral and Justin Dalrymple, will connect tenants to landlords via a mobile interface that promises to do for student housing what Airbnb has done for vacation rentals. The team squeezed out three other competitors who also pitched their ideas at the seminar, which is in its 4th year. This is the first year that a student pitch competition takes place.
"This is a great first step for us," said Cabral, an undergrad student in the Department of Electrical and Computer Engineering and lead designer of the potentially game-changing application. "We see this as a vote of confidence in our mission to help students focus on their studies and less on their accommodations." The seminar, sponsored by Faculty of Engineering alumnus John D. Thompson, is held each year during the Engineering Undergraduate Society (EUS) TechWeek and aims to inspire entrepreneurial thinking throughout the Faculty.
The seminar was kicked off by an engaging keynote speech by serial entrepreneur Dr. Robert Heft, a McGill alumnus who presented a heartfelt story of developing unique therapies for rare and incurable diseases such as Hypophosphatasia, a crippling genetic disorder that prevents proper skeletal development in infants. Heft later served on the judging panel that selected the best student-lead tech idea.
Other entrants in the competition were Immersed (2nd place and audience favourite), a language-learning app, SpeedPad (3rd place), a wireless timing device and app for swimming, and Blühen, a system for cannabinoid extraction. Other judges in the panel were Didier Toussaint, Group President of Discovery Air and Miguel Cobo, Innovation Leader at Ericsson Canada. Teams Immersed and Bluhen are currently competition in the semi-finals of the McGill Dobson Startup Competition.