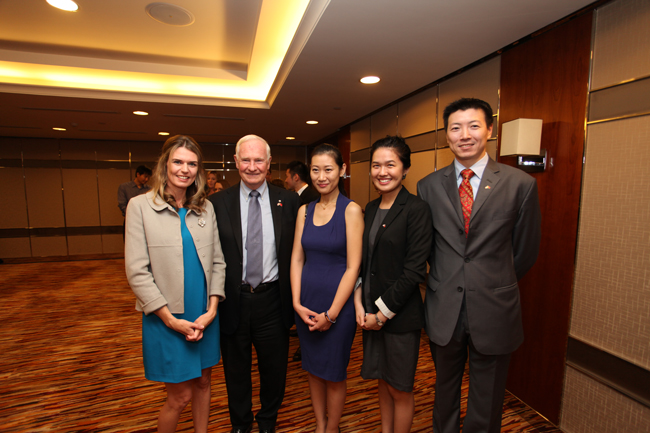 By Winnie Hu
Last month, I was at a colleague's apartment celebrating his recent marriage in Montreal to a Shanghainese woman he met through work. When their wedding pictures came on display on the flat screen, I immediately closed my eyes. The image of the green lawn, two-story house, and teenagers with blue hair was a sharp reminder that soon, I'll be leaving behind the city coined "the Paris of China."
At the beginning of 2013, I stumbled upon an application to intern at the Department of Foreign Affairs and International Trade in China with the help from a professor. Actually, I had been eyeing this internship since entering McGill and had just never bothered to apply until I was nearing the end of my BA. Desperate for some real-world experience, I spent days labouring over my cover letter and CV and stressing over the interview before finally receiving an email saying I got it.
I'm of Chinese descent and have for over the past ten years made several trips back to the motherland to travel and visit family. Yet surprisingly, settling into the city took longer than expected. With cockroaches running amok through my apartment and having been swindled out of abundant cash, not to mention having my phone stolen and then getting severe food poisoning, I have had, suffice to say, my share of adventures in the last few months.
Personal life aside, work is more exciting than I expected. Right before leaving Montreal, a friend had joked, "instead of buying coffee for your boss here, you're doling out thousands to do the same thing on the other side of the world". While I laughed at the time, a part of me feared that this may turn out to be my new reality. Luckily in the five months so far, I've had nothing but a great time. My team is responsible for issues of interest relating to politics, economics and public affairs. A lot of the work we do includes writing reports, event planning for visiting delegations, and strengthening relationships with local partners.
I must admit though, that the most exciting project I've worked on would probably be planning the program for a delegation of Chinese Canadian writers who came to China on a tour to promote their works and Canadian culture. They were in Shanghai for only two days, but the amount of work that goes into even a relatively straightforward program such as this is enormous. To name a few of my responsibilities, I had to liaise with the different organizations that were interested in hosting the authors for public speaking sessions as well as preparing briefing notes on the background of our local partners. I always stress that I learned so much from the work involved in this visit because it continuously reaffirmed how important it is to be prepared.
My new mantra is expect the unexpected. The day the authors were to arrive in Shanghai, I received a phone call at 8 a.m. on the bus. It was one of the authors who called to tell me that neither he, nor any of the others were going to be on their flight that morning because their flight had been cancelled. Having had some paperwork issues when we booked their flight, I feared for the worst. It turned out that a raging typhoon in southern China left the authors stranded in Guangzhou Airport. They wouldn't be making it to any of their events that day. And as a testament of my inexperience, I panicked.
When I ran to my co-worker for advice, she looked at me calmly and said "oh yes, I heard about that." I'm not sure if it was the complete anti-climax of that moment or if it was just seeing how unruffled she was about the situation, but I, too, began to feel calm. I contacted our flight agency and all of our local partners to explain the situation, and ended up making last-minute changes to their program that still allowed for most of the events to take place. It was a tremendous learning experience, because I don't think I've ever been under that kind of pressure professionally. I felt like a miniature Asian Olivia Pope. Crisis management here I come!
I should also confess that before June, I was somewhere between indifferent and "no-comment" about being Canadian. If someone asked me where I was from, I usually have a long winded-answer about where I've lived – aka: no national pride for any place/province/country. But since coming to Shanghai and being so involved in a tight Canadian community, I feel increasingly compelled to tell everyone I meet that I am Canadian. Now that December is here and my six months are almost over, I've become a little ambivalent about returning to a tumultuous Montreal winter… because yes, no matter where I am I will always care about the weather.
Winnie Hu is finishing up her last semester in Political Science and English Literature. Having moved around different cities, Winnie hopes to continue working in the international field in the future. She likes to read with a cup of tea and lots of snacks.