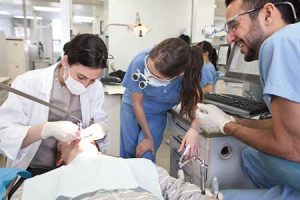 Student dentists use clear braces to correct minor misalignments
By Jim Hynes
Have less than perfectly aligned teeth? Well now you can do something about it without getting called metal mouth, brace face, tinsel teeth, or any of those other schoolyard classics – and right here in McGill's own dental clinic.
For the past four years or so, McGill dentists-in-training have been correcting the simple misalignment of teeth with a relatively new treatment procedure called Invisalign. Instead of metal braces, the patient wears clear plastic aligners – sort of like a small mouth guard. These aligners are removable for eating and the cleaning of teeth, and are worn for approximately one year.
All McGill dentistry undergrads receive orthodontic training as part of their instruction. The students, under the supervision of experienced orthodontists, have treated approximately 100 patients, mostly McGill students, with Invisalign since the clinic started offering the technique.
University students make for an ideal pool of candidates to be treated with Invisalign, says the head of the program, Dr. Jean-Marc Retrouvey, Director of Orthodontics, Faculty of Dentistry.
"For the most part, McGill students come from backgrounds where they've had good dental care throughout their lives. They often present with moderate misalignment of their teeth, so this product is a good fit for them," Retrouvey said. "As this is an undergraduate teaching clinic, we do not work with people with more severe malocclusions."
Indeed, Retrouvey says more than 50 per cent of people screened as candidates at the clinic are turned away. "These are student dentists," Retrouvey said. "Their training is not designed to address more serious problems."
Those who are selected for treatment have special impressions of their teeth made at the clinic. The moulds are then shipped off to California where special trays or aligners are custom made from a 3D computer model. The aligners are numbered and move teeth in small increments until the desired correction is obtained. Each tray is worn for two weeks.
"It's a fairly delicate and complicated process," Retrouvey said. "But the results we've seen have been impressive, and the patients seem to like the aligners, more than metal braces anyway."
McGill students, staff and faculty and their families are eligible to receive the treatment. Treatment with Invisalign would normally cost somewhere between $5,000 and $8,000. But the service is offered at a substantially reduced rate at the dental clinic – $1,800 to $2,500. To make an appointment for a screening, call the dental clinic at 514-934-8021. A modest screening fee applies.