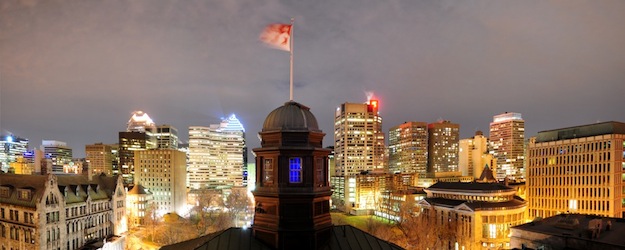 By Neale McDevitt
As has often been the case in recent months, the agenda for the Nov. 14 session of Senate was full. And, as has also has been the case of late, it was also lively.
Rosie Goldstein, Vice-Principal (Research and International Relations), presented Senate with the Annual Report on Research Performance and Innovation. The Report reviewed how McGill had fared in recent years in the competition for research funding for federal and provincial sources.
In 2010-2011, McGill and its affiliated hospitals brought in more than $510-million in research revenue – an increase of nine per cent over the previous year. The two largest sources of funding came from the federal government ($275.2 million or 54 per cent of McGill's total research revenue) and the provincial government ($95.4 million or 19 per cent).
But while Goldstein said that the nine per cent increase in funding in 2010-2011 represented "a very good year" for McGill, she also cautioned that there were some trends developing that are worth monitoring.
"For example, McGill increased its federal Tri-Council research dollars by 20.3 per cent in the past five years," Goldstein told Senate. "A 20 per cent increase sounds impressive. However, the change is about equal to the U15 average and slightly lower than the G5 average of 22 per cent."
According to Goldstein, the University of British Columbia is the G5 university that has experienced the most growth in Tri-Council funding over the past five years at 31.5 per cent. And of the U15 institutions, the University of Ottawa is the U15 institution that increased its level of Tri-Council funding the most over the past five years at 41 per cent, followed by McMaster (35 per cent) and Dalhousie (32 per cent). "In other words, smaller institutions are punching above their weight," said Goldstein.
Provincially, it is more of the same, with McGill ranked second in 2011-2012 in overall government funding but is facing increasing competition from smaller universities like Sherbrooke and health networks that span several institutions.
Goldstein pointed out that while the dramatic increases in funding achieved by G5 institutions like UBC and Alberta are proof that big gains are still possible even for Canada's largest institutions, the growing competitiveness of smaller U15 universities in securing crucial funding is making it tougher all around.
"When you take all these details together, one can see a stark reality emerging for McGill: our funding dollars and research intensity are going up, but our market share is decreasing," she said – a situation that will be even more challenging because of the recent changes made within the Tri-Council agencies.
"This year, the federal government added $37-million to support industry-academic research partnerships through Tri-Council programs," said Goldstein. "However, this was offset by a $37-million reduction in granting council administrative expenditures, with an additional $37-million reduction coming in the fiscal year 2014.
"In some cases, the administrative budget was not large enough to absorb the cuts imposed by the government, and therefore there have also been programming cuts as a result," she continued. "Again, the pie is not getting any bigger. In fact, it could start shrinking next year."
Faced with this new economic reality, Goldstein said McGill must look to diversify its sources of research revenue by strengthening partnerships with industry, non-profits, individual philanthropists, foundations, and international organizations.
Internally, the University must provide greater support to researchers applying for funding – both operating grants led by individual faculty members as well as international and large-scale projects – in order to improve the quality and success rate of applications.
SRP gets Senate endorsement
Goldstein followed this presentation by tabling McGill's Strategic Research Plan (SRP) for Senate endorsement, as required by the federal government.
Goldstein pointed out that on top of being a requirement for many grant applications, the SRP is an essential planning tool that enables the University to inform strategic resource allocation including includes the distribution of Canada Research Chairs and Canada Foundation for Innovation investments.
"The SRP aims to provide focus for the research enterprise by clearly identifying our priorities for the coming years," she said. "As an extension of that purpose, the SRP will also function as a reference for reporting, fundraising and promoting our world-class researchers and students."
The SRP is driven largely by five themes that cut across Faculties and disciplines. These themes include ideas, innovation; sustainability; collaboration and partnership; and social engagement.
The central components of the SRP are seven "Areas of Research Excellence," ranging from examining fundamental questions about humanity, identity, and expression; to unlocking the potential of the human brain and the entire nervous system.
Senate voted in favour of endorsing the SRP.
 Live from the Senate Chambers
Next up, Chandra Madramootoo, Dean of the Faculty of Agricultural and Environmental Sciences, presented the Report of the Ad Hoc Committee on the Recording and Transmission of Senate Meetings.
"The Committee feels that it is in the interest of Senate and the University community as a whole to show some leadership at this point in our history with respect to openness and transparency," said Madramootoo in his opening statement. "We want to have engagement from the broader University community, from the academic and support staff, our students and our alumni."
The Committee recommended that live video recording and transmission of the open sessions of Senate meetings be conducted over a trial period of one year, from January 2013 to December 2013. At the end of the pilot, Senate would review its procedures and make necessary modifications to the program.
Having studied similar practices at other North American universities as well as the procedures of Parliament and the National Assembly, the Committee drew up a series of guidelines for these transmissions.
Senate meetings will be transmitted exclusively to members of the University community – McGill staff, students and alumni, who will be able to access broadcasts using their McGill ID and password. Transmission will be live, and viewers will only have access to the recording during the Senate meetings. The recordings will not be archived or available for later use.
All closed or confidential sessions, in which personal or sensitive information were to be discussed, will not be recorded.
Following Madramootoo's presentation, a number of Senators voiced their reservations regarding the fact that the recordings would not be archived or made available for later viewing. Senator Josh Redel said, "I think this is a step backwards… If we're looking at maximizing engagement… people frequently work 9-5 and they would not be able to watch it during the day and the ability to watch it [at another time] would provide better engagement."
Student Alex Pritz, who sat on the Committee as a Senator last year, countered by saying "This is based largely on what other institutions have done… We were trying to take the actual experience of being at Senate meeting and coming to the Chambers and extend it [to people who can't attend, such as those at Macdonald Campus]." But, he noted, "nothing can compare to actually sitting in the Senate Chambers and we shouldn't see this as a replacement."
Following a debate on the question of archiving, in which Senators agreed to take up the issue at the next session, the motion to record Senate meetings for a trial period was passed.
Silent (almost) protest
As Linda Jacobs Starkey, Interim Dean of Students, was called upon to present the Annual Report of the Committee on Student Discipline, so too did a group of 11 protestors who unfurled a banner that read "McGill's Committee on Squashing Dissent."
Almost immediately, Senator Moe Nasr asked why there had been an increase in the numbers of allegations of non-academic Code of Student Conduct violations against students from 119 in 2009-2010 to 193 in 2010-2011 to 286 in 2011-2012.
Starkey said there were various contributing factors for the increase. First, over that time frame, there has been a significant increase in students living in Residence – with many living away from home for the first time. She suggested that, with more people living in conditions they weren't used to, an increase in complaints was inevitable.
The second factor, said Starkey, is McGill's efforts to support students who have been victimized in any way – students who have often stayed silent about their situation in the past. "We've done much more work on encouraging students to come forward if they feel victimized or if they want to make a complaint [which means] we've been looking into many of those complaints," said Starkey.
In answering Nasr's follow up question regarding allegations that certain students – especially those who were more vocal in expressing their political convictions – have been "marginalized" by Security Services personnel, Starkey said she had seen no evidence to substantiate that claim. "I've seen a lot of reports and that notion of a student's politics playing a factor – I've not seen it written or documented."
"Liar," shouted one of the protesters who, until that point, had been all but silent save for the occasional finger snapping when a Senator raised a question that was popular with them.
The only other disruption came when Deputy Provost (Student Life and Learning) Morton Mendelson stood up to thank Starkey for her many years of service for McGill over the years. "She has been a champion for students and a champion for students' well being," he said, eliciting a short, sharp "Boo!" from the back of the Chamber.