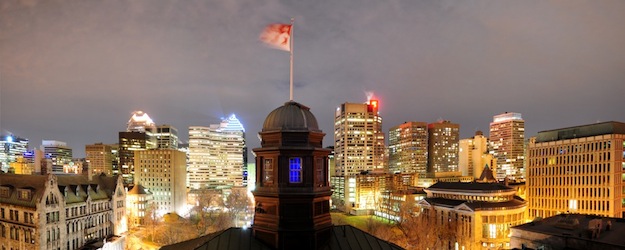 By McGill Reporter Staff
McGill will make Senate meetings more accessible to visitors by increasing the official capacity of its meeting room in the Leacock Building to 165 people from the usual limit of 125, Principal Heather Munroe-Blum told senators at their Dec. 7 meeting.
Special permission for the change was received following a re-evaluation of the capacity of the Senate chambers by Emergency Measures and Fire Protection personnel in collaboration with city officials, she explained.
The Senate also agreed to live stream its discussion in January of the Jutras Report into the events of Nov. 10 – and decided to form an ad hoc committee to study possibilities for electronic transmission of future sessions. The Senate had taken the unusual step of webcasting part of its Nov. 16 meeting.
The decision to set up the ad hoc committee followed a discussion that highlighted a division of views among senators on live streaming. Several, including student senators, spoke in favour of making it a regular practice, while a number of others expressed concern that it could encourage theatrics or constrain debate.
Separately, Senators learned that the space commonly known as James Square is officially slated to be named the McGill Visitor's Garden next year.
In response to a question from student senator Usman Bin Shahid about the possibility of naming the popular outdoor gathering space as "Community Square," Secretary-General Stephen Strople said the Board of Governors in September had approved a proposal to name the space Visitor's Garden.
Since its founding, McGill "has had a special connection to the Governor General of Canada, who is McGill's official Visitor," Strople said. The creation of the terraced sculpture garden just inside the Milton Gates "was seen as an exciting opportunity to recognize and celebrate this important and long-standing relationship and tradition by naming it the McGill Visitor's Garden."
A naming proposal was considered this summer, in accordance with the Policy Relating to the Naming of University Assets, and the Board of Governors approved it in September, he said.
Governor General David Johnston, a former McGill Principal, was invited to a naming ceremony in October, but had to postpone his visit; so the ceremony was rescheduled to 2012.
"If there is an interest in proposing an alternate name, there is a process for doing so as described in the University policy," available on the Secretariat page of the McGill website, Strople noted.