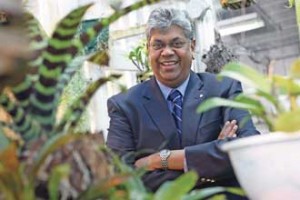 McGill hosting second annual Food Conference
By Jim Hynes
The surge in oil prices that helped spark it has receded, and we don't see coverage of food riots in faraway places on the evening news the way we did a year ago. But the global food crisis continues to have a devastating impact on approximately one billion hungry people around the world. That fact, and the positive impact made by last year's conference, is why McGill is hosting its second annual Conference on Global Food Security October 5-7.
"At the end of last year's conference just about every participant agreed that what we accomplished as a university was very significant," said Chandra Madramootoo, Dean of McGill's Faculty of Agricultural and Environmental Sciences and the driving force behind the conference. "It was probably one of the first open discussions and debates about the food crisis that did not take place within the confines of a government or international organization that was limited to politicians and ministers of agriculture. We were able to bring government, international organizations, NGOs and the private sector together. People felt that just doing that was a huge success, and that there was a role for McGill to actually continue to be a convenor of this kind of debate because another thing that was clear was that the food crisis was not going away."
Indeed, the end of the inaugural conference overlapped with the beginning of a global economic downturn that started to make the situation worse for the world's hungry and malnourished.
"There was also a fear that the economic crisis would overshadow the food crisis on the international development agenda, and as a consequence the food crisis would be swept aside and people would continue to live with hunger and malnutrition," Madramootoo said. "There was a need to look at how the financial crisis might actually worsen the impact of the food crisis."
Topics on the conference program this year include food security in a challenging economic environment; the effects of the global recession; access to farm credit; the investments needed for agricultural development; research and capacity building; and the response of international agencies to challenges of food security. As well, conference participants will examine the effects of climate change, markets and trade, and biofuels on food security.
"One of things that came up in last year's crisis was that investments in agriculture over the past 25 to 30 years had declined both by developed countries and developing ones, and that one of the reasons for the crisis was this the impact of this on agriculture and food production capabilities," Madramootoo said. "The call last year was this need to reinvest in agriculture. So we have devoted quite a bit of the Tuesday session to this topic and we've brought in people who can speak to it – things like how farmers and food producers can get access to credit and financing, especially considering how it's much more difficult to get a loan for agricultures than it is to get a loan for a house or a car. These are special challenges we want to address."
On October 5, the Conference will feature a public lecture on Global Food Security: Effects of the Global Recession and Future Prospects, with guest speakers Hafez Ghanem, Assistant Director-General, Food and Agriculture Organization of the United Nations (FAO), H.E. Professor Iyorwuese Hagher, Nigerian High Commissioner, David Malone President, International Development Research Centre (IDRC), and the Hon. Michael Chong, Member of Parliament for Wellington-Halton Hills.
"Canadians should be thankful that we are a country that has an abundance of resources. We have the land, we have the water, the technical expertise, agricultural universities, highly-skilled farmers, mechanization – that allow us to be a food self-sufficient country," Madramootoo said. "The questions is how do we take advantage of all this and say that we want to play a role in helping some of these countries with their food problems. I think this is the mission of McGill and Macdonald: to use our skills, our expertise, our technologies and know-how to go out into the world to help solve some of these global problems that are actually making the food crisis even worse."
To view the full Conference program, see the complete list of guest speakers, and for registration information, visit http://www.mcgill.ca/globalfoodsecurity.