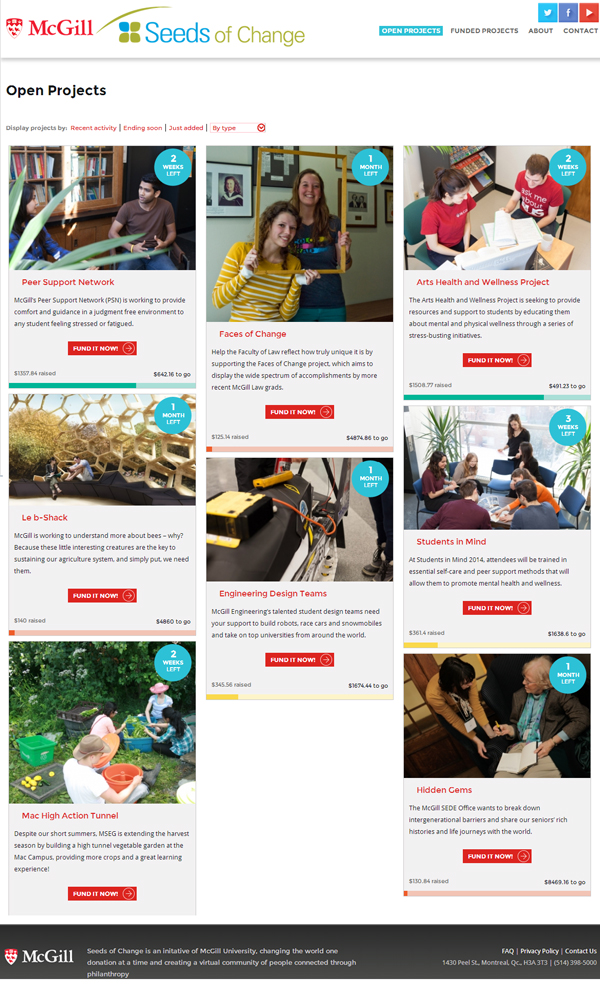 By Megan Elizabeth Martin
Keenly aware of the changing nature of philanthropy, the office of Development and Alumni Relations (DAR) has launched McGill's first crowdfunding platform, Seeds of Change – the next big thing when it comes to online fundraising.
Crowdfunding works by taking any number of specific initiatives or programs and making their details and intended purpose available and accessible to prospective donors online. People are then free to choose what projects they'd like to support, based on their own interests.
"Rather than donating to a large general fund, people today want to know exactly where their money is going and that their gifts are having a direct impact on the causes and issues that are important to them," said Derek Cassoff, Director of Communications at DAR. "They want to be connected to the causes that are close to their hearts and be able to watch the progress."
The concept of crowdfunding was designed to meet all of these criteria, and is truly an ideal tool for philanthropic fundraising, said Ayesha Mayan, Director of McGill's Annual Fund.
"McGill donors can now choose specific projects to support – projects that really speak to them – and watch as their support helps change our landscape of learning," she said.
The McGill Seeds of Change crowdfunding website went live at the beginning of May and features a wide range of student-run philanthropic projects, including initiatives geared towards environmental causes, mental health and wellness, and food sustainability, among others. It was promoted to graduating students and their parents prior to Convocation.
One of the most successful launch projects thus far has been the MacAction High Tunnel, an initiative that seeks to extend the harvest season by building a high tunnel vegetable garden at the Mac Campus, providing more crops and a great learning experience for kids in the community. The project achieved its initial fundraising goal of $1,000 within a few days, prompting the students behind the project to extend the campaign.
"I personally appreciate the crowdfunding site so much," said Frédéric Rivard, team member of the MacAction High Tunnel project. "It's useful in building a strong connection with the public who in turn help us by supporting our projects and strengthening our impact on the community; we're a proud local ecological producer and our goal is to deliver to the greatest number of people and promote food education!"
Overall, more than 300 donors have given over $12,000 to projects on the site during its first month. The site will be rolled out to a much broader audience of alumni and donors later this summer, as well as to faculty and staff, many of whom are keen to lend support to student-run projects.
"We expect that the platform will enable McGill to build goodwill with a new generation of student leaders and volunteers," Mayan said.
"We think there is endless potential in this project, and we're very excited," Cassoff said. "Not only will it help raise much-needed funds for a variety of worthy projects, but more broadly it will help weave the values of philanthropy more firmly into the fabric of our McGill community."
For more information visit mcgill.ca/seedsofchange and learn about how you can support McGill's groundbreaking projects.