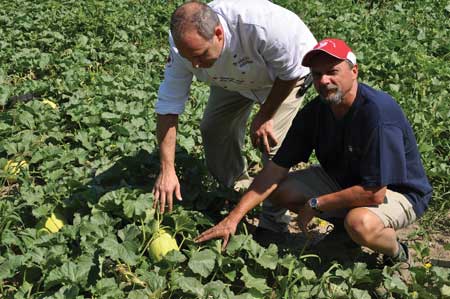 By Julia Solomon
Earth Day came a little early to McGill this year, when, on April 17, students voted overwhelmingly to continue to support the University's ground-breaking Sustainability Projects Fund (SPF) – a unique experiment in collaboration between students and administration to finance sustainability initiatives across both McGill campuses.
The SPF was established in 2009 when students voted to adopt a contribution that would consist of a $0.50 per credit "non-opt-outable" fee for the duration of the three-year trial. The money raised by these fees would be matched dollar-for-dollar by the administration.
Three years later, the SPF is considered one of McGill's flagship sustainability initiatives, raising $2.9 million for some 100 projects spearheaded by students, staff and faculty that address everything from energy savings to social justice.
In the April 17 ballot, the undergraduate Students' Society of McGill University and the Macdonald Campus Students' Society both voted by large margins (88 per cent and 78 per cent, respectively) to approve the SPF for another five years, levying fees on themselves of up to $0.50 per credit to support it. (The Post-Graduate Students' Society will vote later this month.)
You could say the SPF got, appropriately enough, the green light.
One of the projects supported by the SPF is the Edible Campus garden. It occupies a mere 505 square metres on McGill's downtown campus, but the garden is a project with outsized impact. By turning a formerly neglected concrete terrace into a verdant urban agricultural hub, the project has racked up some impressive statistics.
A joint project of McGill's School of Architecture and Santropol Roulant, the Edible Campus has provided vegetables for almost 15,000 meals for those in need. It has also engaged 600 volunteers, all of whom received hands-on experience in urban gardening, and hosted events that drew more than 3,000 people. The project has also involved five students in for-credit research and resulted in the publication of five peer-reviewed papers.
"What we've wanted all along, and what we are really seeing now, is the emergence of a culture of sustainability at McGill," says Martin Krayer von Krauss, manager of McGill's Office of Sustainability. "All of these projects are – from different angles and at different scales – working toward a future where both people and the planet can flourish."
When the SPF was established in 2009, it was an experiment. It came about because of the commitment of a passionate group of students and staff members who believed that providing seed funding for grassroots sustainability projects could catalyze big change at McGill. They also believed in the importance of building collaboration into the Fund – through the dollar-for-dollar student and administrative matching funds and the equal representation of students and staff in the project review process. It is safe to say the experiment has been a success.
According to Krayer von Krauss, the SPF is also recognized as a best practice model for other universities looking to foster sustainability on their campuses. It is not uncommon for his office to get calls from campuses hoping to replicate McGill's success.
A recently released three-year impact report for the Sustainability Projects Fund highlights some results, including:
• 202 people employed as a result of Sustainability Projects Fund projects
• 13 peer-reviewed papers published
• 179 students received credit for sustainability research
• Sustainability incorporated into coursework for 1,500 students
• 61,000 kg of food grown on McGill's campuses
• 2.1 million kWh of energy saved annually
• More than 11,000 kg of waste diverted from landfills
The report also details some of the less tangible impacts of the Sustainability Projects Fund, which are nonetheless vital in building that culture of goodwill, partnership and innovation that the Fund's architects had in mind:
• Though no targets were set in advance, of all Sustainability Projects Fund projects funded to date, roughly 50 per cent have been led by McGill students and 50 per cent by McGill staff. These numbers show only part of the picture: 75 per cent of project teams have involved collaboration between students and staff;
• 72 academic and non-academic McGill faculties and departments, 49 McGill student groups, 106 community groups, and 19 other universities have been involved with Sustainability Projects Fund projects;
• 75 per cent of Sustainability Projects Fund project team members report feeling more connected to the McGill community after being involved with their project.
For more information about the Sustainability Projects Fund, go here.
For the Sustainability Projects Fund Three-Year Report, click here.