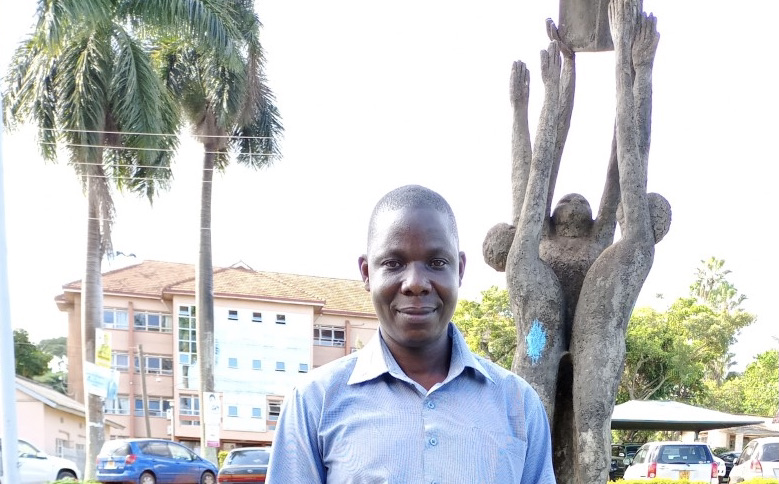 What began as good-natured ribbing turned serious pretty fast. The end-result was an extraordinary display of ingenuity, resourcefulness and persistence by Godfrey Makoha, a social work student from Uganda studying for his master's, and his classmates.
In January, Makoha, who just completed his first year at McGill without setting foot in Canada, was in a graduate seminar taught by Prof. Jim Torczyner of the School of Social Work.
The virtual seminar on international and community development and empowerment through rights-based practice was designed to show how these practices are implemented in the real world.
The students engaged in role-playing exercises, including a scenario in which they approach a government official to advocate for greater accessibility to a school.
Makoha role-played about approaching Bobi Wine, a Ugandan rock star who has become his country's political opposition leader. He talked about Wine's "commitment to fight against human rights violations and justice for all in Uganda, especially when he contested lifting of the presidential age limit in parliament."
Makoha's classmates joked about getting Wine to do a guest lecture in their class.
When the laughter ended, Torczyner had an idea.
"At the end of the lecture," said Makoha, "Professor Jim asked: 'Godfrey, can you reach out to invite Bobi Wine to share his experience of political organizing and fight for justice in Uganda with this class?' … Of course, my response was 'yes'."
A platform to speak
"I got a sense of the creative potential of each of these students," said Torczyner, who also founded and directs the McGill Middle East Program in Civil Society and Peacebuilding and the Montreal Consortium for Human Rights Advocacy Training.
He adapted the principles for community organizing he had spent a lifetime working on – largely knocking on doors – for pandemic circumstances requiring remote communications.
"I thought it'd be really nice to get a rock star to come on stage with us. Bobi Wine can't speak his own truth, so at least we can give him a platform to speak to people outside Uganda."
Though he doesn't know Uganda personally, Torczyner said that he's sensitive to its internal situation.
"I began to talk to Godfrey, and I saw that he has the abilities to be a truly excellent agent of social change – maybe he already is in his country."
A tireless crusade
Bobi Wine, whose real name is Kyagulanyi Ssentamu Robert, has won the Uganda male artist of the year award three times. He has been arrested violently and jailed for leading peaceful protests. In 2017, he was elected a member of parliament after his innovative door-to-door walking strategy gained wide popular attention. As the leader of the National Unity Platform political party, he heads the opposition against president Yoweri Museveni. Since his election in 1986, Museveni's re-elections have been challenged as marred by fraud.
Makoha knew Wine well – as a fan of his music and politics, but not personally.
He embarked on a tireless crusade, first, to convince Wine's security-conscious entourage to allow access to him, and then to persuade him to take part in a Zoom event with the McGill graduate class.
Makoha's campaign became a relentless one-man chase, undeterred by repeated rebuffs from security and officials who had little time for him. After a series of detours, an official eventually met with Makoha, and she advised him to draft an official invitation, which Torczyner promptly did and Makoha passed along.
Wine eventually agreed to participate in the April 8 event.
The students, led by Andrew Murchison and Jade Se, who organized the logistics for the seminar, mobilized to attract as many participants to the live event as possible, each drawing on their contacts and resources.
One student from Malawi contacted the McGill African Students Society (MASS) while others reached out to their own networks on campus and beyond.
One of the lessons his course teaches, said Torczyner, is to plough through constraints. On that score, he gave his students full marks, notably Makoha.
Effective change
Se, one of the half-dozen students in Torczyner's class, said there was a feeling of unease that the event might attract only a handful of people.
They needn't have worried.
Between 80 and 100 people signed on to the live event at short notice. Best of all, the students and professor agree, many members of the Ugandan diaspora dialled in, asking Wine questions directly during the hour-long meeting.
Wine told his audience that "it was not inspiration but desperation that drove me to practical politics."
"I changed my music from entertainment to education. But after 15 years of singing, I saw no change."
At first, he supported various candidates he thought could be agents of change. "But because things weren't changing, I decided to get involved."
His principal aim, Wine repeated on several occasions, is to restore the rule of law in Uganda.
"The president is the institutions and the institutions are him. The best way to change is to change leadership."
He called the January elections "the most fraudulent in the history of Uganda" and called on Canada and other countries "to do much more" than simply voicing their disapproval.
"We had a wonderful reception," said Makoha. "Such events are very effective to cause change not only in Uganda but also in many countries with long-serving dictators in power. They especially create awareness of people's rights."
Makoha's objectives dovetail Wine's own: Independence of Uganda's institutions – the courts, the electoral commission, ministries, agencies, etc.
"They no longer serve the interest of the majority population but those of the ruling president. There is no freedom and most people live in fear."
Makoha is now a part-time teaching assistant in the department of Sociology and Social Administration at Kampala's Kyambogo University, but hopes to come to McGill in August, depending on pandemic travel restrictions.
"It's a truly great group of students," said Torzcyner. "I helped them translate dreams or visions into doable actions. They carried the whole thing."