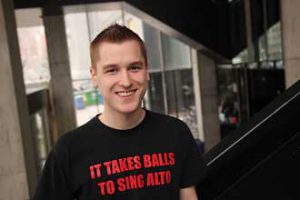 By Chris Chipello
There's nothing out of the ordinary about the way Mikah Meyer talks. His flat Nebraska accent is as unremarkable as the register in which he speaks.
But when he breaks into song, it's another story.
Meyer, a Master's student in voice performance at the Schulich School of Music, is a countertenor, a highly unusual male voice range comparable to that of a female singer – a mezzo-soprano, in his case.
"I'm a skinny white guy who sings like a big black woman," as he puts it.
He is also one of 20 finalists in a contest by the Fox television network's Memphis affiliate to produce an audition video for the producers of Glee, the hit musical sitcom about a high school teacher's efforts to reinvent the school's glee club and turn a group of outcasts into stars.
Fox is holding a nationwide casting search to fill new roles on the show for its second season. Anyone between the ages of 16 and 26 can submit an audition video on MySpace. But a few Fox outlets, including the one in Memphis, are conducting their own contests to produce their viewers' favoured candidates.
Meyer figures his striking, out-of-the-mainstream vocal range could make him a natural for one of the prized openings – if he can just get the producers' attention in the first place. Winning the Memphis online contest, which runs until the morning of April 19, would accomplish that.
For Meyer, the competition touched off a whirlwind of activity that began when he got an email on March 15 from a contact in Memphis, where he did his undergraduate degree. Could he get down to Tennessee for the Glee casting call contest in front of a panel of judges on Saturday, April 3?
Checking his calendar, Meyer found that he had a slew of concerts and rehearsals during the weeks before and after Easter, but Saturday and Sunday were clear.
There was one snag, though: he couldn't stick around in Memphis until April 6, when the finalists would get to record videos for the online contest. So he got permission to film his own clip ahead of time
Initially, Meyer considered singing Michael Jackson's "I Want You Back" or Frankie Valli's "December, 1963 (Oh, What a Night)". But rules stipulated the song had to be in the public domain. So Meyer, who grew up with church music as the son of a campus pastor, opted for the spiritual "Wade in the Water." With the help of a friend, he recorded a jazzed-up version in an opera studio at Schulich a few days before his departure. "We were up all night Thursday and all day Friday editing."
On the evening of Good Friday, April 2, Meyer performed in Bach's Mass in B-minor at the Church of St. Andrew and St. Paul on Sherbrooke St. The lengthy oratorio finished at 11 p.m. He headed home, too wired to sleep, and walked to the bus station to catch the new 747 airport bus at 3 a.m. and clear customs in time for his early-morning flight. He slept for an hour on the plane, went straight from the Memphis airport to the theatre where the tryouts were being held, and joined a crowd of about 300 aspirants. Around 2:30 p.m. he was called before the judges to give his 30-second performance. At 7:30 that evening, he got a phone call informing him that he had been selected as one of the 20 finalists.
If Meyer does eventually join the Glee cast, he would be the second McGillian to do so. Actress Jessalyn Gilsig (BA '93) plays the wife of the teacher who heads the glee club.
Meyer's ambition has been to join Chanticleer, a Grammy-award winning male chorus based in San Francisco. But if he manages to land a role in Glee, that goal and school will be put on hold.
"If there's anywhere in the world that a countertenor could go and sing a pop song and people wouldn't laugh, it's this TV show," Meyer said. "They take characters that you would stereotype as nerds, and they make them cool. It's just an amazing show. There's social commentary, they're selling millions of songs. They're bringing people who never thought singing was cool to now realizing all the benefits of singing. "
Online voting in the Fox Memphis contest runs until April 19 at 10 a.m., when the top three finalists will be announced. If Meyer is among them, he'll hop a flight to Memphis to appear on a TV show the following morning, when the winner – the contestant with the most votes — will be asked to perform. "I'm going to watch the TV," he says "and run to the airport."
To check out Meyer's contest video and to vote (as often as you like until the contest ends), go to: http://www.myfoxmemphis.com/generic/entertainment/glee_casting_call_memphis