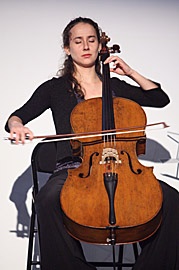 By Chris Chipello
Chloé Dominguez started playing a scaled-down cello as a fourth-grader at l'école Le Plateau in Montreal. Now, as a fourth-year doctoral student at McGill, she has won the largest privately funded music scholarship in Canada: the Schulich School of Music's Golden Violin Award.
Dominguez is the third recipient of the $20,000 award, presented annually to a top McGill string player who is close to completing studies and has demonstrated the potential for a successful performing career.
The award was presented Tuesday evening, Feb. 10, as part of McGill's Bravo ceremony celebrating some of the University's top researchers. The two previous Golden Violin recipients, violinist Emmanuel Vukovich and violist Lambert Chen, joined Dominguez in a string-trio performance at the event.
"Chloé has been an inspirational force in the string area at Schulich for the last seven years," said Don McLean, Dean of the music school.  Dominguez earned an Artist Diploma and Master's in music performance before beginning her doctoral program.
"I truly believe that we have wonderful music happening here" in Quebec, said Dominguez, whose doctoral research focuses on the evolution of cello music in the province.  She is the first Quebec-born musician to win the award.
Dominguez, cellist for the Schulich String Quartet, is also heard often as a soloist with Montreal's finest contemporary ensembles.  As a student member of the Centre for Interdisciplinary Research in Music Media and Technology, she has worked on many research initiatives, including the Digital Orchestra Project.
Dominguez expects to complete her doctoral thesis this summer and to continue working  as a performer and teacher.
The Golden Violin award was provided in 2006 by businessman and philanthropist Seymour Schulich, a year after he donated $20 million to McGill's School of Music.
The Golden Violin, made of pewter and gold plate, remains on permanent display in McGill's Marvin Duchow Music Library. Its recipients, chosen by the McGill scholarships committee, receive a smaller likeness in the form of a 14-karat gold lapel pin.