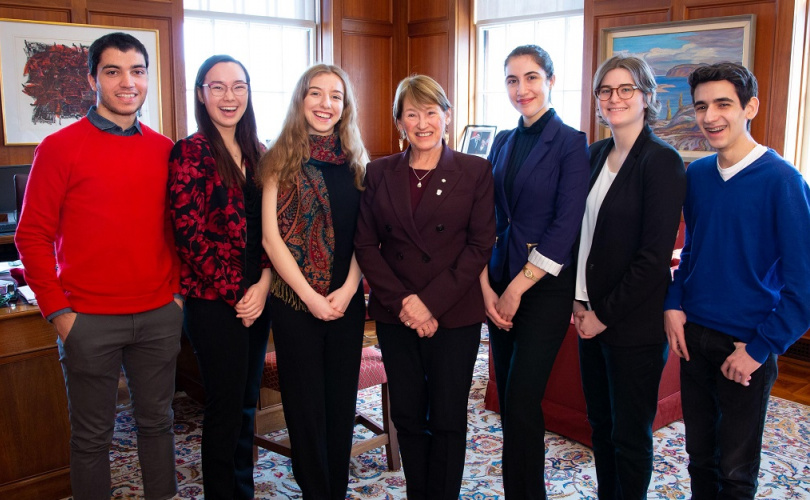 They're busy building balloon-launched rockets, running innovation labs, conferring with Elon Musk and developing mind-controlled wheelchairs. McGill's Schulich Leader Scholars are a testament to the power and impact of Canada's premier undergraduate scholarships and they welcome the expansion of the scholarship program as a way to open doors to more aspiring students across the country.
Starting this year, the number of Schulich Leader Scholarships will increase from 50 to 100 annually, comprising 50 scholarships at $100,000 each to pursue engineering degrees and 50 scholarships at $80,000 to pursue science, technology or mathematics degrees.
"I'm very happy that this incredible program will be able to reach more students," says Raphael Hotter, a second-year Faculty of Science student pursuing a degree in mathematics and computer science. "It's made a huge difference to me."
"I'm thrilled to hear that the program is expanding," agrees Katherine Sirois, a third-year Faculty of Engineering student studying computer engineering. "It will allow more students to join this amazing network and use their time to have a positive impact on the world."
Super STEM supporter Seymour Schulich
The driving force behind the program – and the additional $100 million investment – is business leader, philanthropist and McGill graduate Seymour Schulich, BA'61, MBA'65, DLitt'04, who established the program eight years ago to encourage and promote students in science, technology, engineering and mathematics (STEM) fields. A total of 16 Schulich Leader Scholarships have been awarded to incoming McGill students since the program's inception in 2012.
McGill's Schulich Leader cohort is quick to extol the benefits of the scholarship and encourage graduating high school and CEGEP students across Canada to follow in their footsteps by applying before the January 29 deadline.
For Schulich Leader Scholars like Cyril Mani, a first-year Faculty of Engineering student majoring in mechanical engineering, his $100,000 scholarship has become a literal launch pad for success. He is currently leading the design of a weather-balloon-launched rocket, a so-called rockoon, that gains most of its altitude through a helium-filled balloon before firing up a hybrid engine to achieve orbit (it's a more fuel efficient and cheaper way to carry out space exploration and launch satellites).
"We are in the midst of organizing a meeting with Elon Musk in September to get additional momentum in finalizing our official launch in 2020," says Mani. "Thanks to the scholarship, I do not need to work during my studies, so I quit my waiter job to focus all my free time on scientific projects and my startup."
Cohort collaboration at McGill
Meanwhile Katherine Sirois is head manager of The Factory at McGill, a hardware innovation lab run by students where engineering students can come and rent material, participate in workshops, use equipment, and get help and advice for any hardware project they have in mind.
The "Schulich effect" also serves to bring scholarship recipients together, like Hotter and second-year Engineering student Miasya Bulger, who teamed up with other McGill students to develop a mind-controlled wheelchair. The team's invention won first place in the NeuroTechX Student Competition, their work was published in an Institute of Electrical and Electronics Engineers journal, and they showcased the wheelchair at Google DeepMind.
"With the scholarship, I could choose opportunities solely based on how much I could learn from them, without having to worry about finances," says Hotter. "It's made a huge difference."
Deans delighted with doubling
McGill's academic leaders were quick to echo the sentiments of Schulich students on learning that the prestigious scholarship program is expanding.
"This remarkable news of the doubling of the number of Schulich Leader Scholars is very exciting, as this program has been successful in identifying  and supporting very talented STEM  students during their undergraduate education," says Bruce Lennox, Dean, Faculty of Science,  and Tomlinson Professor of Chemistry.
"The Schulich Leader Scholarships program has considerable impact on creating the next generation of leaders and innovators, who go on to make a real difference in the world," adds Jim Nicell, Dean, Faculty of Engineering. "We very much look forward to welcoming next year's Schulich Leaders to the McGill community here in Montreal."
The Schulich Foundation awards entrance scholarships to 100 high school graduates enrolling in a science, technology, engineering or mathematics (STEM) undergraduate program at 20 partner universities in Canada including McGill. Every high school and CEGEP can submit one Schulich Leader Nominee per academic year based on academic excellence in STEM, entrepreneurial leadership and financial need. The nomination deadline for the 2019/2020 program is January 29, 2020. Learn more.