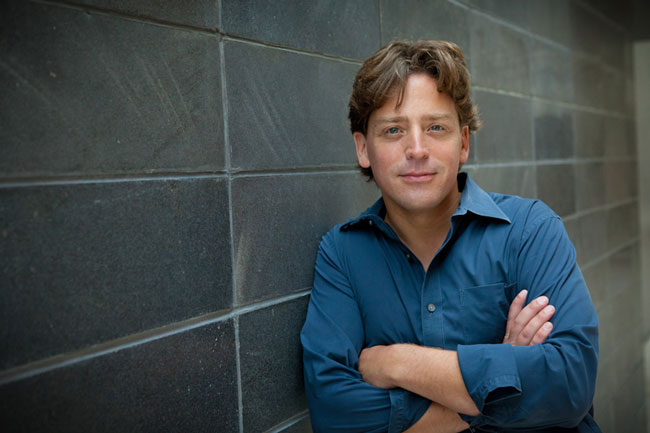 By McGill Reporter Staff
Brian Current, who graduated from McGill in 1996 with a Bachelors of Music (majoring in Composition), has been named the winner of the inaugural Azrieli Commissioning Competition. The $50,000 prize is awarded to a Canadian composer for a new work of orchestral Jewish Music of 15 to 25 minutes duration.
"I cannot tell you how inspiring it is for the entire musical community that there is an award like the Azrieli Commissioning Competition that supports new Canadian creation on a grand scale," said Current. "It is a beautiful example of visionary patronage. I am supremely grateful to be chosen for this opportunity and will my do my utmost to create a lasting and heartfelt work, and one that I hope will stand up to the Foundation's remarkable vision of the prize."
One of Canada's most followed and lauded young composers, Current won a Juno Award earlier this year for his opera Airline Icarus. The choice of Current was unanimous amongst the Azrieli Music Project jury, which includes conductor Boris Brott; composer Aaron Jay Kernis; musicologist Neil Levin; conductor and composer Steven Mercurio; and composer Ana Sokolović.
"I would like to offer my personal congratulations to Brian for both his exceptional talent as a composer, as well as the fascinating proposal he submitted to the competition," said Azrieli Music Project founder Dr. Sharon Azrieli Perez. "In the submissions we received from across the country, the jury noted the extremely high quality of the applicants, as well as the care and thought that went into the excellent proposals. We were impressed with the variety of topics considered and the creative approaches the applicants employed in their attempts to interpret the musical and philosophical questions at the heart of the Azrieli Commissioning Competition."
Two new prizes of $50,000 each were established this year by the Azrieli Foundation in order to celebrate, foster and create opportunities for the performance of high quality new orchestral music on a Jewish theme or subject. Current's new work – along with the work to be awarded the international Azrieli Music Prize in early 2016 – will be performed by the Orchestre symphonique de Montréal and Maestro Kent Nagano at The Azrieli Music Project Gala Concert at Maison symphonique de Montréal on Oct. 19, 2016.
"The Orchestre symphonique de Montréal is delighted to take part in this ground-breaking new commissioning initiative, which sets an impressive example for both philanthropy and new creation in Canada," said Kent Nagano, Music Director of the Orchestre symphonique de Montréal. "On behalf of the OSM, I offer our sincere congratulations to Brian Current on winning the inaugural Azrieli Commissioning Competition, and our gratitude to the Azrieli Foundation for spearheading this collaborative project."
Current's The Seven Heavenly Halls will be scored for choir, orchestra and solo tenor. Current said he was inspired by the Zohar, the foundational book of the Kabbalah and the most mysterious of Jewish mystical texts.
"As you can imagine, it is humbling to be asked to confront the music of one of the world's great traditions, especially one that is not only a religion but also a philosophy, culture and way of life," said Current. "However, I am completely inspired by the texts, melodies and harmonies of the Judaic tradition and the courage and beauty that have shaped them over the centuries."