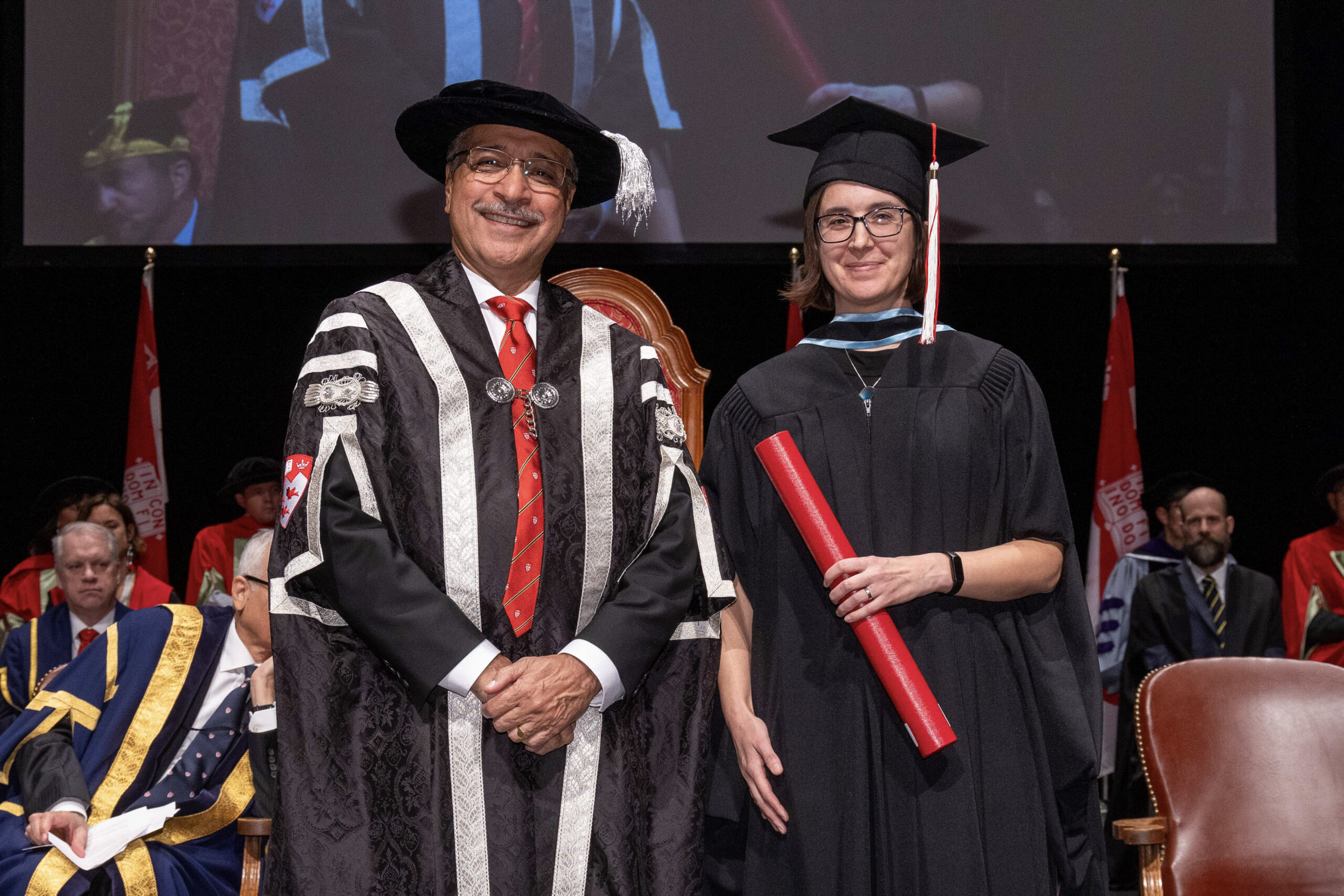 For Sarah Wolfson, writing comes down to paying attention
As winner of McGill's prestigious Principal's Prize for Excellence in Teaching in the Course Lecturer category, she was the focus of much of that herself during Fall Convocation ceremonies on November 20.
In a citation from the University read by Provost Christopher Manfredi, Wolfson, who teaches at the McGill Writing Centre, was praised for "cultivating a collaborative learning environment," demonstrating "strong educational leadership," and providing "a supportive frame that allows students to take intellectual risks and find their own voices as writers."
Close reading of the world
Born and raised near Middlebury, Vermont, the award-winning poet remembers thinking like a writer long before she found her own voice as one.
"Even before I knew I loved writing, I was paying attention in the ways that writers pay attention," she says. "It's a kind of outward focus, a close reading of the world. That was always a part of me."
Her mother and father – a librarian and a physicist – had a house full of books, but Wolfson never saw writing as an inevitable career choice.
"I was never a kid who said 'I've always known.' That kind of certainty doesn't come organically to me," she says. "What happened was that in middle school, I noticed that people were taking my writing seriously. And that continued right through high school and university. That told me it was something I could take seriously."
Love of teaching
After taking an undergraduate degree in English Literature at Carleton College in Northfield, Minnesota, Wolfson completed a Master of Fine Arts degree in creative writing at the University of Michigan. It was there that her love for teaching was born.
"I was in a writing-focused degree program, and we very soon got our own courses," she recalls. "We were kind of independent teachers leading undergraduate courses in both composition and creative writing. We had complete autonomy over how they unfolded, which is a wonderful thing as an instructor. It gave me course design skills."
Wolfson also cites a less conventional setting as having greatly inspired her approach to teaching.
"I worked with an organization at the University of Michigan called the Prison Creative Arts Project, which taught creative arts workshops in prisons," she says. "That gave me interesting opportunities to understand teaching from different perspectives and teaching to different audiences and different kinds of learners. I learned that you don't get to impose your particular literary aesthetic preferences, especially when you're sitting in a group of people who have a wide variety of understandings of what poetry is and can do. That is still central to how I teach – meeting people with their own vision, rather than trying to make them adhere to a particular stylistic approach."
Looking outward
Wolfson joined the McGill Writing Centre as a course lecturer in 2013. The move north to Quebec was not at all unnatural for the Vermont native.
"Montreal was my big city growing up," she recalls. "I came here in high school on a few adventures. It feels like a very natural corridor for me."
Over her 10 years here, Wolfson has further refined her skills as a teacher and has continued to write, winning the 2020 A.M. Klein Prize for Poetry from the Quebec Writers' Federation for her 2019 book A Common Name for Everything. For her, the two roles are closely intertwined.
"My job is to teach a set of skills and tools for writing. But more broadly than that, my job is to kind of embody what it means to be a writer and model that to students," she says. "I'm trying to cultivate curiosity, agency, empathy, and attention. We're living in an inward-focused time. People are on the internet a lot, and they're watching what algorithms feed them. So, I'm often working with students to get them to focus their attention outward, to look for stories outside themselves, to know they have agency to find and tell the stories that most need telling."