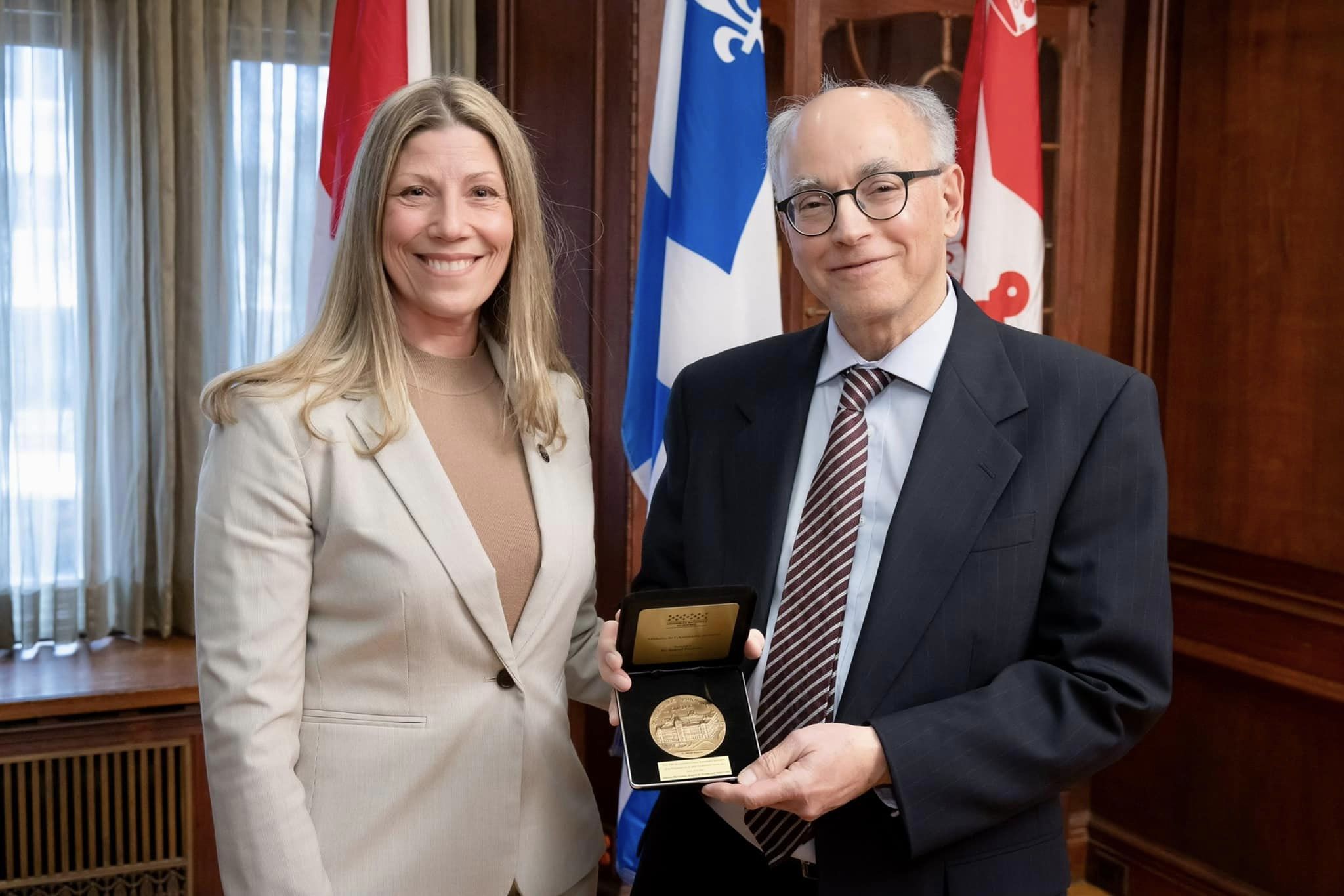 On Wednesday, April 12, Dr. Samuel Benaroya was presented with the Médaille de l'Assemblée nationale. The presentation was made by Jennifer Maccarone, Member of the National Assembly of Quebec for Westmount–Saint-Louis, in recognition of Dr.  Benaroya's impact on Quebec's health education and care.
Benaroya is an Associate Professor and former Associate Vice-Principal and Vice-Dean of Health Affairs for McGill University and the Faculty of Medicine and Health Sciences.
The presentation was made at McGill's Holmes Hall, with David Eidelman, Vice-Principal (Health Affairs), and Dean of the Faculty of Medicine and Health Sciences, serving as emcee.
"Sam's reputation precedes him wherever he goes in McGill and in Quebec's academic health networks… Most often working behind the scenes, he is well-respected by all who have had the great pleasure of working with him," said the Dean. "Sam's unwavering resolve to do what is right, achieve consensus and overcome obstacles is exemplary, and even legendary. He is somewhat of a North Star for others who aspire to improve health education and care."
Many of the initiatives which Dr. Benaroya has been involved with – the Réseau universitaire intégré de santé et services sociaux, Campus Outaouais, the development of a physiotherapy training program in Chicoutimi, expanding the relationships between McGill's Faculty of Medicine and Health Sciences and its sister Faculties in the province as well as with the provincial government – are examples of the promotion of McGill's outreach within the Quebec community.
In October 2022, Dr. Benaroya was named one of the co-recipients of the inaugural Morty Yalovsky Lifetime Achievement Award for Excellence in Academic Leadership. The award recognizes the lifetime achievements and dedication to McGill University of academic staff whose service to the University community has been both exemplary and inspiring. Dr. Benaroya shared this award with Professor Rosalie Jukier of the Faculty of Law.