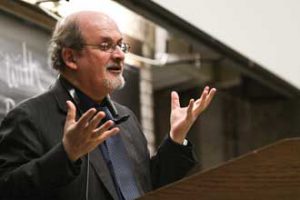 By Cynthia Lee
It takes courage to be a good writer, Sir Salman Rushdie says. And the British-Indian novelist should know.
Best known to many for the 1989 fatwa ordering his execution issued by Iran's Ayatollah Ruhollah Khomeini following the publication of his novel The Satanic Verses, Rushdie has also been sued by Indian Prime Minister Indira Gandhi and angered the political and military leaders of Pakistan with his literary portrayals of them.
A guest of the Students' Society of McGill University, the controversial author visited the University on April 9, and treated a capacity crowd in Leacock 132 to a talk billed as "Public Events, Private Lives: Literature and Politics in the Modern World." Over the course of the evening, Rushdie, winner of the 1981 Booker Prize for his novel Midnight's Children, discussed the current state of world affairs, the immortality of the novel, the importance of free speech to writing, and the "gossip-centric" nature of the legitimate news media, even touching briefly on the events that caused him to go into hiding for the better part of a decade.
"The world is becoming a surreal place where the rules of nature no longer apply," began Rushdie, who was knighted in June 2007 for his "services to literature."
"Maybe some of the reason for the success of books like The Kite Runner, for example is because people want information they can use, lived experiences, experiences of the heart, and not what they see on the news like explosions. Literature is a way of exploring that."
Rushdie referenced works by David Eggers, highlighting the way the one-time Pulitzer Prize nominee takes on contemporary events such as the New Orleans disaster to bring us closer to the truth of the world we live in. Rushdie called Colombian novelist Gabriel Garcia Marquez, our "greatest living writer," saying he was always a journalist and as well as a writer of fiction and because of that, we can "see that the role of history in his crafting of fiction."
Rushdie drew laughs by referring to himself as a novelist and "dictator eliminator," noting that some of the more prominent of the powerful people he'd angered through his own literature, like Khomeini and Indira Gandhi, had all met their demise shortly afterward.
Discussing his years in hiding following the issuing of the infamous fatwa, Rushdie said many of his detractors had never even read The Satanic Verses. He attributed this to "a lack of understanding of ourselves," explaining that the more closed people are to learning about others, the more prone they become to extremism. Conversely, he said, the more one understands about himself or herself, the greater is one's capacity to identify with others.
"Before the excrement hit the ventilation system, I went on a TV show to talk about Satanic Verses and soon realized that the mounting campaign to discredit the book had very little to do with me, but more about galvanizing a certain group of people who felt that fanaticism was the only way to share an identity," Rushdie said. "Even though it's difficult and painful to do…this is the job."