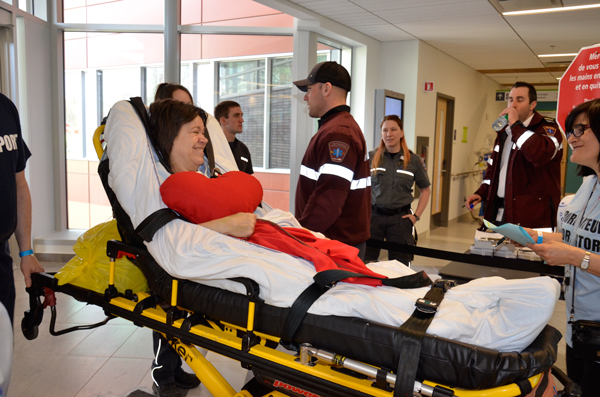 By McGill Reporter Staff
The eagle has landed.
On Sunday, April 26, the McGill University Health Centre (MUHC) pulled off the largest hospital move ever carried out in Canada, as 154 inpatients (139 adults and 15 babies) were safely transferred from the Royal Victoria Hospital to the Glen site. This move, which lasted 5 hours 20 minutes, was one of the key redeployment operations for the MUHC this year. The operation went off without a hitch.
Planning the move, which has been described as one of the most complex in North American history, began two years ago. In all, some 2,500 staff members working in colour-coded teams assisted during the day, with a fleet of over 30 ambulances and specially adapted medi-cars transporting patients from the RVH to their new digs.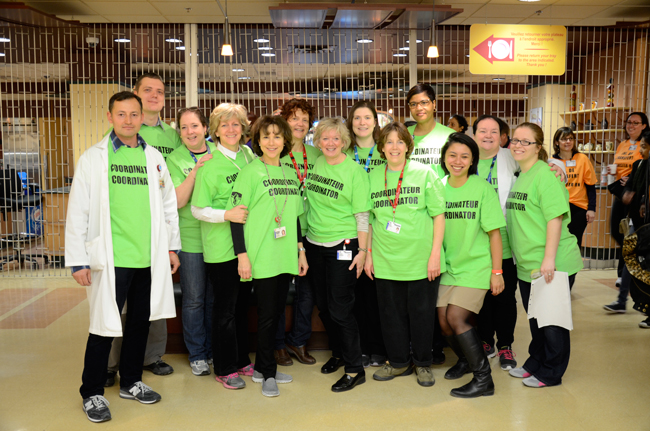 "Safety has been our number-one priority. Thanks to ongoing planning and excellent teamwork, we are proud to say that all of our patients are now comfortably settled in at our new Glen site facilities," said Jean-Marc Troquet, Chief of the Adult Site Emergency Departments and Co-Chair of the Coordination Committee for Adult Patient Transfers. "The success of this move is the result of two years of preparation.
"The skills of MUHC employees and doctors, staff from Health Care Relocations (HCR), Urgences-santé technicians, and all of our volunteers played a big role in this seamless transfer," he added. "Command centres at the Royal Victoria Hospital and the Glen site coordinated everyone's roles, and this has helped ensure the continuity and quality of patient care."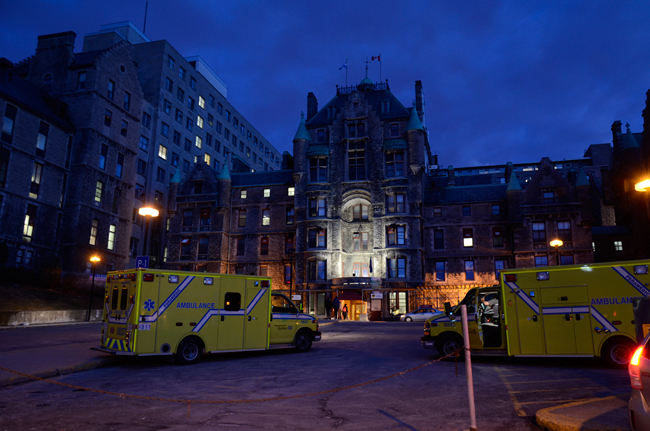 But the day wasn't only about the move. Despite the hiccup-free success of the relocation, the happiest event of the day occurred at 6:55 a.m. when Marie Brilleaud, the Glen's first-ever patient, gave birth to a healthy 3.6-kilogram son, Arthur Perreault – the first baby of what promises to be many delivered at the Glen.
With 500 individual rooms, two emergency departments, and over 50 specialized services, the Glen site is one of the most innovative university health care centres in North America. Designed specifically for patient well-being, the new hospital will also let interdisciplinary teams work together to share their knowledge, discoveries and resources to advance medicine.
"This new chapter for the MUHC is a historic event. I am convinced that the MUHC's future is in good hands, and that our investment in innovation with this new cutting-edge institution will pay off with great discoveries," said Dr. Ewa Sidorowicz, Associate Director General, Medical Affairs and Director of Professional Services at the MUHC.
The Glen site's clinical activities for adult care will gradually resume as we prepare for the upcoming move of the Montreal Children's Hospital on May 24. The redeployment will be complete with the move of the Montreal Chest Institute and some services from the Montreal General Hospital on June 14.