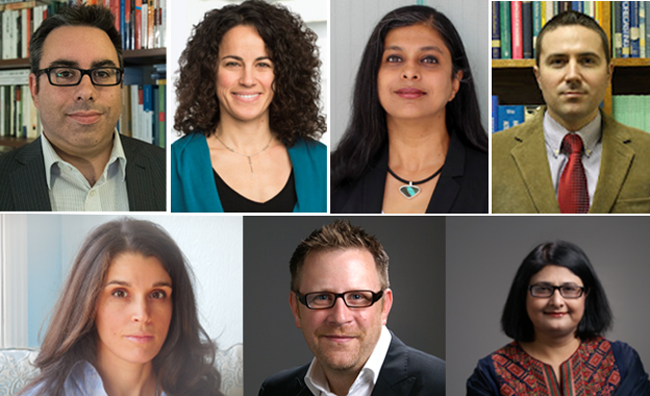 On Sept. 12, the Royal Society of Canada announced 70 new members to The College of New Scholars, Artists and Scientists, including seven McGill scholars. With seven members, McGill has more new inductees this year than any other university in the country. The new members of the College will address issues of particular concern to Canadian society, including mental health and environmental management, taking advantage of the interdisciplinary approaches fostered by the College.
Fifty-one Canadian universities and the National Research Council nominate members to the College, which is the first national system of multidisciplinary recognition for Canadian intellectual leadership. Each new cohort represents an emerging generation of scholarly, scientific and artistic leadership from coast-to-coast.
This year's inductees represent McGill's excellence across the disciplines. Among those honoured is Dr. Srividya Iyer, researcher at the Douglas Hospital Research Centre, who focuses on youth mental health and early intervention, especially in the early phases of psychosis. In 2017, Dr. Iyer was honoured with McGill's Principal's Prize for Outstanding Emerging Researchers.
Elena Bennett, Associate Professor at the McGill School of Environment, has also earned a spot in the College. Prof. Bennett's work explores how best to manage landscapes to provide multiple ecosystems services, the benefits people obtain from ecosystem, including products such as food and freshwater as well as non-material benefits such as places for recreation and processes for flood control. Prof. Bennett received an E.W.R. Steacie Memorial Fellowship in 2016.
The Induction Ceremony will take place at the RSC's Annual General Meeting in Winnipeg, Manitoba on November 24.
"McGill celebrates the contributions the inductees to the Royal Society of Canada's New College are making to their fields.  The university community also looks forward to the discoveries of new knowledge that all these researchers will continue to contribute, not only to the research culture of our University, but at the provincial, national and international level as well," said Martha Crago, Vice-Principal, Research and Innovation.
McGill's 2017 RSC New College Members:
Jan Adamowski, Associate Professor, Bioresource Engineering; William Dawson Scholar; Liliane and David M. Stewart Scholar in Water Resources; Director, Integrated Water Resources Management Program; Associate Director, Brace Centre for Water Resources Management.
Anila Asghar, Associate Professor, Department of Integrated Studies in Education.
Eric Belanger, Professor, Department of Political Science.
Elena Bennett, Associate Professor, McGill School of Environment; Fellow, Aldo Leopold Leadership Program.
Martin Drapeau, Associate Professor, Department of Educational & Counselling Psychology; Chair and Director of Research, McGill Psychotherapy Process Research.
Srividya Iyer, Assistant Professor, Department of Psychiatry; Researcher, Douglas Hospital Research Centre; Scientific-Clinical Director, ACCESS Open Minds (CIHR-funded pan-Canadian SPOR network on youth mental health).
Victoria Talwar, Professor, Department of Educational & Counselling Psychology; Canada Research Chair, Tier II; Associate Member, Institute for Human Development and Well-Being.
Read the Royal Society of Canada announcement.