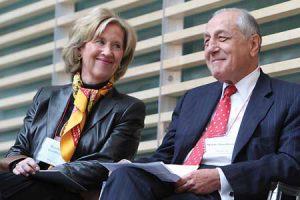 Montreal-born couple has made immense contribution to cancer research at McGill
By Allison Flynn
Rosalind and Morris Goodman know a thing or two about cancer. Their son Jonathan is a survivor (Hodgkin's lymphoma) as is Rosalind (lung cancer). But the Goodmans have used that firsthand experience to fuel their deep-rooted desire to help others – with the couple serving as the driving force behind countless philanthropic endeavours over the years through their Goodman Family Foundation.
In recognition of the Goodmans' service, McGill will bestow honorary degrees upon them as part of the 2011 Spring Convocation.
"We are that much closer to finding cures for cancer and advancing many other causes in this community because of the vision and heart of leaders like Rosalind and Morris Goodman," said Richard I. Levin, Vice-Principal of Health Affairs and Dean of Medicine at McGill.
"The Goodmans' commitment to share not only the fruits of their labour but also their passion and the gift of their time is exemplary in the great tradition of James McGill. It is our honour to know them," added Levin.
A professional volunteer and consummate community leader, Rosalind Goodman's record of giving back to the community began decades ago and continues today as she works tirelessly to support charities across Canada while inspiring and guiding the next generation of volunteers and community leaders.
Morris Goodman, one of Canada's leading entrepreneurs and a pioneer in the generic drug industry, has dedicated his career to making a difference in health care. In 1983, Goodman co-founded Pharmascience Inc., one of Canada's top three generic pharmaceutical companies.
Together, their consistent investment in the public good is reflected in the critical work being done at the Rosalind and Morris Goodman Cancer Research Centre at McGill, the Stroke Unit at the Jewish General Hospital, and the Agora at the Université de Montréal's Faculté de pharmacie – just to name three beneficiaries of major Goodman support.
"Rosalind and Morris Goodman have been truly inspirational for the members of the Centre that bears their names," said Michel Tremblay, Director of the Goodman Cancer Research Centre at McGill. Through their spirited support, we have expanded not only our cancer research endeavours but our public outreach activities as well. Knowing the Goodmans means being committed to the fight against cancer and to translating that knowledge throughout our community to the general public."