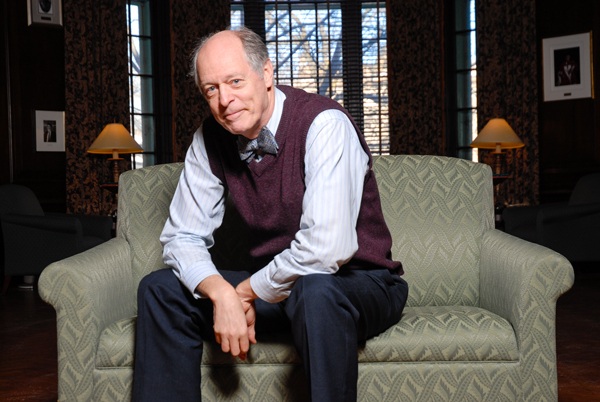 A teacher, first and foremost, Roderick A. Macdonald will be remembered as one of the most important scholars and thinkers in McGill University's history. He was a mentor and inspiration to generations of students and law professors, and a transformative force at the Faculty of Law, the University, in Canadian society, and in the broader world.
Professor Macdonald came to McGill University in 1979. His term as Dean of the Faculty of Law, from 1984-1989, was a leap forward for McGill. His bold vision of legal education, his extraordinary energy as a scholar, his ability to redefine and re-imagine the boundaries of law, his deep commitment to justice, his unfailing integrity, and his unique dedication to his students and colleagues – all of these continue to this day to define the mission and aspirations of McGill's Faculty of Law.
Born in Ontario in 1948, Rod Macdonald spent his formative years leading summer camps in Northern Ontario, and developing a taste for folk music and protest songs that never abandoned him. Rod Macdonald completed his legal education in Ontario, and took his first position as a legal academic at Windsor University's Law Faculty, one of a group of scholars committed to access of justice and law reform initiatives. He came to Montreal a few years later, joining a Faculty that was already defined by mixity and métissage, in civil law and common law, in French and in English.
McGill's path as a bijural, bilingual, cosmopolitan institution was in the works, and Macdonald gave it a rich and principled grounding in a pluralistic conception of law. Professor Macdonald's steadfast commitment to bilingualism, legal pluralism, interdisciplinarity and dialogue formed the intellectual spine of, and was integral to, the genesis of McGill's pioneering program. The program's linguistic, trans-national, and dialogic nature is rooted directly in the values that Professor Macdonald espoused and encouraged at the Faculty. Roderick Macdonald's inventiveness as a teacher, his use of music, visual arts, and theatrical performance in the classroom, gave his students the confidence to explore their own representations of law and their moral, ethical, political and social role as jurists. For Professor Macdonald, every moment was a teaching and learning moment; every professor was a learner as well as a teacher; every student was worthy of deep respect and consideration. He always knew how to appeal to each person's better self.
As one of the most influential legal scholars of his generation, Professor Macdonald authored three books and was the editor of six edited collections. He published over one hundred major journal articles, as well as dozens of chapters in edited collections, Law Reform Commission reports, and commissioned research studies and reports, both nationally and internationally. His work on the civil law tradition, on legal theory and legal history, on administrative and constitutional law, on secured transactions, on the theory and practice of legal education, on legal pluralism and diversity, and on access to justice, literally redefined each of these fields. His capacity to bring unique and original insight to the broadest range of issues in public law and private law will remain unparalleled.
Professor Macdonald was also convinced of his duty to serve the community at large, and remained throughout his life an engaged academic and public actor. Soon after his term as Dean of the Faculty of Law, Roderick Macdonald chaired the Task Force on Access to Justice of the Quebec Ministry of Justice, producing a Report that formed the basis of revisions to the legal aid plan, the small claims court, class actions and civil procedure generally. Over the years, Professor Macdonald prepared studies and reports for several Royal Commissions, including the Royal Commission on Canada's Economic Prospects and the Royal Commission on Aboriginal Peoples. He was frequently consulted by Law Reform Commissions in Canada and abroad. He prepared the major background study on alternatives to civil litigation for the Ontario Civil Justice Review. He worked as a leading consultant to the Federal Department of Justice in connection with the Project to Harmonize Federal Legislation with the Civil Code of Québec and produced three major studies for that project. He was the author of influential reports to the Canadian Department of Justice on Constitutional Implications of the Civil Code of Quebec (1996), to the Senate Committee on Illegal Drugs (2002), and to the Law Society of Upper Canada onAccess to Justice (2003). More recently, Professor Macdonald produced a report for the Quebec Justice Minister on measures to prevent Strategic Lawsuits Against Public Participation (SLAPPs), and provided support to the Bouchard-Taylor Commission. At the time of his death, Professor Macdonald was serving as one of the three commissioners on the Charbonneau Commission.
One of his most prominent contributions came from his tenure as the founding President of the Law Commission of Canada (1997-2000). During this period, Professor Macdonald essentially re-imagined what such an institution could do and how. Far from becoming a 'service organization' for lawyers and politicians, Macdonald's Law Commission seized instead an opportunity to support and stimulate debate on the broadest questions of the role of law in society, on the one hand, and to engage the whole community from primary schools to civil society in such a project, on the other. This creative vision can be seen in the discussion papers and reports the Commission authored under his supervision, including Recognizing and Supporting Close Personal Relationships Between Adults and Restoring Dignity: Responding to Child Abuse in Canadian Institutions. The same unfailing sense of creative and compassionate imagination can be seen to animate every one of the Law Commission's innovative projects during the term of his Presidency. In three years Macdonald turned a new institution – now disbanded by the federal government – into a celebrated new model for such institutions around the world.
Roderick Macdonald was universally regarded as one of Canada's most distinguished intellectuals. In November 2008, Professor Macdonald was elected the 111th president of the Royal Society of Canada (RSC) at its annual general meeting in Ottawa. He was and remains the only law professor ever to have been elected president of the RSC and served from November 2009 to November 2011. In November 2012, Governor General David Johnston announced that the new reading room in Walter House, the Royal Society of Canada's headquarters in Ottawa, would be named the Macdonald Room in Professor Macdonald's honour in recognition of his years of service.
Over the course of his career, Roderick Macdonald received many prestigious awards underlining his extraordinary contributions. He was appointed a Fellow of the Pierre Elliott Trudeau Foundation in 2004. In 2007, he received the Killam Prize for the Social Sciences awarded by the Canada Council, as well as the Sir William Dawson Medal for the Social Sciences of the Royal Society of Canada. In 2010, Professor Macdonald was honoured by the Canadian Bar Association with the Ramon Hnatyshyn Medal. His contributions were underlined again by the Canadian Bar Association (Quebec division) in 2012, which gave him the Médaille Paul-André Crépeau. Professor Macdonald received an honorary doctorate from Université de Montréal in 2010, and from Osgoode Hall Law School in 2011, as well as the Ordre du mérite from the Section de droit civil of the Faculty of Law, University of Ottawa, in 2007. In 2012, Roderick Macdonald was made an Officer of the Order of Canada, and a year later, he was awarded the Queen Elizabeth II Diamond Jubilee Medal.
At McGill, Professor Macdonald was the recipient of the 2012 John W. Durnford Teaching Excellence Award. To this day, he is the only McGill professor to have received both of the University's highest awards: the Lifetime Achievement Award for Leadership in Learning, in 2011, and the McGill University Medal for Exceptional Academic Achievement, which he received only three weeks ago at the 2014 Law Convocation.
With deep sadness and gratitude, the Faculty of Law at McGill University bids farewell to one of its most generous, brilliant and dedicated members – a wonderful, original, caring and passionate human being and scholar, a model for us all. We express our deep condolences to Roderick Macdonald's immediate family: his wife Shelley Freeman and his two children Madeleine and Aidan. We also express our condolences to the many students, professors, public actors, judges, lawyers, academics, friends, and citizens whose lives and souls have been touched by this great man.
– Daniel Jutras, Dean and Wainwright Professor of Civil Law. June 13, 2014
A guestbook has been opened for those who wish to share their thoughts and memories.