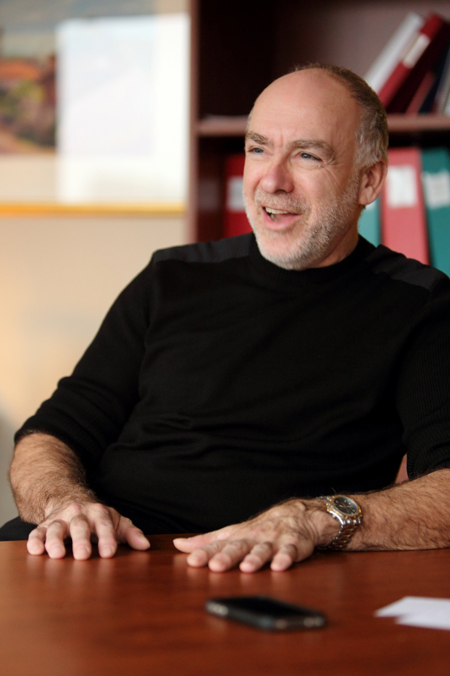 By McGill Reporter Staff
As Associate V.-P. University Services, Robert Couvrette has one of the most diverse jobs in the senior administration at McGill. Responsible for everything from how the washrooms are cleaned to how buildings are renovated (or built), as well as McGill's efforts in sustainability and space planning, Couvrette's day is pulled in many directions. A veteran of both public and private sectors (he came to McGill in early February from the Université de Montréal and has worked at both Bombardier and the Biodôme), Couvrette holds a Master's degree in Project Management from Université de Québec à Montreal, a Bachelor's degrees from École Polytechnique and École des hautes études commerciales, and a Diploma in Architecture from CEGEP de Saint-Laurent. Couvrette has 38 years of experience in leading and managing complex facilities and administrative operations, as well as project development and general management. We're not sure how he found time to sit down and talk with The Reporter, but, late on a Friday afternoon, he did. And he talked about taking the long view on buildings and sustainable practices.
What are the differences – in your world – between Université de Montréal and McGill when it comes to the challenges you face?
In terms of deferred maintenance, we face the same issues – lack of funds – but to very different degrees. Forty per cent of deferred maintenance for Quebec universities is right here at McGill. We face the same issues in all institutions in Quebec, because we don't have the money to maintain our hospitals, our universities, our colleges, our infrastructure. It's a shame, but that's a fact: we don't have enough money. So we have to be more creative to get a greater value for each investment we make on those buildings on campus. … We realize we have to work in teams, we have to find solutions together for projects, to define the budget we have, the scope of the work, the timeline. To find the right solution for a specific problem. Teamwork is essential to get a good project done in the end.
But doesn't McGill have some specific issues related to the nature of its buildings?
The big problem for McGill is the number of small buildings that we have. And those buildings are independent from each other and in terms of the operating budget, to keep those buildings in good shape, in terms of deferred maintenance, it's a big challenge. We spend too much on those small buildings. We have to consolidate our assets, to be able to have a better campus, in better condition.
So, when you're talking about those kinds of buildings, you're talking about the greystones on Peel St. for example?
The row houses on Peel St., some on Pine, some on Dr. Penfield, are not ideally suited for academic purposes. The other point is when we construct or refurbish something, and we don't have enough money, for me it's not time to build "cheap." It's time to build better. We talk of life-cycle costs, for example, and we put carpet on a floor, that carpet has life-cycle costs of, what, five years? You have to replace it, it's heavy maintenance, compared with a hard surface, like a ceramic, like a terrazzo, that can live for 50 years instead of five years. Of course, it will cost 10 times more to install, but in terms of quality and the life-cycle costs, it's much more efficient. The difficult part is the balance between costs and quality, cost efficiency, value, sustainability and cost.
Would you say that when we have to renovate a building that we need to look at more than just the flooring, the ceiling, the lighting, but we also need to be looking at how that building is going to be used for the next 20, 30 years?
Everything in our society right now is moving very, very fast. The way we teach will change, the equipment we put in our buildings will change, everything's moving very, very fast. So when we build something, we have to think in terms of flexibility, adaptability. The building should be able to be transformed as fast as teaching changes.
What do you think of McGill's efforts in sustainability?
McGill, in terms of sustainability, is doing more than many others. We have a very good team; we have a bigger budget, I think, than others. We have a vision, we have goals, we have objectives and we have projects to accomplish that vision. I think we're doing a very good job in terms of sustainability. And sustainability, for me, it's more like a way to act. We want sustainability but at the same time we want our comforts, you know? We have to plan for it.
In the context of sustainability, there's been some debate about the place of bicycles on campus. Were you surprised by the intensity of the debate?
Yes, I was surprised. And at the same time, I understand that for students, it's more and more a way of life for them, taking their bikes. But for me, and here I want to put it in the context of sustainability, it's not just a question of a debate between bikes and the consumption of fossil fuels.
So, Yes, biking is an issue, but at the same time, I think we all have to be responsible in terms of our waste management, in terms of – again – the life cycle of things, like cell phones, for example, that everyone changes every three years. I'll give you another example – my grandmother's old refrigerator lasted for 40 years.
Maybe it consumed more electricity than mine, but the cost to make that new refrigerator, the material we have to produce, the cost to dispose of that refrigerator after only 12 years, the cost of transportation, all the soft costs around it – maybe we save energy with that refrigerator, but in terms of life-cycle costs, it's much more expensive, it's much more unsustainable.
We have to change our refrigerator after 12 years, instead of using an old one. If you compare both, my grandmother's refrigerator is more sustainable than those new ones we have to replace more frequently.
So when we talk about sustainability, we talk about many, many things. And we have to be careful what we put under that umbrella. Not everything is under the umbrella of sustainability.
University Services is more than just about buildings. You've got a lot of very different things to look after here.
Security. The Bookstore. Safety. Sustainability. We have all the auxiliary services. Maintenance on campus. Printing. Garbage removal. Any services we need in buildings. … I did all those things – I was in charge of safety and security at Bombardier, for example. I was in charge of the bookstore at the Biodôme. I was in charge of security at Mont Tremblant. So all the things I've done in my previous lives, my earlier career, right now it's all coming together here at McGill – all that experience together in the same portfolio.
So this feels like a comfortable place for you?
It's a very comfortable place for me. I love it very much. It's a big challenge, but at the same time, for me, and I've said that to everybody, the important thing is to have fun in that job. We spend many hours of the day here and we still often take things home at night, so the job is a big part of our lives. So if you don't have fun in a job, change jobs. Quit. Do something else. You have to have fun.
What do you like to do to for fun when you're not working?
My wife will tell you I'm a big, a real big, handyman. Instead of playing golf, I prefer to have a hammer in my hand. It's in my blood. And if I don't work at those kinds of hobbies, I like to do both downhill and cross-country skiing. During the summer, I'm near a lake (near Mont Tremblant), so I do some sailing and diving. I'm there every weekend, and vacation. But instead of planning, I'm doing!