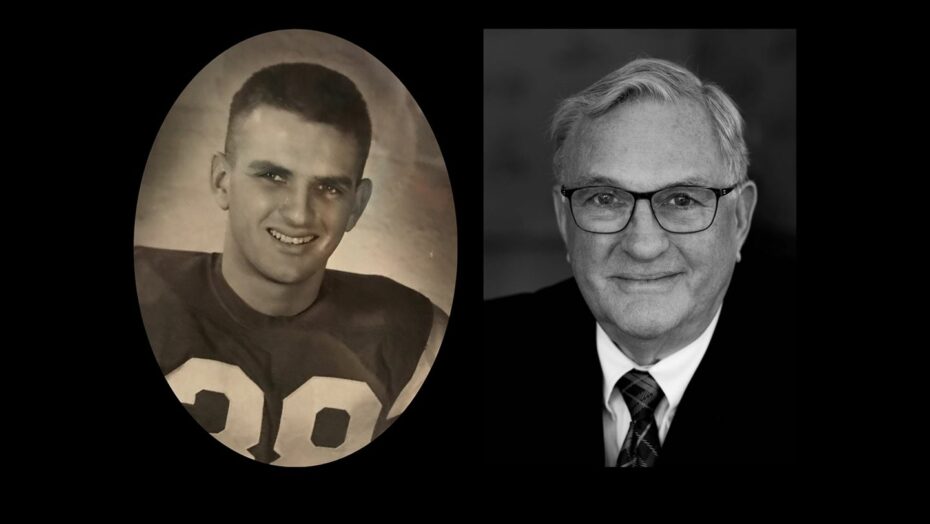 An exemplary and generous alumnus, Robert B. Winsor passed away on January 14, 2021, at the age of 81. Winsor, who had been battling leukemia for three years, died of COVID-19 related issues in the Sherbrooke Hospital intensive care unit.
Born in Montreal on May 2, 1939, Winsor earned his first degree from Mount Allison University in 1960, where he was a two-time all-star. Soon after, he enrolled in mechanical engineering at McGill. During his time at McGill, he played intramural basketball and was a member of the Psi Upsilon fraternity—but earned a place in the history books for his time on the legendary 1960-61 men's varsity football team.  Winsor played defensive halfback and offensive end for the team, which captured McGill's first Yates Cup in 22 years, winning the sudden-death playoff at Queen's by a 21-0 score in front of 8,000 fans to win the Ontario-Quebec Intercollegiate Athletic Association title. The team also cruised to a stunning 46-7 victory over Alberta in the Churchill Bowl. That tight-knit team, which was inducted into the McGill Sports Hall of Fame in 2000, became friends for life; last month, they celebrated their 60th anniversary with a Zoom call.
After graduating from McGill in 1962 with a bachelor's degree in mechanical engineering, Winsor began his professional career in railway freight transportation at DuPont Canada, later joining Napanee Industries and sister companies International Equipment Company and IEC-Holden Inc. In 2005, he became owner, chairman and CEO of the Holden America Group.
Bob and his wife Sue were long-time supporters of the Montreal community. In 2011, the Winsors pledged a $1.5 million endowment to the McGill football program. It still stands as the largest gift to any varsity sports team at the University. The funds provide support for coaching, player recruitment and program development.
Bob Winsor was also instrumental in the creation of the Friends of McGill Football, an alumni support group that helps stimulate the program's interests through fundraising. He made substantial donations to establish the Winsor Varsity Clinics in both the Currie Gymnasium and at McConnell Arena, which provide medical and therapy services to student-athletes.
A long-time volunteer, Winsor served as an Alumni rep on McGill's Board of Governors, and was a member of both the Athletics Board and Alumni Association. He served as a trustee of the Martlet Foundation and was a member of both the McGill Sports Hall of Fame Committee and the McGill Athletics and Recreation Advisory Board.
Winsor's service to the community has included volunteering on many McGill committees. He also gave his time to the Good Samaritan Foundation, Nature Conservancy Canada, the Special Olympics Canada Foundation Board, the Mount Allison University Board of Regents, and the Atlantic Salmon Federation, as well as the United Church of Canada.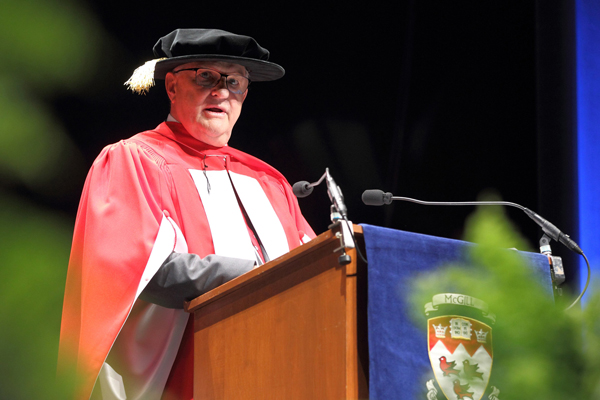 Winsor  often credited his experience in varsity sports for providing him with the confidence, character and discipline to succeed in business.
"I am very fortunate to have had the privilege to play for McGill and particularly in 1960 and '61," he said when the endowment was announced. "These outstanding teams were peopled with the finest group of men I have ever met. It is my belief that McGill, as part of its recognized leadership role, needs to offer the opportunity for student-athletes to compete on top-tier competitive teams. We see our gift as an opportunity to make a solid investment to this end for the varsity football program at McGill."
In 2014, McGill awarded Winsor an honorary doctorate of laws in recognition of his lifetime commitment to his alma mater. During his address, he shared his four-point life plan with the  graduating class: chase your dreams, build a solid team,  build your reputation, and learn from your mistakes.
"Adopt the work/life mission of Go For It," said Winsor. "The 'It' is your choice and yours alone. It is what you want to do in life and hopefully something you are passionate about.
"But let's understand what going for that special It really means. It means being totally focused, totally determined and entrepreneurial in pursuit of your dreams," he added. "Strive to be innovative, to be creative, to be imaginative, to be visionary. Think outside the box."
Bob Winsor is survived by his wife Sue, daughter Jennifer, son Greg and many grandchildren.
In honour of his memory, the flag will fly at half-staff on McGill's campuses.