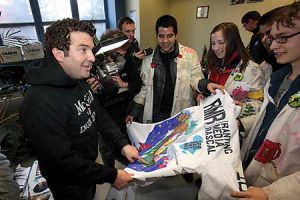 TV personality spends day on campus celebrating mosquito net campaign
By Neale McDevitt
Taking the McGill Baja off-road racing vehicle for a spin through downtown campus, flipping burgers for a hungry lunchtime mob, talking parasites with an award-winning researcher and leading a boisterous crowd in James Square in a rousing rendition of that hockey stadium staple Olé Olé – it was all in a day's work for Canada's favourite television personality and political satirist, Rick Mercer.
Braving Monday's brisk temperatures in his McGill Engineering hoodie, Mercer spent most of the day on campus filming a segment for his popular television show, The Rick Mercer Report. He came to McGill to celebrate the more than $9,000 raised by University students to buy mosquito netting for people in Africa as part of the Spread The Net campaign (STN) Mercer started in 2006 along with Belinda Stronach, then a Liberal Member of Parliament.
"We raised more money than any other university in the country," said Political Science student Remy Ventura, who along with Monique Evans, Political Science and Chemistry major, is one of the co-founders of McGill's Spread the Net efforts. "It's nice that we won, but it's even better that we can help so many people at the end of the day."
Recent statistics tell a chilling story of malaria's potential for devastation. Some 780,000 people die every year from malaria in the world's subtropical regions and it is estimated that every 45 seconds a child in Africa dies of the illness.
Because malaria-carrying mosquitoes bite mostly at night, the most effective and inexpensive way to prevent transmission of this potentially fatal and debilitating illness is through insecticide-treated bed netting that kills bugs on contact. Costing a mere $10, a single bed net can protect up to five children for five years. Bed nets have can reduce malaria deaths among children under the age of five by 25 per cent.
In all, some 47 schools participated in this year's fundraising efforts, with McGill raising more money than any post-secondary institution. A total of $247,603 was raised, which will buy and deliver almost 25,000 bed nets to African families.
To date, Spread the Net has purchased more than 500,000 such bed nets.
Mercer began his day interviewing Ventura and Evans about the fundraising campaign, which began last September with an email campaign that was ramped up in January. "Of the more than $9,000 we raised, some $6,000 came directly from students," said Ventura.
Following that, Mercer met with Engineering students who presented him with his own personalized lab coat (Mercer was given the name Ranting Media Rascal).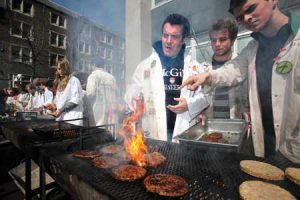 Then it was off to the races, with Mercer getting behind the Wheel of the McGill Baja Racing Team's lightweight, off-road vehicle for a quick spin through the normally car-free lower campus. "He set us up so it looked like he was trying to run us over," said Ventura. "Security was keeping a close eye on us."
Following the brisk drive in the open-air car, the good-natured Mercer was able to warm up as he manned the grill in front of McConnell Engineering, flipping burgers at a charity BBQ. Then it was just a short stroll to a rally in James Square where the bullhorn-toting Mercer praised McGill's fundraising efforts. "I know how hard it is to be a University student, and what it's like not to have a lot of money," he told the enthusiastic crowd. "But you guys are great. You're saving lives."
Serenaded by McGill's fight band, Mercer had the crowd hopping. "We need some dancing fools down in front," he shouted during one musical interlude while high-fiving a trombone player before wrapping up his Great McGill Adventure with an interview with Tim Geary, Director of the McGill Institute of Parasitology.
In the end, Ventura believed the day's events were just what the community needed. "We've had so many divisive issues on campus lately that it was just nice to do something completely apolitical that is going to help others," she said. "It's nice to see the campus come together like that."