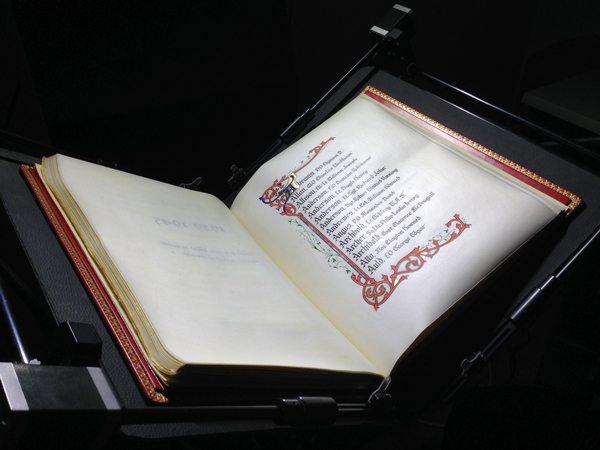 By Lori Podolsky
On Nov. 11, McGill will remember those who have fallen while serving their country during wartime. This year has greater significance than most, as Chancellor Michael Meighen will recognize the 100th anniversary of the First World War, in addition to commemorating the significant contribution McGill made to the war effort at that time. During this day, the McGill University Library and Archives will display the illuminated Book of Remembrance, which contains nearly 700 names of McGill students, staff and faculty who lost their lives in the First and Second World Wars.
The illuminated Book of Remembrance was officially unveiled on Nov. 26, 1950, at the opening of Memorial Hall, adjacent to the Currie Gym. Viscount Alexander, then Governor General of Canada, not only dedicated this new space for commemoration but also signed the dedication at the beginning of the Book. Here, the book remained on display until earlier this year, when it was removed for restoration and digitization.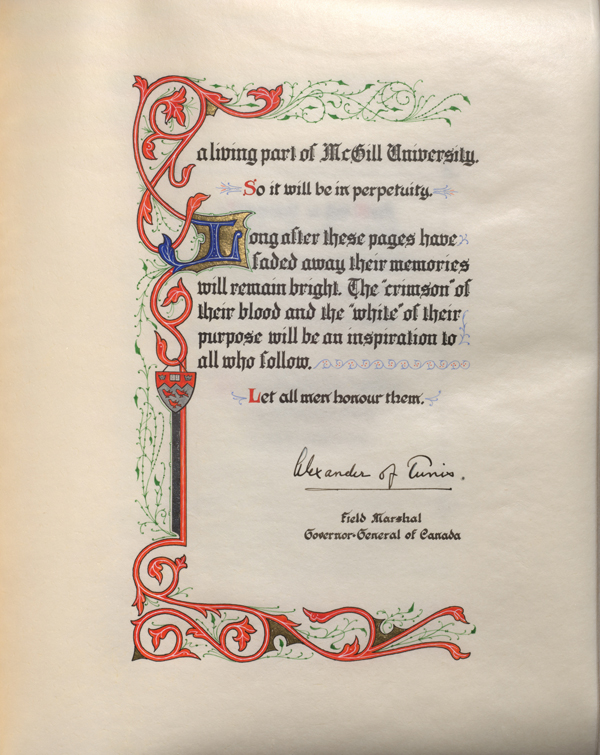 For more than sixty years, the Book of Remembrance was displayed in a marble and brass case. Over time, signs of deterioration were observed and the book was removed for cleaning and restoration. A conservator spent five months cleaning surface dirt and removing mold, as well as restoring colour pigmentation on some of the illuminated pages. Following the restoration, the book was digitized and a replica was made. The digital version will be launched on the McGill Remembers website on Nov. 11, and the replica will be unveiled during a special event on Nov. 13.
Bound in a rich red leather cover, the each page is made of parchment and is illuminated in vibrant hues of red, green or blue with either silver or gold highlights. The names of the soldiers are inscribed with calligraphy. The cover is embossed with the McGill University emblem in gold and silver inlay. Visually, The Book of Remembrance radiates a sense of awe with the colours and textures, while the words lend humility for the sacrifices made during both World Wars.
On Nov. 11, the original Book of Remembrance will be available for viewing from 10 a.m. to 4 p.m. in the main lobby of the McLennan Library Building. If you are unable to come by during this time, the book can also be viewed in the Rare Books and Special Collections, and Archives Reading Room located on the fourth floor of the McLennan Library Building. The replica will be on public display on the pedestrian bridge connecting the McLennan and Redpath Libraries.
For more information about McGill University's history in the First and Second World Wars, please visit the McGill Remembers website or contact the McGill University Archives reference desk at Refdesk.archives@mcgill.ca or by phoning 514-398-4711.