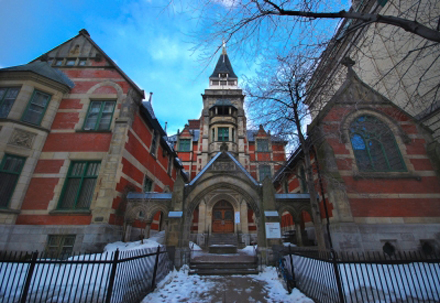 By McGill Reporter Staff
In an effort to upgrade the services that Student Housing and Hospitality Services provides to students living in residence and expand the opportunities for faculty to live with and engage first-year students, Residence Life is re-organizing the live-in staff (hall directors) in the undergraduate residence halls into two separate roles: full-time, professional, live-in hall directors, complimented by part-time Faculty-Mentors-In-Rez.
Currently, hall directors are members of the McGill community who live and work with students in addition to their primary responsibilities as faculty members, senior management staff and others closely connected with the McGill community.
According to Ollivier Dyens, Deputy Provost (Student Life and Learning), "As our world radically changes and McGill keeps growing, students come to the University with different needs. We need our services to adapt to this changing world.
"Our goal is to provide the best, most supportive and most stimulating environment. McGill's residences community has worked hard to create, develop, and nurture such a culture. The current reorganization, we strongly believe, is a series of additional steps in that direction; it will allow us to provide an even better environment to our community," Dyens said.
Additionally, McGill's current model of part-time Hall Directors is becoming unsustainable, said Janice Johnson, Managing Director, Residence Life and Customer Relations. "Our students need increasing support, both individually and collectively, and we cannot ask our part-time Hall Directors to give more time than they do now," she said. "It is difficult to recruit part-time Hall Directors. It is a responsible decision to be proactive and move to a new model now, not reactive a few years from now when we have moved beyond unsustainable to crisis."
In a message to the Residence community, Johnson said, "The full-time Hall Director model will expand our capacity to provide programming and support to our resident students. Under our new model, Hall Directors will be full-time staff, whose primary focus and responsibility is to the residence community. They will oversee a grouping of halls or a single large hall and will live in one of the halls for which they are responsible."
McGill houses about 3,423 undergraduates in several halls both downtown and at Macdonald campus. Johnson said the move will bring McGill into line with best practices that have emerged at other universities and will help the University do a better job of meeting growing and increasingly complex student needs.
Floor Fellows (usually upper-year undergraduates in residence) will continue to play a crucial role in the life of a residence hall and its student, Johnson said, and will work with both the new full-time Hall Directors and new Faculty-Mentors-in Residence to enrich the Residence experience.