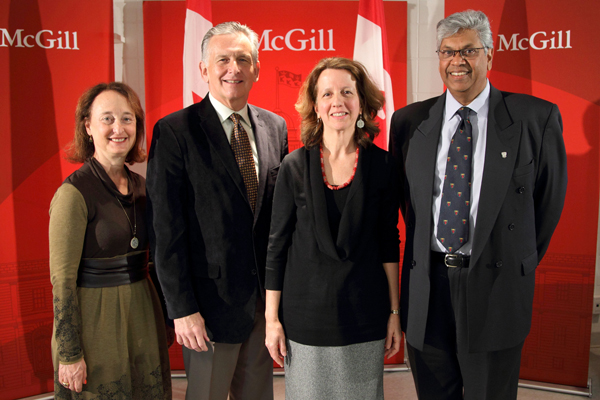 By McGill Reporter Staff
Students, faculty and staff put aside their busy end-of-term agendas at the Macdonald campus today to learn about how the Government of Canada is supporting the Building Capacity for Sustainable Livelihoods and Health project.
On behalf of the Honourable Christian Paradis, Minister of International Development and La Francophonie, Senator Larry Smith announced a Foreign Affairs, Trade and Development (FATD) grant of close to $3.5 million for the innovative project aimed at improving the health and household food security of infants and children in southeastern Ghana's Upper Manya Krobo district.
A team led by Prof. Grace Marquis, of the School of Dietetics and Human Nutrition, is collaborating with the University of Ghana (UG), World Vision and local resource institutions on the five-year funded project.
"With this very generous grant we have the goals to conduct training and to help strengthen families and to empower women…and to ensure that they have healthy children that are happy, well nourished and productive members of the Ghanaian society" said Marquis.
Thirteen per cent of Ghanaian children under the age of five are malnourished. To address this issue, the multi-tiered project will focus on integrated training in health and agriculture, including engaging community members in backyard agriculture and focusing on nutrition education. Taking a "hands-on approach" and drawing on the knowledge of the non-profit organizations working in the area, the research team hopes to make a healthy life-long impact of the community.
"Canada is working with the Ghanaians to help diversify their economy and improve health services and nutrition, particularly for women and girls," said Senator Smith. "We are proud to partner with strong Canadian academic institutions, such as McGill University, to give people in developing countries such as Ghana the tools they need to escape poverty and lead healthy, productive lives."
The implementation of the project, which integrates capacity building of rural staff and health and agricultural interventions, will be led by Prof. Esi Colecraft at the University of Ghana, in collaboration with Heifer International Ghana and World Vision Ghana. Ghana's Upper Manya Krobo district, which has a population of about 75,000, is both isolated and poorly serviced; most roads are unpaved and access is hindered especially during the two rainy seasons.
The project, which involves a five-year study of 3,000 households in the area, is designed to foster collaboration among workers in the diverse sectors (health, agriculture, education, finance) in the region in order to develop district-level capacity in nutrition and to examine intervention packages where integrated activities (for example, agricultural and health) are combined to promote food security and health. Using Heifer International's pass on the gift approach, the project will both help families improve their diet through the addition of animal-based foods, expand the diversity of foods grown, and gain income through the sale of eggs. Families, in turn, will pass on chickens to the next group of families to receive the intervention.
According to Prof. Chandra Madramootoo, Dean of the Faculty of Agricultural and Environmental Sciences (FAES), "this project builds on the solid national and international reputation, and funding successes of the FAES, as a leader in research, teaching and outreach in global food security."
The researchers believe that this project will provide evidence to encourage integrated approaches in policy and program planning for development throughout rural Africa. The team of McGill researchers also includes Prof. Frances Aboud, Dept. of Psychology; Prof. Shelley Clark, Canada Research Chair in Youth, Gender and Global Health, Dept. of Sociology; and Prof. Theresa Gyorkos, Dept. of Epidemiology, Biostatistics and Occupational Health.
"This project provides an exciting opportunity for us to implement the research lessons learned over the last decade in rural Ghana," said Marquis. "It will allow us to demonstrate the benefits gained by integrating nutrition into all areas of rural development (including health, agriculture, education, and finance) and providing coherent messages along with the necessary skills and tools to implement them. The wonderful enthusiasm and dedication of our Ghanaian partners since the beginning are key to the project's success. We expect to change practices and improve the nutrition and status of women, infants, and children in these poor, rural communities."
"We thank the Government of Canada for this generous grant, which recognizes McGill's strong tradition of successfully mobilizing research results for the benefit of the global community," said Dr. Rosie Goldstein, Vice-Principal (Research and International Relations). "Through improved food and nutrition interventions, this funding will make an enormous impact on the health outcomes and lives of children and women in rural Ghana, now and in the future."