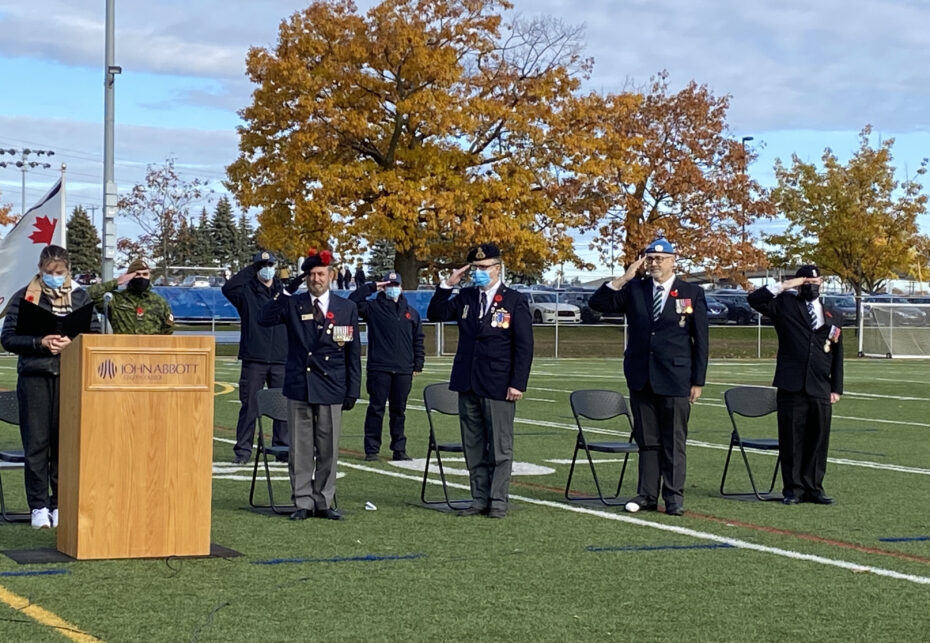 Today's annual Remembrance Day ceremony on the Macdonald and John Abbott campuses ended as per tradition – with members of the public, including elementary and high school students – planting small Canadian flags around the permanent War Memorial in front of the Raymond Building.
But nature provided a poignant, unscripted moment as, immediately upon ceremony's end, a flock of Canadian geese soared through the blue sky directly overhead.
This marked the first in-person ceremony since 2019, as COVID-19 shelved virtually all such events last year. Today's ceremony, organized by John Abbott, had been adapted to respond to ongoing COVID concerns. There were fewer veterans in attendance and a smaller crowd.
Still, it was important to gather safely to pay tribute to our veterans.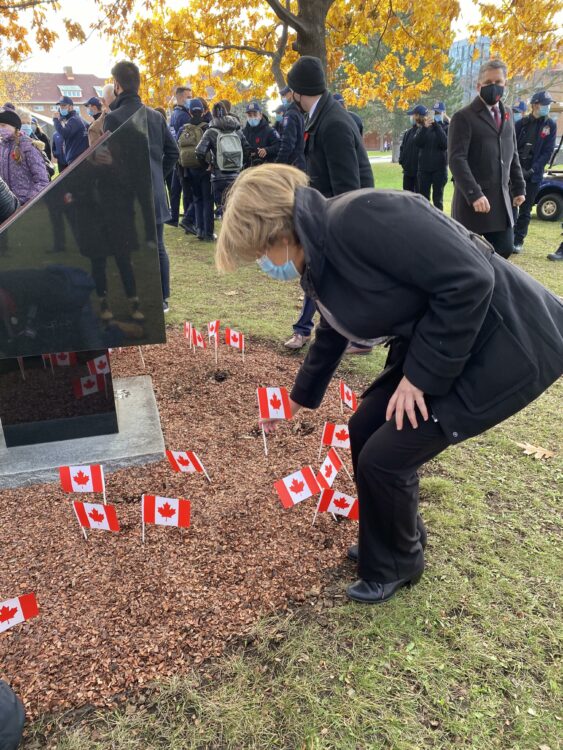 The ceremony featured dignitaries and veterans who spoke, recited poetry or contributed with music.
One of the speakers was Anja Geitmann, Dean, Agricultural and Environmental Sciences. Not surprisingly, given her career as a researcher and educator, Geitmann told the crowd that one of the best ways to honour Canadians veterans is through education. Geitmann said how happy she was to see so many young people in attendance, telling them that she has taken her own children to the Canadian War Museum in Ottawa to give them a better understanding of the complexities of war.
While it is important to remember the courage and heroism associated with war, said Geitmann, one must never forget that glory comes at a horrific human cost. "Wars mean misery. They mean suffering. They are often venues of desperate courage and sacrifice," said Geitmann. "For those of us who are in the fortunate situation to have never lived war on our own soil and have never been deployed to a war zone, it is quite difficult to truly realize how war affects those who lived through it and who, if they survive, experience the consequences for the rest of their lives."
Geitmann spoke of the importance of history and of honouring our fallen veterans by keeping their stories alive.
She said the impact of war became more tangible for her, "when I realized how many of our own students lost their lives the World Wars. Look at the oak trees around this field… in 1931 44 trees were planted here to honour the 34 Macdonald College students who died during WWI," she said, noting the stark reality that one in 10 of the 357 Macdonald students who fought in WWI lost their lives.
"We're here to honour those who made the biggest sacrifice, those who lost their lives, and to honour those who returned home and whose lives were marked by war forever," said Geitmann in closing. "Thank you, veterans, for making your way out here today. And thank you, the next generation, the youth among us for joining us today, and for your willingness to learn about yesterday's wars and today's. This gives hope for a peaceful future. Lest we forget."