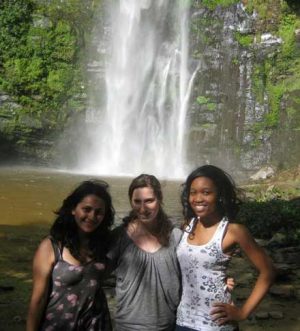 [Editor's Note: In the summer 2012, over 200 Faculty of Arts students interned in Canada and around the globe: from Chennai to Capetown, from Paris to Panama City. Since 2002, the Faculty of Arts Internship Program has helped undergraduate students offset internship-related costs such as travel, accommodations, visas and other expenses thanks to the generous support of alumni and friends of the McGill. On Thursday, Sept. 27, the most recent recipients of the Arts Internships will share the highlights and challenges of their internship experiences this summer, what they learned and how they plan to apply it to their field of study. The following is the story of one such student, Sarah Balakrishnan and her summer spent in Ghana.]
By Sarah Balakrishnan
My name is Sarah Balakrishnan – I am a U3 McGill student in Honours History and Political Science. This summer I applied to be an intern at the Center for Democratic Development Ghana (CDD-Ghana) in Accra because I wanted to gain a better understanding of African politics. Last year, I had taken a particular interest in post-colonial Subsaharan African history and politics, but I had never been to an African country.
CDD-Ghana was the perfect internship for me because I learned an incredible amount about Ghanaian politics and the challenges to economic development in West Africa. The amount that I learned every day that I lived in Ghana is unparalleled to a day that I have spent anywhere else (and that even includes McGill).
CDD-Ghana itself is a non-partisan political think tank whose mission is to improve the quality of democracy in Ghana. CDD's broad mandate means that it is involved in several different branches of Ghanaian politics – electoral politics, development, etc.
As an intern, I was given a variety of engaging tasks. I wrote memos to parliament and reports on voter registration for the upcoming 2012 elections. I recorded, analyzed and graphed Afrobarometer polling data [Afrobarometer is a research project that measures public attitudes on economic, political, and social matters in sub-Saharan Africa].
 Letting her fingers do the walking
Most importantly, I was involved in a massive development project that consumed the length of my work at CDD-Ghana. As an associate to the IamAware Project (details can be found here), I was in charge of managing and analyzing data for health care, education and water for each of Ghana's 180 electoral districts. It was an incredibly rewarding assignment. I got to hone my data analysis skills, and nothing teaches you more about a country than mapping demographic data with your fingers. The IamAware project made Ghana come alive to me. I felt that I knew every town or city in which I traveled in some intimate way because I had churned out report after report on all the ways that each city had progressed in the last five years.
My work at CDD-Ghana really deepened my understanding of African politics and history. Until this summer, I had a basic understanding of post-colonial African history, but my knowledge lacked any authentic insight. For example, I knew that African countries were supposed to be really different from each other, so it is a disservice to speak about Africa holistically. I also knew that the French and British colonials had administrated their states in very different ways. But until I backpacked from Accra to Ouagadougou once I had finished my internship, I would not have been able to really discuss any of the aforementioned differences. My summer in Ghana deepened my understanding of the continent as a whole because I finally discerned to some significant degree why Africa should not be observed as one coherent entity.
Challenges and rewards
However, my internship did not come without its challenges. Of the four interns that were sent to Ghana in summer 2012, I do not think it would be unfair of me to claim that I was the intern who fell the most ill the most frequently. In June, I was out of work for a week with a high fever and a tumultuous stomach. I followed that illness with a bad case of food poisoning. But I recovered well each time. My body got used to the food and the bugs, and by the end of the summer my immune system could have braved ten rounds with Ike Quartey (an acclaimed Ghanaian boxer).
My internship also came with some surprising academic rewards. While I was in Accra, I was able to access one of Ghana's historical archives located at the University of Legon. At this archive, I obtained digital scans of many primary document correspondences between famous pan-African leaders; it was nothing short of every history nerd's dreams. I brought those digital scans back to McGill for my HIST499 paper, the history internship course I am taking for my degree. I plan to write my paper on Ghana's pan-African vision during the late-1950s / early-1960s decolonization period.
I am extremely grateful to both the Arts Internship Organization (AIO) as well as Myron and Eva Echenberg for their contributions to my internship experience. I certainly never would have found this internship had it not been for the hard work and organization of the AIO, and I would not have been able to afford the trip had it not been for the substantial award that I received from Mr. and Mrs. Echenberg. I feel profoundly fortunate to have worked in Ghana this summer. I cannot imagine a more worthwhile experience.
Sarah Balakrishnan is a U3 student in Honours History and Political Science.
The 9th Annual Faculty of Arts Internship Event; Thursday, Sept. 27; 4:30 p.m. – 6 p.m.; Leacock Building, Room 232. Reception to follow. For more information go here.