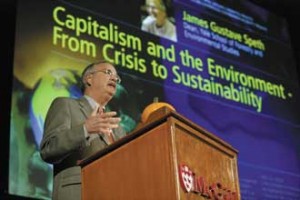 By Neale McDevitt
Flu season may be just around the corner, but environmental activist James Gustave Speth says we have a new scourge to watch for: "afluenza," a virulent strain of consumerism that, if left unchecked, may prove fatal to our planet.
Delivering his 2008 Beatty Memorial Lecture to a full house at the Centre Mount Royal Auditorium on Oct. 18, the Dean of the School of Forestry and Environmental Studies at Yale University said rampant capitalism is the chief culprit behind the degradation of the environment to the point where the planet's ability to sustain life has been seriously undermined.
But the wheels of capitalism don't churn by themselves. Speth listed a variety of accomplices to this ongoing environmental crime: Powerful corporate entities whose overriding objective is to grow profits regardless of the effect on the natural world; continual investment in technologies originally designed with little or no thought to the environment; markets that systematically fail to recognize environmental costs unless they are legislated to do so by government; governments that are subservient to corporate entities; and run-away consumerism spurred by sophisticated advertising and marketing –  all have had a hand in ramping up capitalism and consumption to frenzied, and dangerous, levels.
"It took all of history to grow the $7-trillion world economy that we had when I was a little boy in 1950," he said. "But how long does it take to add another $7-trillion to world economic activity today? Less than a decade.
"We have created a huge economic machine that is profoundly committed to profits and growth and almost totally indifferent to nature and society," he continued. "Left unchecked it is both ruthless and rapacious."
But, according to Speth, to cage the ruthless beast will require nothing short of a revolution. First, he said, people must challenge the "growth fetish." The heedless accumulation of goods and property must be tempered by newly conceived markets in which prices are driven upward to reflect the true environmental impact of products. "Polluters must pay," Speth said.
Second, we must move toward a kinder, gentler "post-growth life" of improved health care for everyone, better education, shorter work weeks and longer vacations. Citing philosopher John Stuart Mill, Speth said we must go back to the future and re-devote ourselves to "improve the art of living."
"Materialism is toxic to happiness," he said. "We must look forward to the day we can get off the treadmill of this hyperventilating lifestyle."
While Speth was quick to admit he doesn't have the answers to the question how do we get from here to there, he did suggest it would probably take a series of events to serve as a catalyst for change. We will need a powerful grassroots movement or a proliferation of mold-breaking movements that would galvanize people. We will need a crisis or the semblance of an imminent crisis, and we will need leaders who aren't afraid to talk about sacrifice and giving up luxuries, leaders who are able to "articulate a new story." When asked if such a leader exists, Speth tipped his electoral hand and said: "Wait 'til November."
"Our best hope for real change is a fusion of those concerned about the environment, of those concerned about justice and fairness, and those concerned about building strong political democracy," he said. "The fusion of these things will create one powerful, progressive force. We've got to remember that we are all in a community of shared faith. We are all in the same boat and we will rise or fall together."
At the end of his lecture Speth spoke directly to the students in the audience to step forward and take action.
"This is your world. Get active before it is too late. If there is a period to look for guidance, it is the 1960s and the Civil Rights movement. People struggled, people took risks and after 40 years I think it is time we followed in the footsteps of Dr. King.
"There is too much at stake to sit on the sidelines."