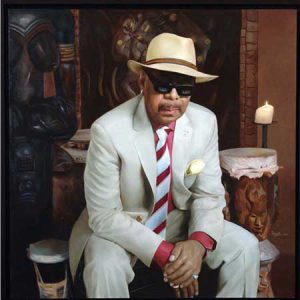 By Neale McDevitt
Trevor Payne knows a thing or two about the power of voice. Founder and director of the award-winning Montreal Jubilation Gospel Choir (MJGC), Payne (BMus'80) and his charges have performed around the world at some of the world's biggest music festivals and before millions of people, including Queen Elizabeth and Nelson Mandela.
Payne also knows about cancer. Diagnosed with prostate cancer in 2006, he received treatment at the McGill University Health Centre (MUHC), including external beam radiation therapy in 2009.
Tonight (Thursday, May 19) at 8 p.m. at the Oscar Peterson Concert Hall, both those journeys will intersect as Payne leads the MJGC in a benefit concert to raise funds for the fledgling Trevor W. Payne Fund for Men's Cancer.
Although he is somewhat reticent to go once more into great detail about his own fight with cancer – "I think Montrealers know the story by now" – Payne is quick to heap praise upon the professionals who helped him in that battle.
"They've been so wonderful – not only the doctors and radiation specialists, but also the nurses and people at the psychosocial oncology department," he said in an interview with the McGill Reporter earlier this week. "They helped rehabilitate me physically and emotionally."
And the prognosis is good. "They've been monitoring my progress since the radiation therapy and at this point everything is fine."
Giving back
Payne was so appreciative of the care he received he wanted to give something back, hoping initially to donate some money to revamp the waiting room area in the oncology department of the Montreal General Hospital.
A wonderful gesture, to be sure, but as Jeff Shamie, Executive Director of the Cedars Cancer Institute of the MUHC point out, one that might not have much of a lasting impact as much of the MUHC will move to the new Glen Campus in a few years upon its completion.
Instead, a plan was developed in which Payne was to spearhead the Trevor W. Payne Fund for Men's Cancer initiative, a partnership between Payne and Cedars to create awareness in the community about the risk factors, signs, symptoms and treatment of cancer with a focus on the benefits of early detection as well as the psychosocial aspects of coping with the disease.
"To have a patient and a donor like Trevor ask 'what can I do to make a difference?' is so heartening," said Shamie. "We are so pleased, proud and honoured that he chose to do this with us."
Giving men a chance to express themselves
For Payne, one of the most important aspects of the Fund will be to support the emotional needs of male cancer patients by giving them and their families a chance to talk about the illness with professionals and other patients.
"Men have this reputation of being reluctant to talk about illness," said Payne. "This is certainly the case in North America, where being a man means you don't cry, you don't complain and you don't admit to experiencing pain. And if you do feel pain, you go off into the woods until it goes away.
"There is no shortage of organizations saying 'get checked, get checked, get checked;' no shortage of equipment; and no shortage of qualified radiologists, oncologists and urologists," he continued. "But there is a shortage of groups that encourage men to come out and talk about what they are going through."
Shamie echoes Payne's words. "The Cedars Cancer Institute is working with Trevor to give men a voice while navigating their cancer experience," he said. "The Fund will give support at the patient care level where patients have access to psychosocial support groups because there is something empowering about talking with someone going through a similar experience. This is a cause that needs voices to tell the story."
The Raising Our Voices for Men's Cancers fundraising concert will take place tonight, May 19, at 8 p.m. at the Oscar Peterson Concert Hall on Concordia University's Loyola campus, and will feature performances by the Jubilation Gospel Choir and the Daphnée Louis Singers from Haiti.
Ticket prices range from $50 to a special VIP price of $500. For more information about the concert and the Trevor W. Payne Fund for Men's
Cancers, go to www.cedars.ca