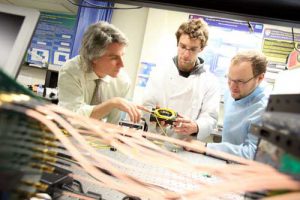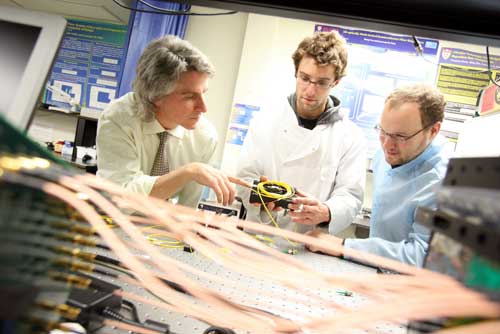 By Neale McDevitt
Touted as having the potential to be one of the most dynamic hubs of innovation and creativity in the world, the Quartier de l'innovation (QI) is all about connecting people.
For starters, the QI is a joint project between McGill and École de technologie supérieure (ÉTS) that will build on the institutional strengths of both schools – specifically McGill's strength in a wide range of disciplines and its global reach and ÉTS's success partnering with regional businesses. While still in its pre-launch phase, the QI has its ambitious sights set on creating a world-class "innovation ecosystem" in Montreal's Griffintown neighbourhood that would unite some of the most forward-thinking minds from academic institutions, corporations, small and medium businesses, public agencies, non-profits, the arts, and the community at large.
"The QI is a real opportunity to enhance how we work with local, national and international partners and to create new developments for local innovators and entrepreneurs," says Rosie Goldstein, Vice-Principal (Research and International Relations). "This is about bringing together people from different backgrounds and integrating them into the creative hub – a vibrant neighborhood where people work, play and live. It's this cross-pollination of ideas and culture that will give rise to bold innovation and multidisciplinary collaboration."
While industrial parks and research clusters exist around the world, the QI is unique in that its foundation is based upon four pillars – industry; education and innovation; urban; and socio-cultural – that planners have deemed essential to developing a creative, dynamic and fully formed community. Not just revitalizing a district, the QI will bring together students, teachers, researchers, artists, community leaders, and entrepreneurs, as well as non-profits and established companies large and small, to create a district defined by economic and social innovation and diversity in arts and culture.
QI is very much about engaging the people who live in the Griffintown neighborhood to develop with researchers, students and entrepreneurs, a variety of initiatives to expand and enhance the community-based environment in which people will live, work and play.
One of the essential elements McGill brings to the table is its long-standing tradition of social innovation because much of what the University does well it does with the underlying mission to serve. For example, last year the University partnered with members of industry to open the Jim Lund Clinic, located at the Welcome Hall Mission. The first permanent free dental clinic created by a relationship between a university and a charitable organization, the Clinic offers free dental care for homeless and low-income people.
And the QI is more than just a grandiose vision. This past May, the governments of Quebec, Canada and the City of Montreal announced that they are investing equal amounts in pre-start-up costs for the project, for a total of $1,050,000, which will help define the QI's core mission. Clearly, the initiative has got people's attention and they are stepping forward to do their part to ensure its success.
But much of what success looks like will be determined in the coming weeks and months when the QI begins a wide-ranging consultation process at McGill. Last fall, Phil Barker, interim director of the Montreal Neurological Institute, led several advisory committees that engaged representatives from across the University.
He then submitted his report on the viability of the joint venture to McGill's Board of Governors in January 2012, stating that the project held great promise for both universities, Montreal, Quebec and Canada.
The task for planners is now to start fine-tuning the details. What should the QI offer McGill students, faculty and staff? Who should be involved? What collaborative partnerships will be most beneficial to McGill and the community at large?
To help bring the QI into sharper focus, planners will consult with students, faculty and staff in a series of meetings and an open forum over the course of the academic year. In the meantime, people can submit their ideas for specific projects and collaborations suited for the QI at www.mcgill.ca/qi.
Another major milestone in the QI's formation will come at the end of October, when experts and representatives from other innovation districts gather in Montreal for a two-day summit to discuss best practices and share their thoughts on the QI's potential and possible focuses.
"The potential of the QI is enormous and it places McGill at the very forefront of innovation, entrepreneurship and major urban development that hits upon some of the crucial social, cultural and environmental concerns of the times," says Goldstein. "But we need the input of the McGill community to help us draw up the blueprints for this initiative. The blueprint, really, for the future."